Many women in the coastal commune of Bao Ninh in Dong Hoi City, Quang Binh Province, have asked for trash from fishing boats to recycle into some utensils for sale and use the money for their charitable activities.
Most local residents in Bao Ninh make their living by nearshore and offshore fishing, and they have thus had a decent life. Since October last year, about 50 local women have thought of collecting trash from fishing boats in order to protect the marine environment as a way to thank the sea, their source of living.
Le Thi Thao, one of these women, told thanhnien.vn that they collected broken nets, tin cans and plastic bags from fishermen, who would phone the former when they came ashore. The women then made bags of various sizes and handed them to housewives (to contain what they buy from the market for their daily activities) and fishermen (to contain waste on their boats instead of littering into the sea). Collected tin cans and plastic products were sold to raise funds to help the poor.
After one year, these kind women have raised some VND30 million from recycling waste. The money is used to help needy households and support orphaned children.
Learning painting to recover from stroke
On Friday every week, patients with a stroke or a brain trauma attend a painting class opened at the rehabilitation ward of An Binh Hospital in District 5, HCMC. They learn painting under the guidance of some staff members of the hospital and some students of the University of Architecture and the University of Fine Arts in HCMC.
Dr. Ho Hai Truong Giang, director of An Binh Hospital, told tuoitre.vn that the hospital's rehabilitation department receives an average of 200 patients undergoing physiotherapy daily. And one of the activities they are encouraged to join is attending the painting class every Friday morning to rehabilitate their swallowing, speaking, and moving functions.
The free painting class was founded by Dr. Le Khanh Dien, head of the rehabilitation ward of An Binh Hospital, in 2013, applying the model he learned when studying in Australia. At present, about 20 patients are attending the class, some of whom have been with the class since the very first days.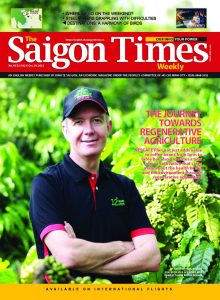 Lending a hand to those affected by heavy flood
A few days after a historical flood wreaked havoc on the central coastal city of Danang on October 14, seeing many city dwellers busy cleaning up the mud and tidying up their houses, Nguyen Duc Hung, a 60-year-old builder coming to Danang to work from Quang Nam Province, decided to lend a helping hand to his neighbors.
Wearing a pair of rubber boots, Hung joined some of the city's sanitation workers to help residents in Hoa Khanh Nam Ward, Lien Chieu District, clean up the mud and tidy up their houses. He told vietnamnet.vn that seeing the heavy impact of the flood on almost all the residents of Danang, he phoned his wife to inform that he would stay in the city to help those in need, adding that his wife and his children all supported his decision.
"I will stay here to help people until everything is all right," Hung said. Nguyen Thi Nhu Van, a woman living in the neighborhood, said the kind man was willing to help everybody though he had no relations with them. "What he is doing is very meaningful," she added.