Ixora Ho Tram by Fusion is one of the most sought-after projects in 2022 since it meets all long-term investment criteria. The project gives an annual passive income stream, increasing future property value and at the same time, the owner can enjoy a free vacation privilege from 1 month to 1.5 months each year.
Developer reputation builds strong confidence in the mind of future homeowners
As a component project of Southeast Asia's biggest world class integrated resort The Grand Ho Tram Strip, Ixora Ho Tram by Fusion is developed by a highly regarded Ho Tram Project Company Ltd. (HTP) with a colossal, long-term investment from Lodgis Hospitality Holdings (Lodgis). Besides relaxation values, HTP and Lodgis's splendid experience in inbound and outbound tourism will enhance rental capacity for the Ixora Ho Tram by Fusion's future homeowners.
Accompanying a masterful investment strategy from Lodgis, The Grand Ho Tram Strip drives itself to a new height with world-class constructions and facilities such as an upscale hotel cluster including the InterContinental Grand Ho Tram and Holiday Inn Resort Ho Tram Beach; the world-renowned The Bluffs golf course; and an array of top-notch perks. All these factors guarantee the quality of accommodation and services that lure prosperous individual tourists and MICE activities and simultaneously impact the value of the long-term investment.
This integrated resort is expected to be an iconic work of the Southeast Asia region as the identity of "one destination, million experiences". With an array of world-class facilities, including a casino, golf course, entertainment center, gym, spa, unique Asian-European restaurant chain, cinema, bar lounge, bowling, games center, shopping, beach sports center, large swimming pool, water music center, jukebox karaoke, maze garden, kid clubs, beach club, and upcoming water park, The Grand Ho Tram Strip fully meets the needs of relaxation and re-energizing for highly-demanding visitors.
The Grand Ho Tram Strip will amaze the market after completing its component projects. Undoubtedly, the possibility of owning a vacation home here will be much more competitive. In this context, Ixora Ho Tram by Fusion is a rare and potential investment opportunity.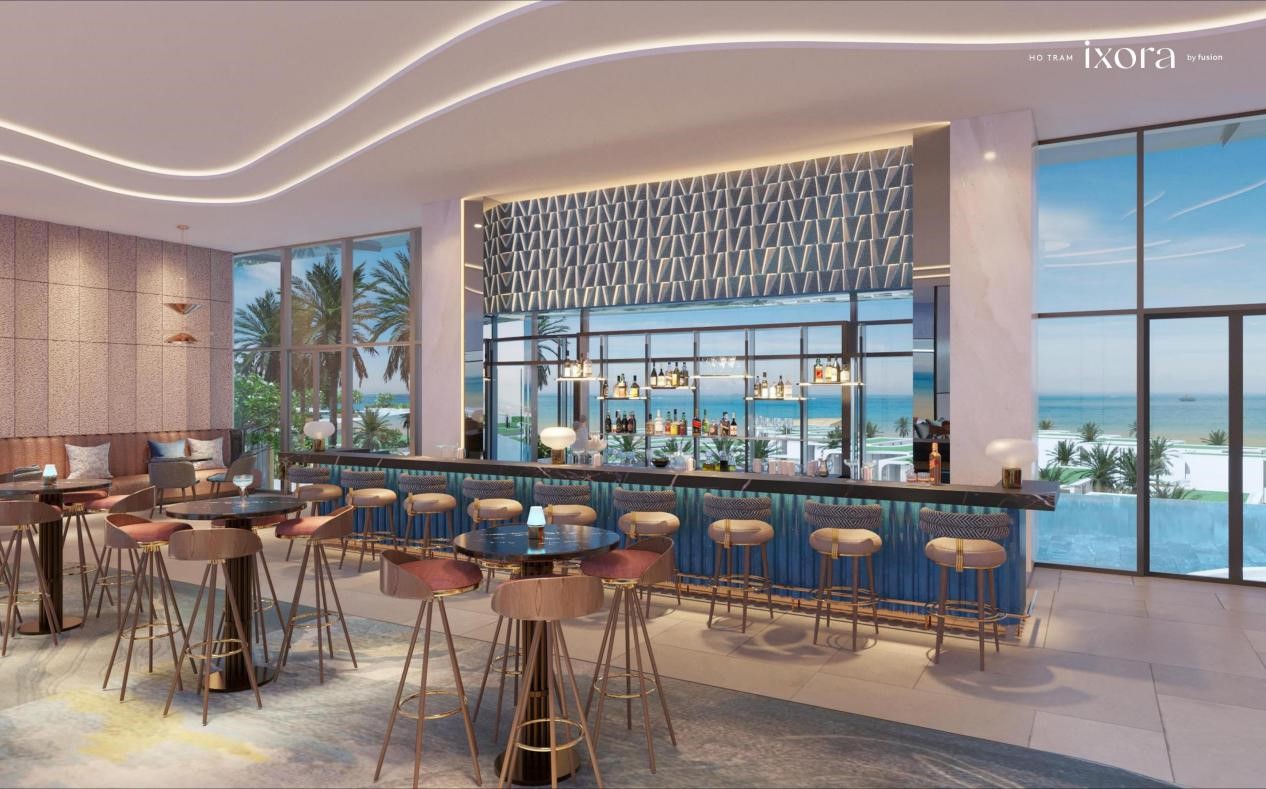 Compared to various counterparts in the market, world-class integrated resorts such as The Grand Ho Tram Strip in general and Ixora Ho Tram by Fusion in particular are unique with competitive advantages. Without a doubt, only a few developers can have a solid financial position, reputation, and experience to build such a large-scale project while meeting strict international standards. HTP's expertise in building and developing real estate projects, coupled with Lodgis's long-term vision, solid financial strength, and excellent portfolio, is a proven fact.
Homebuyers will be delighted and assured of legal transparency and exceptional product quality with relaxation value by owning a property at Ixora Ho Tram by Fusion. Also, the project gives a passive income stream thanks to the high demand from international and domestic tourists.
Exquisite and classy asset for relaxation and investment purposes
The mixture of advantages from the surrounding nature – from the pristine beach to the 11,000-hectare green area of the adjacent primitive forest – and the thoroughness work of a team of international experts have turned Ixora Ho Tram by Fusion into a superlative resort in harmony with untouched nature.
With a private balcony embracing a sea view, all condotels are handed over with a fully-furnished package including the OS&E items. In particular, the 2-bedroom units offer an impressive relaxing space with an open-air jacuzzi and fresh sea breezes that benefit health. Moreover, the penthouses are designed with private swimming pools or Jacuzzis to create a private retreat that embraces sweeping ocean views. The refinement of high-class outdoor spaces increases Ixora's relaxation value and ensures a competitive advantage upon the project's operation.
Meanwhile, by taking advantage of extravagant glass doors, the luxury villas live up to the fantasy of connecting the interior space with vast nature. As a result, natural light and sea wind combined with the garden-fresh landscape and private outdoor swimming pool provide each villa with a peaceful natural setting, creating a feeling of a true retreat amidst a lively resort paradise.
A stay at the Ixora Ho Tram by Fusion properties benefits all family members' physical and mental health. In addition to enjoying a relaxing space amid untouched nature, guests can also experience world-class fitness and healthcare facilities at The Grand Ho Tram Strip.
A long-term investment
Ixora Ho Tram by Fusion is also a valuable asset worth long-term investing, with countless advantages related to its prime location. First, the limit of the coastal land bank thereby leads to beachfront property scarcity and constant value increase over time. Furthermore, the proximity to Ho Chi Minh City – the most prominent center in the country – within only a 2-hour drive away helps Ixora inherit the full potential of the 16-million-people city with impressive growth in per capita income.
Moreover, the market will witness an increase in the number of visitors from the provinces of the Southeastern region, the Mekong Delta, and the Central Highlands upon the completion of numerous fundamental traffic projects. For example, the expansion of the coastal route Vung Tau – Xuyen Moc up to 42m, Bien Hoa – Vung Tau expressway, the upgrading of National Highway 55 connecting Ba Ria Vung Tau – Binh Thuan – Lam Dong, the Ben Luc – Long Thanh expressway or the sea bridge connecting Can Gio and Vung Tau will improve traffic flow. Exceptionally, the completion of the Long Thanh International Airport – which is only 50 minutes from Ixora – will change the face of the Ho Tram area in general and The Grand Ho Tram Strip in particular. In phase 1, the airport's passenger capacity will be 25 million per year, while the maximum operating size is expected to be 100 million.
Coupled with policies to stimulate tourism as a spearhead economic sector, the promotion of completing infrastructure to increase the scale of regional connectivity for the region will create various opportunities for Ho Tram in general and Ixora Ho Tram by Fusion in particular to take off in the upcoming years.