Khau Pha Pass in Yen Bai Province may be said to be a beauty waiting for travelers to explore when they are on the way
I have visited many passes. And each has its own uniqueness.
Hai Van Pass connecting Danang and Thua Thien-Hue Province is among the most impressive. Half hidden in white clouds almost all the time, Hai Van Pass boasts the azure sea with waves washing ashore at its foot. Meanwhile, Khanh Le Pass lying between Khanh Hoa and Lam Dong provinces will give travelers the feeling of being immersed in clouds. To experience winding passes, Ngoan Muc Pass, on the border between Ninh Thuan and Lam Dong provinces, offers a good choice. Equally exciting are passes in the northern region such as Ma Phuc, Cao Bac, Khau Lieu, Khau Chia, Me Pia together with white reeds, wild white flowers and small houses.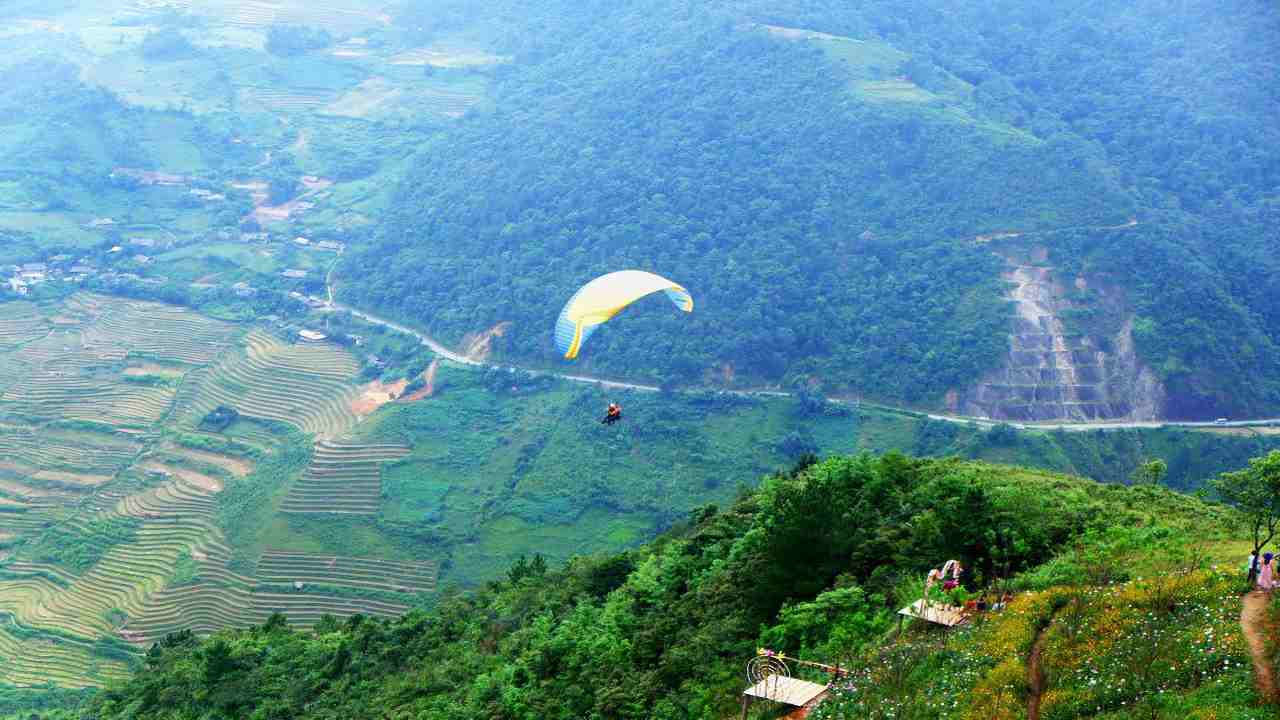 The 30-kilometer Khau Pha Pass on National Highway 32 lying between Van Chan and Mu Cang Chai districts in Yen Bai Province has left me with something different. Khau Pha is also called Sung Troi (Sky Horn) by local people. What distinguishes this pass from many others is there is neither fog nor sea waves washing rocks on the beach. Instead, travelers will be treated with peaceful and charming views of villages on mountainsides and terraced rice fields especially in harvest season.
On my first visit to Khau Pha, I was "greeted" by a rain. I sought shelter at a roadside drink shop and waited patiently for the rain to let up.
Then, I visited Tu Le Village in Van Chan District before getting to Khau Pha. The small village is home to a hot spring, which is said to be a God's gift. Villagers enjoy their hot spring every evening. When it comes to food specialties, Tu Le sticky rice is a delicacy the best of which is harvested in October every year. On that visit, I managed a chance to taste the local specialty with salt and sesame added.
Khau Pha Pass is embellished with terraced rice fields and rolling mountains. From the pass, travelers can enjoy panoramic views of parts of Van Chan District beneath characterized by terraced rice fields, small houses and lush mountains.
About 100 meters further is a paragliding site where tourists can see the zigzag path they have just traveled on. Climb up the observation tower and travelers may watch paragliders up in the sky. Such a sight may inspire some of you to take to paragliding.
Dishes made from salmon and sturgeon available at local eateries are delicious. The fish are raised in ponds and lakes nearby. In the peak tourist season, the eateries are full of diners. After getting a seat, guests may begin to pick the fish for their meal themselves.
White reeds, piles of firewood stalked outside houses and plum trees waiting for the spring to come are what travelers may expect while traveling on Khau Pha Pass. The closer to La Pan Tan Commune in Mu Cang Chai District, the more rice fields appear.