As a tech-based company with a far-reaching ecosystem, mobile on-demand service platform, Gojek is in a good position to connect various stakeholders in society, including driver-partners, consumers and restaurants and eateries. With its community-oriented spirit, the company has been continuously rolling out social impact initiatives to promote growth for everyone. Creating positive social impact is the foundation of its business operations, so Gojek is consistently looking at ways to support its ecosystem in Vietnam, especially those who are vulnerable or severely impacted by the COVID-19 pandemic.
Easing driver-partners' lives
Amidst the escalating COVID-19 situation, vaccinations became one of critical requirements for people to be able to work and live safely. To ensure that its driver partners could continue to serve the community safely, Gojek worked closely with the authorities to ensure that driver partners had access to vaccinations. On August 30, over 200 Gojek driver partners received their vaccinations, making them one of the first few groups of drivers in Hanoi to get vaccinated. In total, thousands of Gojek's driver-partners in HCMC and Hanoi were listed and registered for vaccinations by Gojek, ensuring they could get vaccinated and continue working safely.
In addition, also in August, Gojek rolled out a relief package worth VND 4.15 billion for its driver-partners in Vietnam to help them cope with the pandemic. This was the first and largest cash assistance program in the local ride-hailing service market during the pandemic, and was aimed at supplementing the income of Gojek's driver-partners amid the lockdown in Vietnam.
"The livelihoods of our driver-partners depend very much on their mobility on the streets. The heightened impact of the pandemic, with both Hanoi and HCMC under a strict lockdown at that point in time, meant that many of them were finding it more difficult to make ends meet. The cash support was aimed at making our driver partners' life easier and supporting them and their families through one of the most challenging periods," said Duc Phung, General Manager of Gojek Vietnam.
To help as many driver-partners as possible to be on the roads after social distancing measures were eased in HCMC in September, Gojek distributed rapid test kits to tens of thousands of its driver-partners at 36 locations, which also helped to ensure that there were no large gatherings at COVID-19 testing sites, saving the driver-partners a lot of time, which in turn enabled them to fulfil more orders in a day.
Gojek is continuing to give its driver-partners free COVID-19 testing to help them ease costs and create optimal conditions for them to offer delivery services to local residents.
Providing support for eateries and restaurants
Amid the escalating pandemic situation, Gojek quickly implemented the second phase of the "So no one is left behind" initiative in May, in collaboration with the HCMC Women's Cultural House and CafeTek, a production of HCM City Television (HTV).
Through the initiative, Gojek provides vocational training to family members of Gojek driver partners and helps them to set up a digital business. The project's aim is to create new income-earning opportunities for more people, improve their livelihoods and reduce barriers to socio-economic growth. Training courses focused on basic entrepreneurial skills for food and beverage businesses.
After completing the training series, participants could choose to start their own online food and beverage business on Gojek's GoFood platform with the firm's support. This includeds assistance with the onboarding process and marketing campaigns, enabling them to tap into the millions of consumers transacting on Gojek, as well as a sponsorship of VND 2 million to purchase basic restaurant supplies.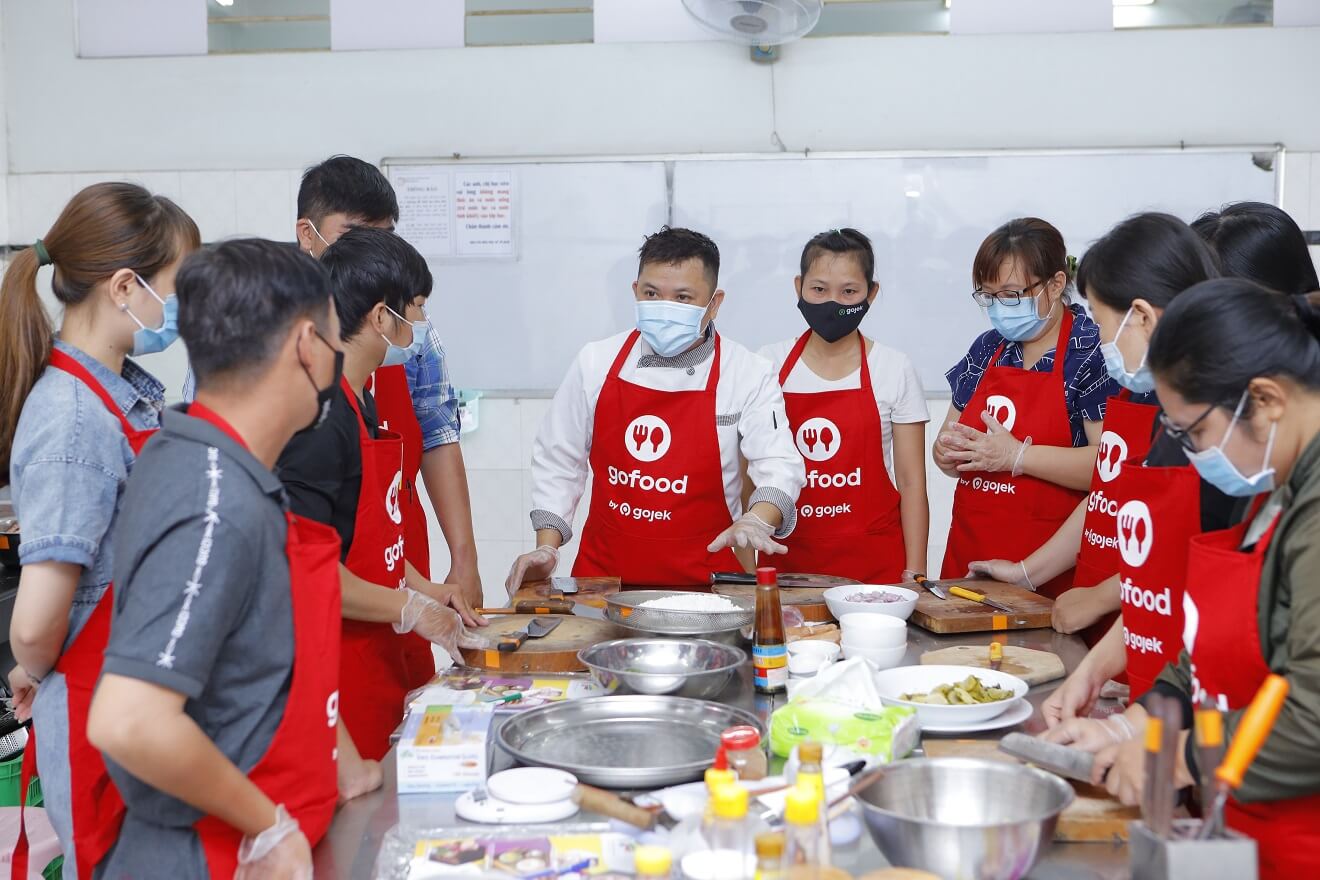 This second phase is a continuation from the success of last year's program, which had helped many small and micro merchants significantly impacted by COVID-19 restrictions shift their businesses online and begin offering food delivery on GoFood. This enabled them to stay resilient and maintain a stable income during the pandemic.
"Gojek's digital ecosystem is built to support individuals and entrepreneurs, helping them to thrive in all circumstances, so giving assistance to our partners and micro, small and medium-sized businesses has always been one of our key priorities," said Duc Phung.
"By helping individuals do business and join the digital economy, we aim to provide them with more opportunities to boost their income and improve their livelihoods. As we empower them, we are in turn contributing to Vietnam's socio-economic growth," he added.
Commenting on the "So no one is left behind" program, Phan Thi Bich Huong, Director of the HCMC Women's Cultural House, said: "This is a comprehensive program that supports micro-entrepreneurs by helping them to start their own businesses with ease. This is aligned to our mission to promote and enhance individuals' capabilities in a digital-first world and create favorable conditions for all people, particularly women, to improve their livelihoods."
Gojek also launched the "Freeship Zone" campaign in June to offer free delivery of food orders in select areas. As these "Freeship zones" cover densely populated areas with many eateries and restaurants, the campaign was aimed at removing consumers' hesitation in placing multiple orders. This helped to stimulate demand, bringing more consumers and additional income earning opportunities to Gojek merchants.
Meeting the needs of consumers
With the pandemic impacting people from all walks of life, Gojek is committed to keeping delivery service charges unchanged in HCMC. This will ensure that the firm's parcel delivery and online food delivery services remain affordable and accessible for consumers.
To make it easier for residents to get to vaccination sites and help speed up the city's vaccination process, Gojek also offered HCMC free rides to and from vaccination sites in June, with a total value of nearly VND 2 billion. The free rides were aimed at ensuring that people in HCMC could get to their vaccination sites safely and conveniently.
Duc Phung said: "Vaccinations are an important protective layer against COVID-19. We appreciate the HCMC government's efforts in making vaccines available for its residents. As part of our commitment to working with the municipal government to achieve herd immunity as soon as possible, Gojek decided to launch the free rides campaign."
Furthermore, as one of active supporters in the fight against COVID-19, on August 19, Gojek introduced GoCar, its four-wheel ride-hailing service to exclusively transport healthcare frontliners in HCMC free of charge. The launch, which came amidst the escalating COVID-19 crisis in the city, represented an extension of Gojek's continued commitment to supporting communities and playing a leading role in responding to the pandemic.
As Gojek grows, it is continuing to strengthen its community-oriented spirit, all the more so during the tough times of the COVID-19 pandemic. Gojek believes that its business can only grow if its goals are aligned with community development. As such, the company is constantly looking at ways to support all its stakeholders, from driver-partners, restaurants and eateries, to consumers and frontliners fighting against the COVID-19 pandemic, among others.