Vietnam is one of the few countries with a rapidly aging population; as the saying goes, we grow old before getting rich. It seems that we have not prepared for this at all.
Rapid aging and low quality of life
Dr. Mai Xuan Phuong, deputy director of the Department of Communication and Education under the Health Ministry, said in 2011, the elderly (age 60 and older) accounted for 10% of the total population, entering the aging population process. By 2038, which is after 27 years, this ratio will reach 20%, and Vietnam will have an "old" population. Meanwhile, to double the rate of older people as above, it takes the U.S. 69 years, Australia 73 years, Sweden 85 years, and France 115 years.
In 2005, Vietnam entered the "golden population" period, which means that 40% of the total population are young people from 16-30, and 30 years later (2035), 20-25% of people in this "golden" group are in their 60s. That means, for every four people at a table, there will be one older person and more than one person upcoming. In other countries, aging happens slowly, but in ours, it will be "rushing" all over simultaneously in a very short time.
In addition to rapid aging, the elderly in Vietnam have a low quality of health. The report on conducting population work in the first six months of 2022 by the General Department of Population and Family Planning mentioned that the average life expectancy of Vietnamese people has increased (73.5 years old). Still, the years of healthy life are lower than in many countries, where only up to 64 years old, especially 67.2% of them have weak and critical health. Women have an average of 11 years of disease life, while men have about eight years. On average, each older person has three diseases, facing the risk of disability due to the aging process and high treatment costs. Elderly people face the burden of "dual disease" and often suffer from chronic diseases such as coronary artery disease, hypertension, diabetes, osteoarthritis, cancer, etc. There are also specific elderly syndromes such as cognitive decline, confusion, depression, and memory impairment.
Looking after people, thinking for ourselves
While in Japan today, we can see that getting a fluent system serves the aging society from transportation, housing, medical services, health care, and social security to food and drink. The Japanese have actively welcomed the old society since the 1970s of the 20th century. That means they prepare for it 20 years in advance.
They prepared psychologically with public opinion, building legal regulations, and a complete system of technical infrastructure and social services for transitioning society into an aging one, from each family to the public, from administrative offices to every corner of life. Notably, they built a separate residence system for the elderly, which is a high-quality nursing home system.
The Vietnamese have a saying, "Only jump when water touches your feet," to indicate that you are not proactive in responding to unexpected situations. The aging society is not a situation or a phenomenon but a regular movement involving millions of people and having to change all or a considerable part of the technical and social services. That would cost a lot of money and effort, so developing strategies to anticipate 15-20 years in advance is necessary.
In our country, due to the lack of good preparation, many areas were awkward and passive, leading to slow policy promulgation and implementation, resulting in disadvantaged beneficiaries. For example, the disabled in Vietnam, such as visual impairment, hearing impairment, motor disability, mute, amputee, etc., is 7% (high) of the population. However, it was not until 2002 that Vietnam promulgated a construction standard to ensure that people with disabilities could access services in construction. For example, the building must have a toilet exclusively for the disabled, with ramps for wheelchair users. Then it was not until 2014 that technical standards for the disabled were added with many other provisions such as elevator braille control panels, specially designed toilets for disabled people in apartments, and wheelchair lifts on public buses.
Vietnam, on the other hand, is still unprepared for the upcoming silver wave. It seems that the management agencies believe that the main support of the elderly in Vietnam is from family, relatives, and villages in the style of "young depend on father, old depend on young," so they have not prepared anything from policy to implementation. There is only one geriatric hospital in the country, established in 2016 with a very modest size of 500 beds, no university has a gerontology department, and there is no institution specializing in nursing to serve the elderly. It is a fact that Vietnam currently lacks doctors, nurses specializing in geriatrics, and human resources to care for the elderly who mainly rely on family members; There are not many specialized facilities for the elderly, like nursing homes.
There are only 32 out of 63 provinces have nursing homes for the elderly. Although the Government aims to have at least one in each province by 2025, this cannot be done for many reasons.
Get it to start now
HCMC's population aging rate is rapidly increasing, while the birth rate is the lowest in the country (1.39 children). HCMC is considered the wealthiest place in the country, but it is also the place to prepare for an aging society among the slowest in the country, especially in "ensuring a healthy life."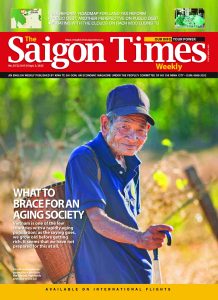 In Hanoi, the elderly have more places to play and more groups to participate. HCMC has very few parks and community spaces in residential areas. A 2018 study showed that more than 95% of older adults in HCMC stay at home watching TV, afraid of traffic accidents. Even if going out, they do not know where to go because there are not many places for them like parks, cultural houses, or entertainment venues. Going to a neighbor's house like in the countryside is difficult because most people only know around their home in the city.
The first and most crucial issue is preparing the "elderly mentality" for the upcoming elderly and young people, leaders (policymakers), and the people. Within a family, having an older person is already tiring, let alone a quarter of the population, and then a third of the population over 60 years old when the social situation would be very different. It will be challenging if we don't anticipate it for a few decades.
The Government and businesses must consider a diverse and multi-level system of infrastructure and services for the elderly society. It means to move from fast to slow, from high to low, from complex to simple, from square to round, from heavy to light.
In an ordinary building, there must be a slow-speed elevator for the elderly; the height of the steps is only about 10-12 centimeters to fit them. In public places such as cafeterias, bus stations, train stations, and airports, there are seats and toilets designed for the elderly. In the supermarket for the elderly, the displayed goods are low enough to reach; the price tags are larger.
In Japan, many cities also have separate lanes for slow cars with yellow license plates (older people's cars). There is no furniture in the house with square angles, but they must be rounded, light, easy to move, and not cause injury if the body hits. Electrical and electronic items are absolutely safe and easy to function. A smartphone and computer for the elderly must be as simple as possible, or they will fail.
In conclusion, we must get involved early on so that Vietnam can enter the old society gently, without shock and conflict. What should be done so that the elderly are not a burden to the family and society? Keep in mind that youth is the country's future, and old age is each person's future.