The issue of food hygiene and safety to ensure the wellbeing of employees is always a matter of concern. In particular, many businesses have actively promoted the operation of canteens and industrial kitchens, and applied technology to take care of workers' health as a top priority to maintain their production and business activities.
More than 160,000 meals per day needed
Seen as one of the five major industrial cities and provinces in Northern Vietnam, Hai Duong holds a lot of potentials to develop industrial real estate. By the end of 2020, there had been 14 industrial parks in the province, with 11 of them already in operation, and 38 industrial clusters, creating jobs for about 160,000 workers. With a large number of workers, these industrial zones will consume hundreds of tons of food, vegetables and fruits each year. It is estimated that the number of daily meals is more than 160,000.
In Hai Duong, there are three common ways for businesses to provide meals for workers. Businesses cook for their own employees (60%), sign contracts with companies and households to make meals in their industrial kitchens (30%), and use outsourcing catering services (10%). However, there are potential risks of food poisoning due to many factors such as unsafe food supply, poor preservation, unhygienic cooking, poor quality control and improper transport.
According to the Management Board of the Industrial Zones of Hai Duong Province, the demand for industrial meals in the province is huge, so the assurance of food safety, especially in industrial zones in Hai Duong, is always closely managed and inspected by the local government.
In recent years, industrial catering companies have been growing strongly with the establishment of more companies providing and serving meals to meet the large demand of the market. However, there are few large and professional companies because the requirements for industrial catering businesses are very high, especially those for food safety in the context of Covid-19.
More companies join the industrial catering market
Recently, An Phat Holdings (APH) established An Phat Catering Services Joint Stock Company and officially launched industrial catering services. With the advantage of nearly 20 years of operation in Hai Duong and the experience of self-supplying 3,000 meals per day, this is one of the advantages for An Phat Catering Services to participate in this field.
Besides, when expanding into a new field, An Phat Holdings has set out production requirements, the most important of which is to ensure food hygiene and safety. To do this, APH has focused on three factors: Food supply, Production technology, and Quality control.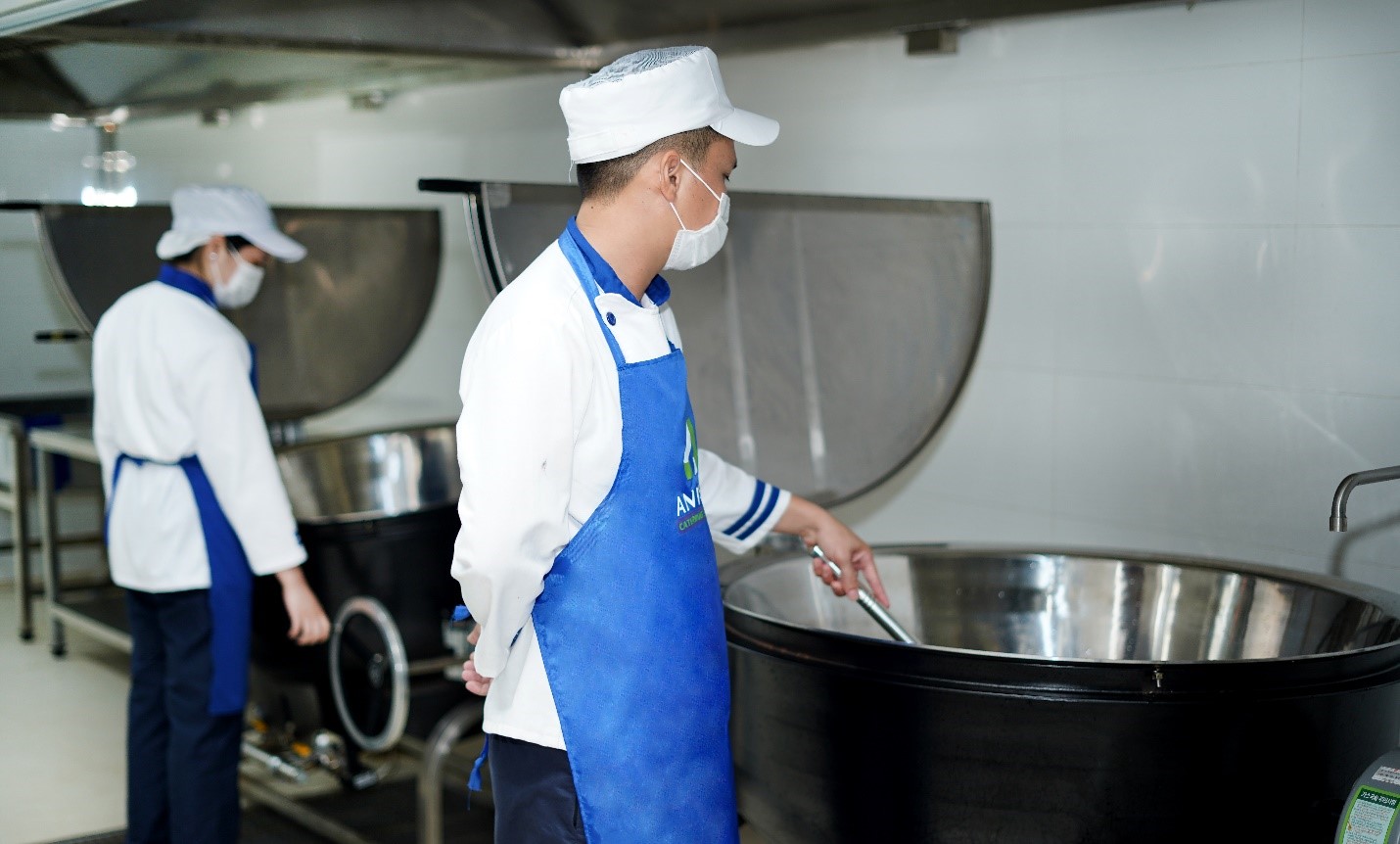 Regarding food supply, An Phat Catering Services chooses a reputable food supplier that meets the criteria of quality, quantity, and price. The items are inspected and come with a certificate of origin every day. Suppliers are required to have a certificate of compliance with food hygiene and safety standards.
In terms of technology, An Phat Holdings considers this an important factor, determining sustainable development in this field. Investing in a large volume of modern machines for cooking, and cleaning will help APH limit direct human contact with food and reduce the possibility of food contamination.
According to Mr. Dinh Xuan Cuong, Vice Chairman and Chief Executive Officer of An Phat Holdings, technology is an important factor in all industries that APH is aiming for. With an area of 6,000 square meters, and a capacity of 50,000 meals per day, An Phat Catering Services is reasonably organized according to subdivisions, which flexibly use machines, and operate on the one-way principle. That means the entire production process is designed in a way that sets input materials and finished products apart. This helps to increase food processing efficiency, ensure uniformity, safety, and hygiene, and save time and human resources.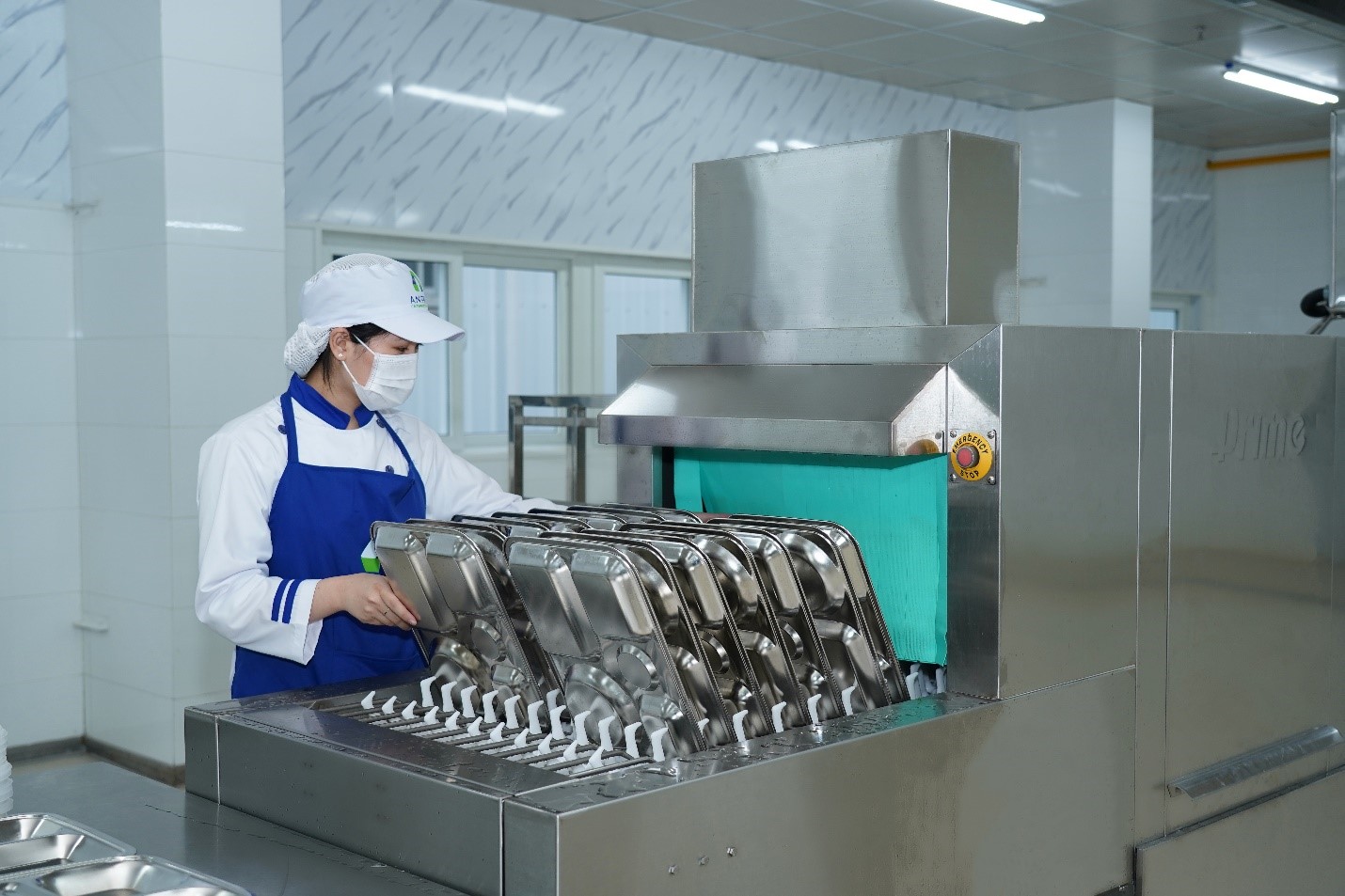 In addition to guaranteed food quality and modern technology, An Phat Catering Services attaches special importance to product inspection. Before meals are delivered to consumers, processed foods are tested and inspected. All test samples are taken and stored to ensure maximum safety for workers.
Besides providing industrial meals to APH's manufacturing plants in Hai Duong, Yen Bai, Hanoi and elsewhere, An Phat Catering Services is providing this service to many other partners and customers such as Han Sung Won Vietnam Electronics Co., Ltd., Tiinlab Vietnam Audio Technology Co., Ltd., and Suntel Vina Co., Ltd.
In the coming time, An Phat Catering Services plans to expand to other services such as airline catering, organizing events, supplying food for supermarkets and retail systems, providing food for vending machines, etc. according to the needs of customers and partners.