HCMC – Three scientists who played vital roles in the development of mRNA vaccines for fighting Covid-19 were awarded a grand prize of US$3 million by VinFuture in its inaugural award ceremony in Hanoi yesterday, January 20. Three special prizes were also awarded to other innovators for their breakthrough research at the ceremony, each winning US$500,000.
The awards, organized for the first time by the Vietnamese private conglomerate Vingroup's VinFuture, are meant to honor scientists with breakthrough research that change the world for the better, said Professor Richard Henry Friend, president of the VinFuture Award Council, at the ceremony joined by Prime Minister Pham Minh Chinh, many policymakers and scientists from around the world.
The three scientists Katalin Kariko, Drew Weissman and Pieter Rutter Cullis, who developed the mRNA technology for Covid-19 vaccine production, were the top winners as their scientific works have helped save millions of lives worldwide.
Professor Le Quan, Rector of the Vietnam National University Hanoi, commented that the event was "a moment of pride when we have the honor to meet with the authors of works benefiting all of us and helping us overcome the pandemic," the news site VnExpress.net reported. The professor expected that VinFuture will become a source of inspiration to connect outstanding scientists from around the world, making Vietnam a convergent point for scientists.
Katalin Kariko is a Hungarian biochemist who specializes in RNA-mediated mechanisms. Her research has been the development of in vitro-transcribed mRNA for protein therapies. Kariko's work includes the scientific research of RNA-mediated immune activation, resulting in the co-discovery with American immunologist Drew Weissman of the nucleoside modifications that suppress the immunogenicity of RNA.
Drew Weissman, similarly, is a scientist best known for his contributions to RNA biology. His work helped enable development of effective mRNA vaccines, especially those for COVID-19 produced by BioNTech/Pfizer and Moderna.
Pieter Rutter Cullis, meanwhile, is a Canadian physicist and biochemist known for his contributions to the field of lipid nanoparticles. Lipid nanoparticles are essential to current mRNA vaccines as a delivery system, according to the open-source Wikipedia.
Prime Minister Pham Minh Chinh handed over the grand prize to the three outstanding scientists. The Government leader noted that over the past two years, during the toughest challenges induced by the pandemic, the mankind has placed strong hope on scientists for developing vaccines and other medications to fight Covid-19. Vaccines are likened to a steel shield for the mankind to survive the pandemic, PM Chinh said.
The award council also honored other prominent scientists with three special prizes worth US$500,000 each for their outstanding scientific achievements.
Salim S. Abdool Karim and his wife Quarraisha Abdool Karim won the prize for innovators from developing countries. Salim S. Abdool Karim is a clinical infectious diseases epidemiologist widely recognized for his contributions in HIV prevention and treatment, while his wife is also an infectious diseases epidemiologist whose research over the past decades has focused on preventing HIV infection in adolescent girls and young women.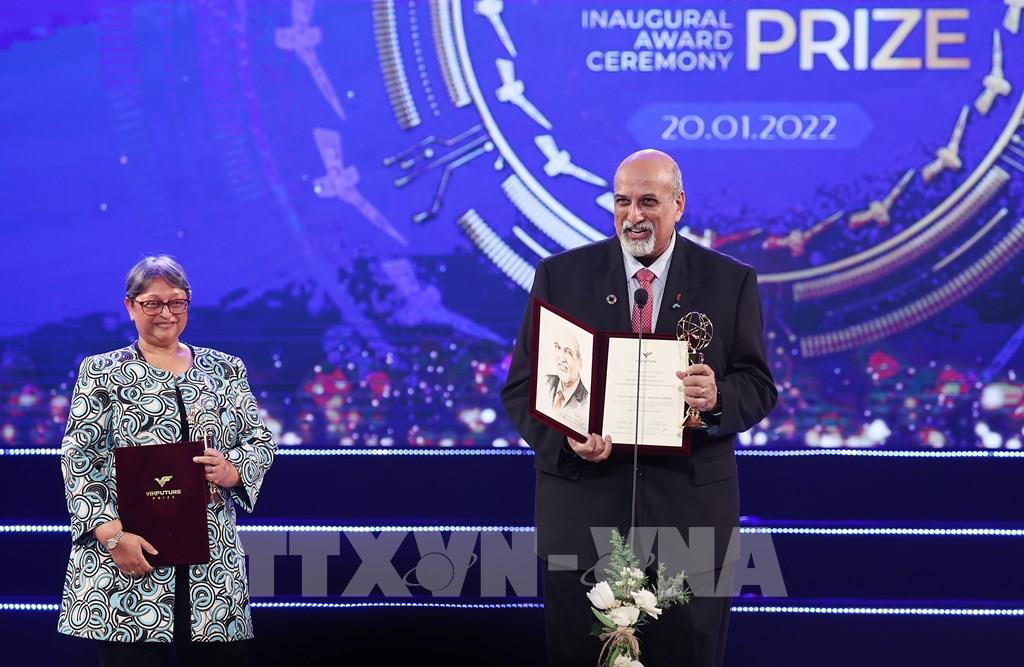 Meanwhile, the Chinese American scientist Zhenan Bao won the special prize for female innovators, in recognition of her great achievement in inventing artificial skin. A professor of chemical engineering at Stanford, she has spent long years to develop the plastic skin that can flex and heal, and send pressure, temperature and pain signals to the brain, according to the journal Science.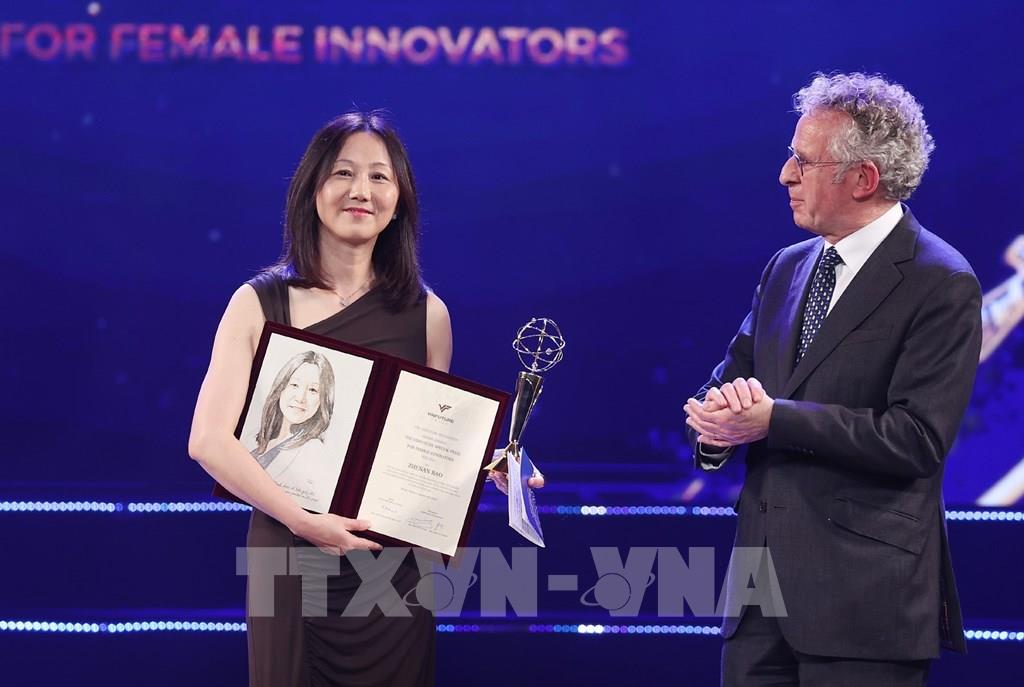 The third special prize – for innovators with outstanding achievements in emerging fields – was awarded to Professor Omar M.Yaghi, an American scientist from Jordan, for his great achievements in water and material sciences.
Yaghi pioneered reticular chemistry, and his most recognizable work is in the design and production of new classes of compounds known as metal-organic frameworks (MOFs), zeolitic imidazolate frameworks (ZIFs), and covalent organic frameworks (COFs).
He has also led the effort in applying these materials in clean energy technologies including hydrogen and methane storage, carbon dioxide capture and storage, as well as harvesting water from desert air, according to Wikipedia.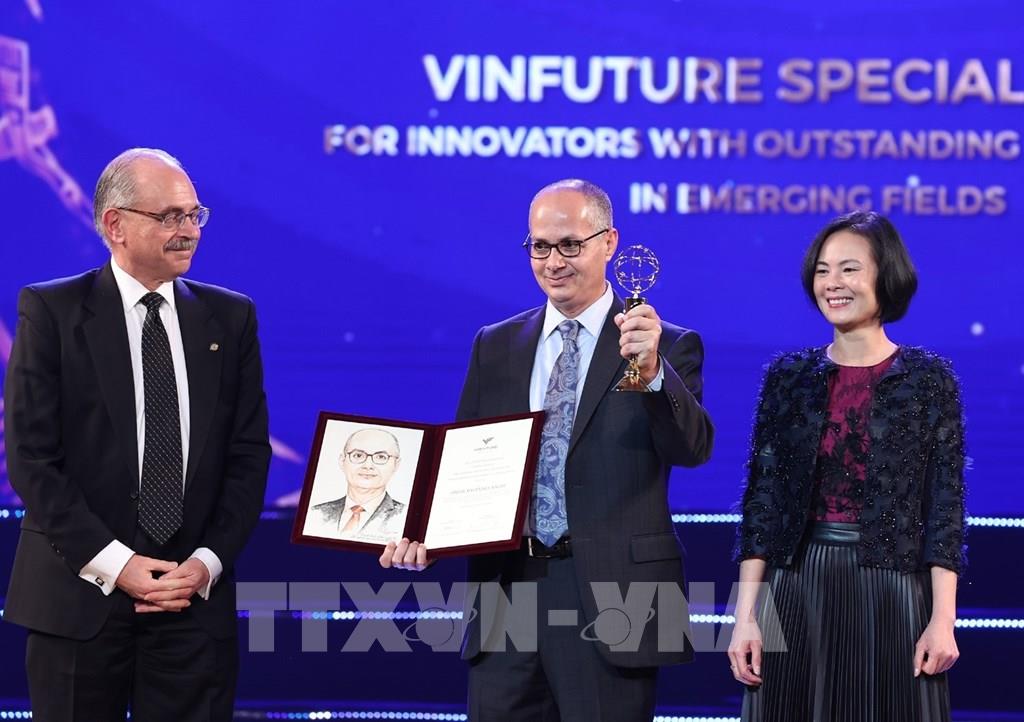 The foundation VinFuture was launched on December 20, 2020 by billionaire Pham Nhat Vuong as Vingroup's chairman and his wife, with an aim to advocate breakthrough scientific research that have the ability to bring about positive changes to the people.