With three factories equipped with cutting-edge technology and international standards, with a production capacity of up to 390 million liters per year, Vinasoy is well–positioned to continue its leadershipin the soy milk business for many years, and to achieve the international recognitionas well.
The giant of branded soy milk
Vinasoy's dairy products were first introduced to the market about 25 years ago. Few people thought that, when mentioning soy milk, people would now immediately think of Vinasoy. For many years, the national soy milk brand has maintained its leading position in terms of market share in Vietnam.
Vinasoy's market share in the soy milk sector reached 92.2 percent as of August 2021. This impressive figure demonstrates not only consumers' preference for Vinasoy in the midst of the pandemic, but also that Vinasoy has become an important, familiar, and popular product for millions of Vietnamese families. Vinasoy is also the first and only Vietnamese company to be listed among the world's top five soy milk manufacturersfor three consecutive years.
Vinasoy's Board of Directors has dedicated many years to learnabout types of soybean and consumer tastes of all ages in order to earn these amazing achievements. Furthermore, the expansion in investment in a modern industrial system with technological lines that meet the international standards is the essential success factor that helps Vinasoy appear in every family.
Mr. Eliseo Barcas, General Director of Tetra Pak Vietnam, the main partner in helping Vinasoy build a modern factory system, made the following comments: "Vinasoy has made great strides to become the first and only Vietnamese company among the world's top five soy milk companies for three consecutive years.This is also a testament to Vinasoy's long-term goal: to become a leading company in soy-based nutritional goods. I am confident that today's success is only the beginning of Vinasoy's greater success in its journey to bring the essence of natural soybeans to millions of Vietnamese people. As a trusted partner, we feel proud and grateful to be accompanied on this journey."
A solid tripod for Vinsoy
From an initial factory with a capacity of only 5 million liters of milk per year, Vinasoy now has three factories over three regions: North (Bac Ninh Province) –Central (Quang Ngai Province) – South (Binh Duong Province). All factories employ cutting-edge technology and operate on a massive scale, with a total capacity of more than 390 million liters, equivalent to 2 billion products per year.
From input to finished product packaging, the entire production line at the factories is equipped with modern Tetra Pak Group (Sweden) technology with a synchronous, closed, and completely automatic equipment system. The factory uses UHT sterilization processing technology and aseptic packaging technology in bags to maintain the product's full flavor, deliciousness, and nutrition for up to 6 months without the use of preservatives. Paper packaging helps prevent light, bacteria and air from entering, anti-oxidation during product storage.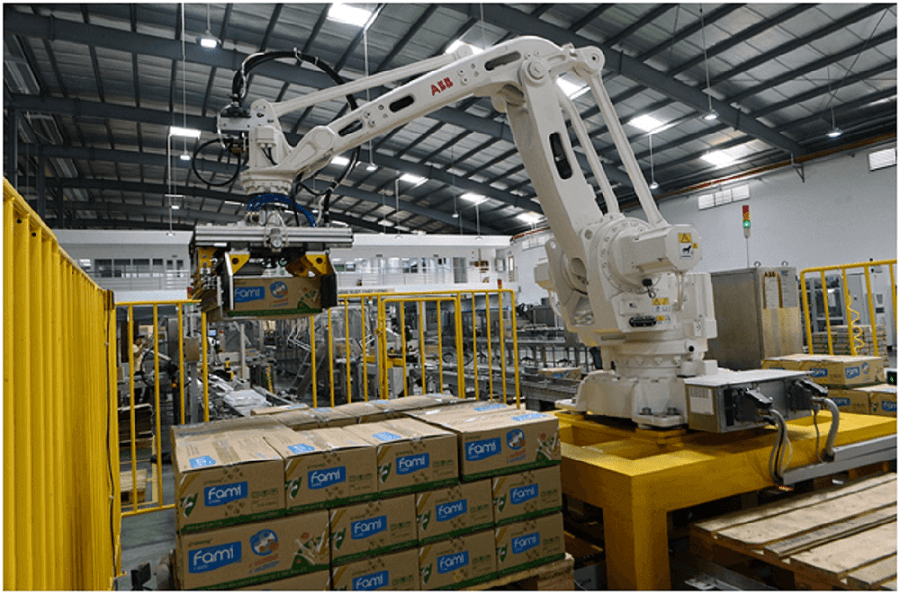 Mr. Eliseo Barcas, General Director of Tetra Pak Vietnam, explained the advantages of using Tetra Pak's modern technology and systems, saying: "We equip Vinasoy's factories with the most advanced technologies available in the industry. This allows Vinasoy's soy milk products to maintain all of the minerals and natural flavors of soybeans while also allowing for the creation of different product flavors to meet different preferences. In terms of food safety, high-temperature sterilization technology eliminates all germs and bacteria, ensuring that soy milk is safe to consume without the need for preservatives. Meanwhile, sterilized packaging technology gives soy milk a longer shelf life, making it easier to transport products farther, safer, and more suitable for weather conditions and infrastructure like in Vietnam."
Vinasoy is lifting the bar for soy-based nutritional products to meet the quality and food safety standards for consumers, thanks to this advanced technology chain. Furthermore, Vinasoy's factory system complies with ISO 9001, ISO 14001, 5S,… and foreign certifications such as FSSC 22000, Halal,…, making it ready for future export opportunities.
The journey of bringing Vietnamese soy milk brand to the world
Thanks to continual scale expansion and rising productivity, the system of three plants has actually created a great strength for Vinasoy, not only fulfilling domestic demand but also preparing for theinternational business expansion.
Vinasoy's products have previously been found in famous and choosy markets such as China and Japan. With the presence on 11 leading e-commerce websites of China and appearing at all supermarkets stretching in all provinces of Japan, it has affirmed that Vinasoy's products absolutely ensure international standards. Vinasoy's products will continueto grow in the fourth quarter of this year, by entering the next two key markets: the United States and South Korea. This voyage may still be difficult, but with the pride of the Vietnamese brand and a desire to reach out to the world, the "Made in Vietnam" soy milk will become more and more popular on the worldsoy-based milk map.