Wanderlust, a UK travel magazine, has listed Vietnam among the 20 best travel destinations for January next year. Vietnam is ranked eighth in the Wanderlust's list announced recently. Laos is another Southeast Asian country that has been named in this list.
The weather in Vietnam early next year is good, with a slight difference between the north and the south of the country, according to the magazine. "You will never get bored of Vietnam's cities: Hoi An, Hanoi, HCMC and Hue, the perfect city for cycling enthusiasts," the article said.
The travel magazine also said natural beauty is abundant in Vietnam, from Ha Long Bay in Quang Ninh Province and Lan Ha Bay off Haiphong City to the world's largest cave Son Doong in Quang Binh Province.
The 20 best places to visit in January suggested by Wanderlust are: 1. Norway; 2. Malé, Maldives; 3. Los Angeles, the U.S.; 4. Slovenia; 5. Barbados; 6. Laos and the Mekong River; 7. Nicaragua, Honduras and El Salvador; 8. Vietnam; 9. Hill Country, Sri Lanka; 10. Panama; 11. Penguin chicks in Antarctica; 12. Macaws in Tambopata, Peru; 13. Birdwatching in the UK; 14. Eurasian lynxes in Poland; 15. Wildebeest in Tanzania; 16. International Kite Festival in Gujarat, India; 17. Up Helly Aa in Lerwick, Scotland; 18. Kiruna Snow Festival in Sweden; 19. New Year's Eve in Sydney, Australia; 20. Sundance Film Festival in Utah, the U.S.
Endangered impressed tortoises found in Khanh Hoa
The management board of Hon Ba Nature Reserve in Khanh Hoa Province has announced its discovery of the impressed tortoise (Manouria impressa), an endangered species in the IUCN Red List of Threatened Species and a vulnerable species in Vietnam's Red Data Book.
The impressed tortoise is found in mountainous forests in Southeast Asian countries (Myanmar, Thailand, Laos, Cambodia, Malaysia and Vietnam), south China and northeast India. The reptile has a golden brown shell and skin; its shell is 180-206 millimeters long; as a terrestrial animal, the impressed tortoise does not have webbed feet.
The impressed tortoise lives in mountainous forests below 2,000 meters above sea level in Lai Chau, Lao Cai, Nghe An, Ha Tinh, Kon Tum and Lam Dong provinces. In the nature reserve, the reptile lives by the streams at 200-900 meters above sea level. Hon Ba Nature Reserve lies in Cam Lam, Dien Khanh, Khanh Son and Khanh Vinh districts and is about 40km to the southwest of Khanh Hoa Province, vietnamplus.vn reported.
A Vietnamese woman flying over Himalaya
Vu Minh Diep, a 30-year-old woman from HCMC, has traveled to some 30 countries in the four continents of the world. Recently, she has just realized her dream of paragliding over the Himalaya from Ladakh, a region in India.
In 2019, Diep did a parachute jump from an airplane at the height of 3,600 meters in New Zealand. Learning about the paragliding service in Ladakh, she registered to join paragliding at 14,400 feet (nearly 4,400 meters) over the Himalaya.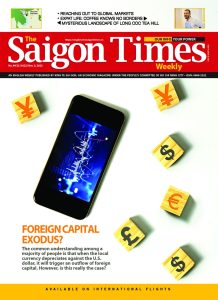 In October this year in Ladakh, Diep and her friends were transported by car to a flat mountainside at 7:30 a.m. to start paragliding. Each participant flew with a professional paraglider equipped with a GoPro camera to capture all the paragliding trip of the guest. Gliding at an average speed of 60km per hour, it took Diep and her guide about 30 minutes to land on a barren plot of land, which is a large camping site for amateur paragliders like her.
"The service price is very cheap," Diep told vnexpress.net. "It's worth a try," she added.