It is not by chance that during the host of activities conducted last month to stimulate tourism in HCMC in the new normal, Vice Chairwoman Phan Thi Thang presided over a workshop on the development of nighttime economy in Can Gio, an outlying district of HCMC. During this meeting, participants exchanged opinions and put forward quite a few suggestions on the development of the district's hospitality industry. However, due to the limited time, some of the issues could not be discussed exhaustively, particularly how to carry out the measures proposed and their effectiveness.
Can Gio covers more than 704 square kilometers, or exactly a third of HCMC's total area. Also, a third of this area is water surface. More than a half of it is flooded forests dotted with 69 islets. Can Gio is home to Vietnam's first biosphere reserve recognized in 2000.
The district lies about 50 kilometers from the city's downtown and is accessible via both overland routes and waterways. Can Gio's populations is some 72,000 people.
With its coast spanning 21 kilometers, Can Gio has its own salt fields and orchards, and is where raisers of oysters and the salangane, a kind of swifts which produce edible nests, go into production. Binh Khanh Commune in Can Gio alone houses some 350 houses for swifts. In 2019, the production of bird's nest was estimated at 4.8 tons earning over VND100 billion.
The forests in Can Gio have 220 species of higher plants belonging to 155 genera and 60 families. It also has 700 species of invertebrates, 130 species of fish, nine species of amphibians, 31 species of reptiles (11 of which are included in Vietnam's Red Data Book), and 47 families of birds.
Twenty-six archaeological sites have been found in the district. The most unique of them is Giong Ca Vo archaeological site (a.k.a. Long Hoa), which belongs to the Sa Huynh pre-culture period.
Last but not least, the former Rung Sac military base in Can Gio can be said to be a museum of relics of riverine commandos, an elite unit famed for their bold and brave warfare.
Remaining problems
In 1997, Lua Viet Tour led the first tourists who were students in HCMC to visit Can Gio. The coaches used at the time had to be fewer than 25 seats because bridges in the district were too weak to bear heavier weight! After their sea bathing, swimmers had to use clean water taken from drilled wells because no tap water was available then.
Dan Xay Bridge was the biggest one in the district when it was completed in 2001. But it was not until several years later that the bridge was able to withstand the load of 45-seat buses. The Binh Khanh – Long Hoa road has been expanded and upgraded, but the quality remains bad. So far, only two three-star hotels are available in Can Gio. The majority of tourists to Can Gio take one-day tours visiting the district on weekends or holidays.
What Can Gio has to offer to tourists is still modest and mostly repetitive. Itineraries include visits to the local "mini" monkey safari, Rung Sac military base, Vam Sat Ecopark, sea bathing and seafood tasting. However, in many aspects, Can Gio's products cannot be comparable with counterparts in other localities.
Recently, sightseeing tours of Thanh An and Thieng Lieng islets have been offered. However, on Thanh An, the only check-in point is the dyke. Thieng Lieng has more options as visitors may take a four-kilometer bike tour, experience salt making together with local farmers, and build "houses" for oysters or taste seafood. However, overland roads are bumpy, and speedboats are expensive while guest houses are not really comfortable.
Much has been talked about Can Gio District's tourism potential at workshops and roundtable meetings, and all have agreed that tourism needs to be developed. However, how to do that remains vague, including the latest policy on nighttime economy development. As Can Gio is also a Ramsar(**), big projects there have to take into account strict regulations on natural resources, the environment and forest protection.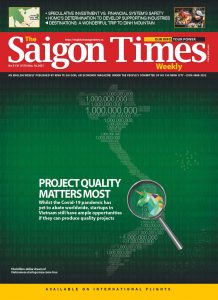 Some proposals
In my opinion, to boost the development of tourism in Can Gio, much more has to be done.
Traffic comes first. While awaiting the completion of the new Can Gio Bridge, it is necessary to increase the frequency of Binh Khanh ferries to ensure a smooth flow of traffic and prioritize tourist vehicles. Transport fares of cargoes and people should be lower while more check-in points should be added to connect to bird's nest sites in Binh Khanh, oyster rearing sites and salt fields on Thieng Lieng, as well as nipa palm and flooded forests. Passenger transportation on board smaller motorboats should be allowed like it is in the Mekong Delta in addition to the current speedboats because the latter are too expensive.
As for tourism types, for the immediate future, experience tourism should be promoted in association with outdoor activities relevant to flooded forests, traditional craft villages, and historical and cultural sites. In the long run, focus should be placed on high-end resorts and services related to flooded forests and the sea to ensure both economic development and environmental protection. Studies on training centers suitable to training activities or team leadership and team building should be conducted.
Regarding accommodation services, while waiting for the construction of high-end complexes, some four- or five-star accommodation facilities friendly to the environment should first be prioritized. The quality of existing accommodation services should be improved, particularly personnel's hospitality. Mobile boathouses should be provided and anchored at appropriate locations. For longer-term purposes, community tourism has to be highlighted with the participation of local communities and associated with agriculture and rural areas. Thieng Lieng Islet can be developed into a "village of hospitality."
When it comes to tourism products, visitors to Can Gio often wish for two points of the local strengths, sightseeing and fresh air. As for foods, affordable delicious dishes should be provided first. Menus relying upon oysters and bird's nests should be introduced. Small mangroves can be used as a gift which represents Can Gio's tourism. Those plants put in tiny pots can last for a year on a desk.
Meanwhile, the policy on nighttime economic development should link locals' demand to that of visitors so as to come up with appropriate steps. The model of Amphawa floating market, which is 90 kilometers from Bangkok, or night markets in Taiwan, should be applied in Can Gio.
Another indispensable issue relates to the training of tourism personnel for Can Gio District. Procedures for tourist groups from cruise ships visiting Can Gio should be simplified to facilitate the arrivals of travelers and investors. At the same time, high-end tourism facilities should be persuaded to lend a hand to training human resources in Can Gio.
In reality, HCMC remains a tourism hub in Southeast Asia. Combined with destinations in the city's downtown and Cu Chi District, the acceleration of Can Gio's tourism development will create a tripodal position which may help the city's hospitality industry develop in a more sustainable and balanced way.
(*)President of Lua Viet Tours
(**)A Ramsar site is a wetland site designated to be of international importance under the Ramsar Convention, or "The Convention on Wetlands," an intergovernmental environmental treaty established in 1971 by UNESCO.