The Sunny World Infrastructure and Real Estate Investment & Development Corporation organized a Strategic Cooperation Signing Ceremony on May 2, 2022 in Ho Chi Minh City with major partners including Daiwa House and Medi Hub Company from Japan in order to accompany and develop infrastructure and real estate projects, theme parks and high-tech healthcare centers. The deal is aimed at strengthening cooperation in investment promotion between Vietnam and Japan towards the 50th anniversary of the establishment of the diplomatic relations between Vietnam and Japan.
As a multi-sectorial private business with strong financial potential and experience in many areas such as real estate, industrial parks, infrastructure and logistics, healthcare, and energy, the Sunny World Infrastructure and Real Estate Investment & Development Group Corporation has been developing many big projects in Ho Chi Minh City and provinces across the country. With the goal of generating a strong cooperation alliance in the future, the Sunny World has signed a strategic cooperation agreement with Daiwa House to jointly develop infrastructure and real estate projects, including logistics areas, industrial parks, resorts, hotels, urban areas, and commercial centers. Moreover, with the aim at continuing to accompany and improve the community lives, the Sunny World has signed a strategic cooperation agreement with Medi Hub in the field of healthcare with focus on connecting and promoting high-tech medical development resources from Japan, especially resources in high-tech screening and healthcare for the elderly.
Among partners, Daiwa House is the famous Japanese corporation with nearly 70 years of development, charter capital up to US$1.26 billion, spreading its business in 24 countries with more than 48,000 employees, operating in the fields of construction, specializing in design and civil construction of houses, luxury apartments, high-rise buildings, factories, prefab houses, industrial parks, etc., in Japan as well as other countries around the world.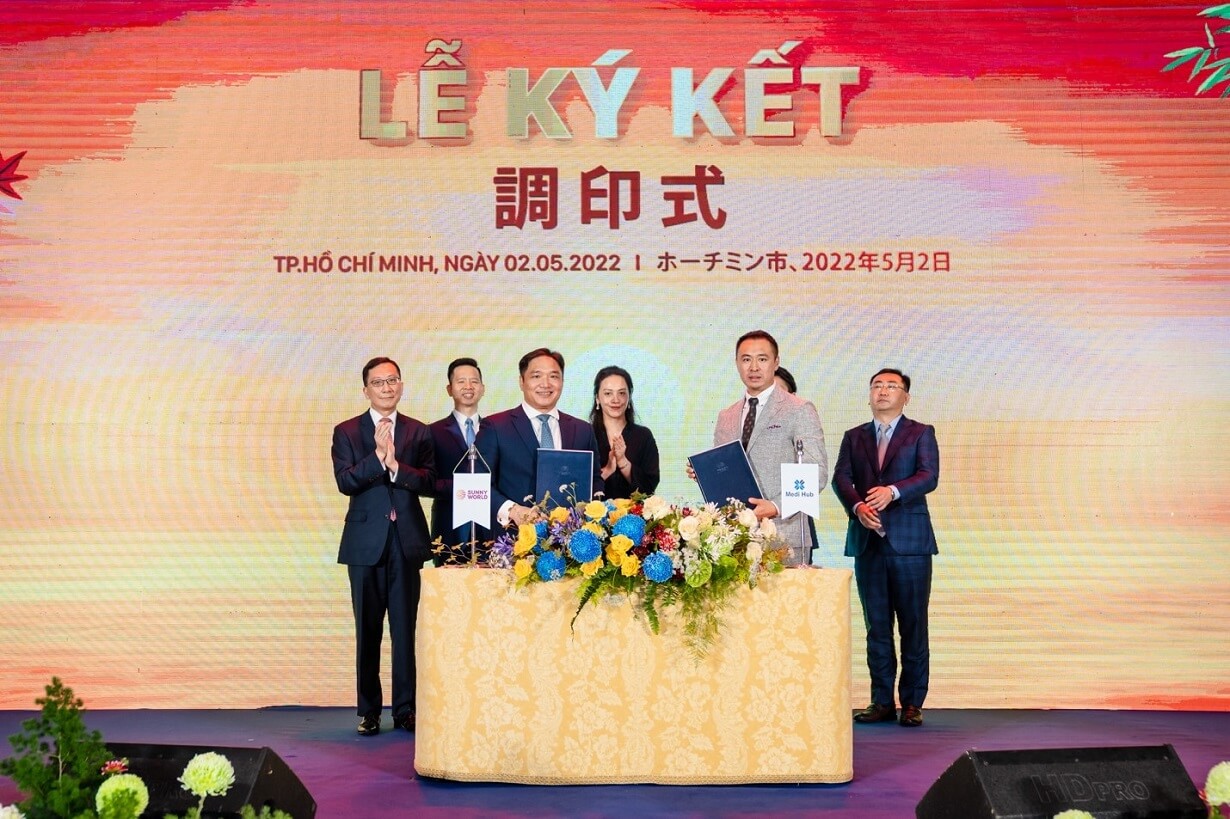 Medi Hub is the top company in Japan in providing luxury healthcare services. Founded in 2014 in Japan with the mission of "connecting the world and creating a healthy future" and improving public health through digital transformation in the area of healthcare, Medi Hub has developed throughout Asia with more than 2,000 doctors, customers and partners who are hospitals, healthcare centers and luxury nursing homes.
"Through promotion by the Sunny World, Daiwa House has the opportunity to cooperate with partners in the Sunny World's ecosystem. We have strengths in similar industries and areas such as residential real estate, industrial parks, and logistics. Having such a worthy strategic partner is an important premise for the Daiwa House to confidently expand its investment and reap success in Vietnam," Mr. Kataoka Yukikazu, Managing Director of International Business – the Daiwa House Industry said.
"This strategic cooperation agreement will be an important milestone for the Sunny World and the leading Japanese partners such as Daiwa House and MediHub to cooperate in developing many important projects to facilitate the administration of Ho Chi Minh City to truly make it become the city of international standards. In addition to projects in Ho Chi Minh City, we wish to further promote the implementation of multilateral and comprehensive cooperation commitments between the Sunny World and its partners through a variety of real estate projects across the country such as healthcare services, logistics, industrial parks, hotels and resorts, residential areas and urban areas, and shopping centers, through which the world's optimal resources and solutions from partners will be exploited to the fullest, serving the comprehensive development of the above strategy," Mr. Vincent Truong, Chaiman cum Chef Executive Officer of the Sunny World Company said.
Within the framework of the ceremony, the Sunny World also signed a cooperation agreement with Haichang Ocean Park Holdings (Hong Kong) on jointly developing theme parks in Ho Chi Minh City in particular and Vietnam in general. Haichang Ocean Park Holdings Ltd. is the leading marine-life theme park developer and operator of China. There were 10 theme parks operating under the brand name of "Haichang" and one theme park under construction such as Shanghai Haichang Ocean Park, Sanya Haichang Fantasy Town and Zhengzhou Haichang Ocean Park.
With the signing of such strategic cooperation agreements with 3 major partners, the Sunny World expresses its vision and aspiration in sustainable development, becoming a leading corporation in investment and economic promotion in Vietnam, constantly mobilizes high-quality domestic and international resources to jointly contribute to the national development, and at the same time seeks for opportunities to activate community development campaigns through strategic cooperation with leading partners in the region.