The pilot program to reopen Phu Quoc to international visitors scheduled for next month is met with mixed opinions from hospitality industry insiders who adopt both positive feedback and skepticism about the effects it may breed. Some have also come up with an alternative approach to a gradual recovery of tourism.
As per the plan mapped out by the Ministry of Culture, Sports and Tourism, the pilot program to welcome international visitors back to Phu Quoc will be carried out in two phases over the course of six months, starting this October. To pay Phu Quoc a visit, tourists have to be fully vaccinated, obtain a certificate of vaccination, or already recover from the disease with a health certificate proving their recovery.
In addition, visitors need to undergo a test for SARS-CoV-2 based on RT-PCR/RT-LAMP within 72 hours before departure; the test must show a negative result and be accompanied by certificate in English granted by a competent authority of the country doing the test. They must also book a package tour of a travel agency, and already be covered by health insurance and travel insurance.
It is expected that the source markets are Europe, the United States and some nations in Northeast Asia. In the first three months of this program, Phu Quoc will welcome some 3,000-5,000 tourists arriving on board charter flights a month and customer services will remain limited. The pace will be sped up in the second phase, with 5,000-10,000 visitors per month, when regular flights are possibly in place and more locations allowed to serve international guests.
The criterion for choosing service providers under this program is the firms in question have a plan to welcome and manage groups of tourists to ensure disease prevention and control, high service quality, and compliance with financial and tax obligations, among others.
All personnel directly involved in serving tourists have to be fully vaccinated, and the second dose must be administered at least 14 days before their guests arrive. People on the island must be sufficiently vaccinated as well for herd immunity before welcoming international visitors.
Big questions remain unanswered
The pilot program in Phu Quoc aims to bring about a spillover effect that will spread to other tourist destinations across the country, such as Halong, Hoi An, Nha Trang, and Dalat. Companies in the travel industry, while looking forward to resuming their operations soon, believe careful preparations must be carried out when it comes to vaccination, technology, and services so that their efforts will not be wasted.
First of all, regarding the vaccination against SARS-CoV-2, it seems Phu Quoc will hardly be ready in October, even though the central tourism management agency has pledged to provide this island with Covid-19 vaccines and the local authority is determined to speed up vaccination.
In an online conference about this pilot program between the Ministry of Culture, Sports and Tourism and the People's Committee of Kien Giang Province, Huynh Quang Hung, chairman of Phu Quoc City, said only 35% of the people in Phu Quoc aged 18 and over have been vaccinated. The city is still in need of 250,000-300,000 doses of vaccine for the islanders and workers from other localities. If there are sufficient vaccines, it should take between 15 and 20 days to administer those doses, just in time to reopen this tourist destination in October.
At present, all types of Covid-19 vaccines available in Vietnam including AstraZeneca, Moderna, Pfizer and Vero Cell require a waiting time of several weeks between the two doses and several others after that for acquired immunity. Therefore, assuming Phu Quoc was provided with enough vaccines for administration on a large scale in mid-September, it would be hardly possible to develop herd immunity within October.
Earlier, under the pilot program to reignite inbound tourism, Phuket (Thailand) vaccinated more than 75% of the island's population, and yet there were still new cases of Covid-19 that forced this program to halt for a while.
The time to welcome back international arrivals is near, but detailed plans concerning technical and technological barriers like visas, infection traceability, and emergency scenarios are not yet available to related parties and the business community.
"For many markets, especially Europe, it may take months to prepare," said Nguyen Ngoc Toan, director of Images Travel. "For example, if the reopening is done next month, it is not until March next year will there be visitors. We need a plan soon to work with our partners."
Currently, quite a few resorts in Phu Quoc are still laying off their staff, and not taking bookings until the end of this year. Hoteliers and restaurateurs are in need of time, vaccines, and specific information on market and air service resumption to draw up a plan to restore their operations, and be connected with supply chains for service of their guests.
"We have not been provided with enough information and conditions on safety and technology to welcome back visitors," said a businessman. "Without enough information, we haven't been able to talk with our partners to assess the market's response."
Dang Manh Phuoc, director of Outbox Consulting, said in order to reopen the market, the travel industry should carry out a more thorough evaluation of external challenges. Currently, the traditional markets— such as China, South Korea and Japan—are all restricting outbound tourism. Meanwhile, Australia will ban overseas travel until the end of December this year. Although the U.S. and European markets are not that strict, their tourism authorities have not been able to solve the problems of communication and air routes, etc.
"It seems we have just considered how to receive visitors on the condition of absolute safety, without a recurrence of the pandemic," said Mr. Phuoc. "We have yet to answer such question as demand and market size." He added that there should be more specific data to formulate a strategy for services.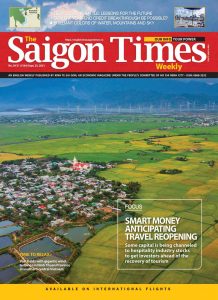 Domestic market should be prioritized
Considering the uncertainties of the international market, it is widely believed that it should take more time for the travel industry to be well prepared for a comeback. In the meantime, priority should be given to the domestic market, where tourism demand would be buoyant, and a considerable number of people have been vaccinated against Covid-19.
As of September 13, the rate of vaccination with at least one dose in the two largest source markets, HCMC and Hanoi, had been very high. According to the Covid-19 Immunization Portal, HCMC has almost completed its first dose vaccination. Meanwhile, Hanoi has vaccinated nearly 99% of its population with the first dose. The increasingly wide vaccine coverage is a favorable condition for the travel industry to revive the domestic market.
Just as what happens in the international market, to restart domestic tourism in Vietnam, local governments should make it easy for those who have been properly vaccinated to travel by imposing no quarantine. In addition, there should be a procedure for services so as to minimize infections, contingency plans to respond to any unpleasant situation, and marketing programs that encourage people to go on a tour.
"It would not make sense if domestic tourism has not been resumed but international travel is already active again. In my opinion, promoting the domestic segment will help restore the service supply chain, making the international segment more ready to receive visitors," said Mr. Phuoc, adding that Thailand and other nations have done the same thing, i.e. resuming domestic tourism before getting reconnected to the international market.
Quite a few companies have also insisted that the home market will be their key for at least a year to come, thus they are rolling up sleeves to attract visitors again as soon as the fourth outbreak of Covid-19 is contained.
Recently, many destinations like Dalat, Khanh Hoa, and Quang Ninh have resumed on-the-spot tourism activities. Some have even considered receiving visitors from other cities and provinces, provided the latter have been fully vaccinated or recovered from Covid-19. Once the programs of travel companies and local governments become connected and wage a campaign for attracting a large number of  visitors, domestic tourism recovery will be feasible and help domestic travel companies survive until the resumption of international travel.
By Dao Loan