The pavements across Saigon, where the homeless find a place to earn a living and a temporary shelter, have salvaged many from falling into the dark abyss.
Saigonese were chilly at the year-end. After long months of strict social distancing, the new cold atmosphere was like one that had just experienced an "air detoxication." In fact, the chilly weather similar to that in the highland city of Dalat came like a gift which inspired Saigonese to energize themselves before the hot spell will be arriving soon after Tet, the Lunar New Year holiday.
The peak of the fourth wave of Covid-19 was over, paving the way to the reopening of many services in town. However, it seemed to me that Saigonese had adopted a new rhythm of daily life which is much less hectic than before. As traffic was thinner on the streets, I came to realize that after the house clearance campaign to have room for a new subway route, the two rows of old houses on both sides of Cach Mang Thang Tam and Truong Chinh streets in Tan Binh District had all vanished giving rise to new houses and new shops which were recessed considerably. The streets were dozens of meters wider, though. It also means that the service shops I used to frequent for half of my life no longer existed. Where was the bike shop where I had my bike fixed? Where was the chair store I had my swivel chair maintained? And where was the pho (Vietnamese beef noodle soup) shop I liked the most?
I still remember one night when I was riding my motorbike on Nguyen Dinh Chieu Street in District 3, it poured suddenly. It was then seven o' clock in the evening, but on the street that was lined on both sides with one store after another, only a few lights could be seen. In place of the showy glass windows of the shops selling trendy outfits I had stared at just a short while before were now rows of dark roller doors standing in silence. I called at a shop with a light still being on to find refuge from the rain only to notice that there was a sell-off going on there before its final closure.
While waiting for the rain to stop, I entered the shop to choose some of the items on sale. In the meantime, the shopkeeper tried to explain to customers why the fashionable clothes were being sold at a low price. "We want to sell them off to close our store, all of them," said the shopkeeper. Seeing that a customer was rummaging relentlessly through the heap of clothes, she said almost crying, "These are designed trendy outfits, not mass-produced garments. Please handle them with care!"
I looked at the shopkeeper inquisitively. She told me that she was actually a fashion designer. "I've done business at this address for 16 years. My clothes aren't mass-produced garments or Chinese-made. Each set of my garments was previously sold for several million dong and now I sell them for only several hundred thousand dong."
The designer went on saying that the lingering pandemic forced her to be in the red, and she could no longer bear the monthly rental. "I don't know when my customers will return," she said. "It seems people have significantly reduced their demand for fashionable clothes. I have no choice rather than selling them off and closing the shop. I don't know what I'll do next."
I felt sorry for this designer. However, I didn't have much money, and as she said, I also worked from home and didn't have to dress up because I didn't go out frequently.
Then, I remember my recent visit to Ben Thanh Market, which is arguably the most famous market in HCMC. The place was almost empty then. I met two women who were mending old clothes at the time. What a scene it was in this market for the rich in Saigon! It turned out to me that the women are shop owners at the market. They told me that after many years, they were now back to the habit of mending clothes. "We used to get rid of clothes with stitches coming loose," they told me. "But now, we are in tatters in the pandemic. We have to save money."
They said their shops were opened in early November, but they received only a few guests a day. The products in demand also changed. They were no longer trendy outfits or sportswear, but ordinary clothes donned at home. What the shop owners said reminded me of the markets near my whereabouts. Only a few shops selling luxury goods—such as cosmetics, expensive footwear and fashionable clothes—had been reopened there because not many people could afford them. The pandemic has changed their shopping habits and prompted them to save for a rainy day. But that also means a host of services have to come to a dead-end.
My friend, the owner of a spa service, rented a shop 52 square meters wide in Lotteria Cong Hoa shopping center. Occasionally, I read her status on Zalo, a popular social media in Vietnam, saying that the spa service sector was "ignored" during the pandemic. What she said sounded like a lament. She seemed right, I think. So far, I have received many messages from a beauty salon inviting me to visit the place. The owner insisted that customers would not pay anything other than VND100,000 for a service to be done, such as hot rock sauna, ginger detox bath or herbal hair wash. But during this moment, it failed to convince me. VND100,000? Well, I should save more!
***
I live in the area of Bay Hien crossroads in Tan Binh District. The pavements around my house are where some homeless people live. When back home late, I could see on some sections of Ly Thuong Kiet, Truong Chinh and Lac Long Quan streets many of them wrapping a plastic sheet around their body to go to sleep. Just a short time ago, if you ran your bike slowly, some might intercept you and ask whether you wanted to give them a portion of free meal or some pocket money.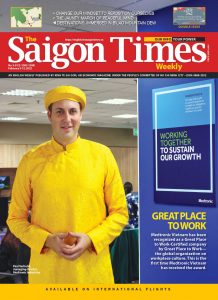 After so many years keeping contact with these homeless people, I have gained some additional skills. Well, I can guess rather correctly who have lived on the streets for years and who are just newcomers, who don't want to come back to their home provinces and who want to remain on the streets for the rest of their life because they have no relatives to rely on. Whatever their circumstances are, their trips for life are on either a three-wheeled vehicle, a dilapidated bike or a motorbike in bad conditions and replete with scraps.
When the pandemic was at its peak, the municipal government had the homeless gathered at given places. In my quarter, the police officer in charge told me that although he had tried his best, he was able to persuade only some 20 of them to move to the ward's police station. Those down-and-outs shared the same meals with the police officers until they were sent to a temporary shelter. How many life stories were told when people came closer to one another?
I wanted to ask the police officer in my quarter why homeless people were back to the pavements to  stay under the awnings again. Apparently, there were more of them than before. After the pandemic was brought under relative control, numerous companies, big and small, went bankrupt. A slew of restaurants, eateries and factories were closed. If one could not pay for the monthly rent, they would normally have to move away. If those people had no home in the provinces, or they didn't want to bother their family members who are in somewhere, the closest place within range may be the pavements or under a bridge.
One night, I saw a young man wearing the uniform of a ride-sharing company busy hunting through a heap of garbage on the pavement. The young man was just like any of his counterparts I had met. The difference was he had a small bag on the rear of his motorbike where he put the scraps he found.
***
Life is a stormy voyage. The pandemic has wiped away plenty of destinies. There are too many sad stories to be listened to. I hope the ride-sharing company driver mentioned above can make both ends meet when riding his bike in the daytime and collecting scraps at night. I hope the fashion designer will not be in despair after she has to say goodbye to the shop she cherished.
Nobody knows what happens next in our life. However, some may get more valuable things.