Takeda Vietnam has prevailed over thousands of organizations to win the award of 2022 Best Workplace in AsiaTM by Great Place to Work®, the global authority on workplace culture. Takeda was ranked the 23rd place under the Multinational category on the Asia list. The 2022 Best Workplaces in Asia™ list is based on over one million survey responses across Asia and the Middle East, representing the experience of more than 4.7 million employees in the region.
This recognition is based on confidential survey data assessing employee experiences of trust, innovation, company values and leadership. Companies are also evaluated on how well they are creating a For All™ workplace experience, inclusive of all employees no matter who they are or what they do.
The Best Workplaces in Asia show that investing in people is a proven path to business success. Those that can create a fair work environment that fills employees with pride will outperform in the competition.
Commenting on this achievement, Katharina Geppert, Country Manager of Takeda Vietnam, said, "We are incredibly proud to be recognized for the unique culture that we continuously strive to foster among our employees and within every aspect of our business. It is a philosophy that we live and breathe ever since we began our operations over 240 years ago."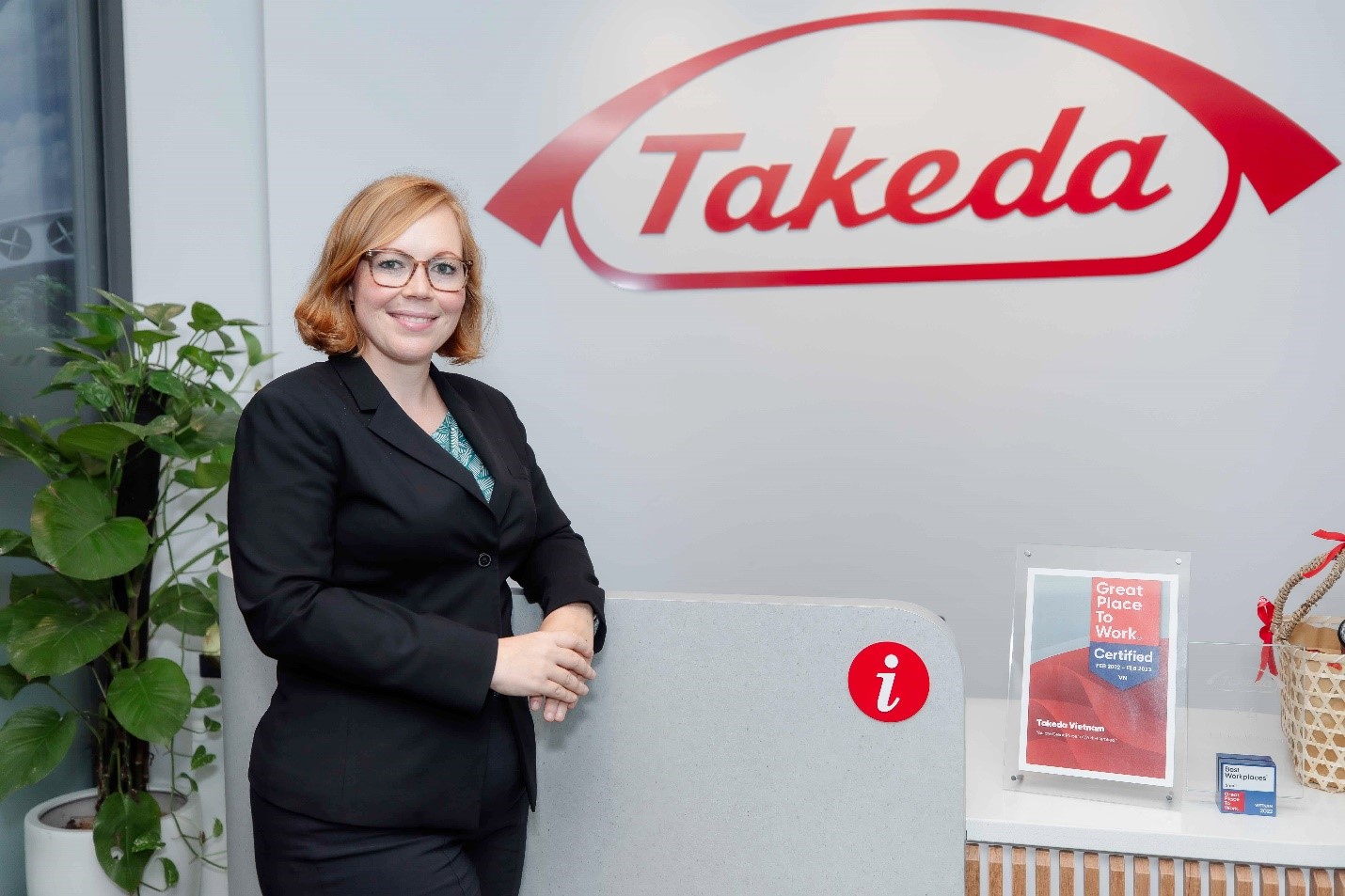 Takeda Vietnam is a biopharmaceutical company with global presence, dedicated to improving patient lives through an access-first approach, delivering highly innovative, life-transforming treatments to patients. With the mission to be a long-term trusted healthcare partner, providing innovative medicines and solutions to address healthcare challenges in Vietnam, Takeda fosters a diverse, equitable, inclusive, open and collaborative work environment in which employees can contribute, perform and grow as individuals.
Katharina Geppert added: "All benefits at Takeda Vietnam are made with care. We aim to create an exceptional people experience, offering a comprehensive range of benefits to meet the unique and diverse needs of our people, while continuously emphasizing the Diversity, Equity and Inclusion (DE&I) as part of our people strategy. We believe Diversity provides the potential for greater innovation and creativity, while Inclusion helps the company realize the business benefits of this potential. This enables every employee to be heard, recognized, and feeling cared for."
Igor Gomes, Cluster Head of Vietnam, Malaysia, Philippines & Singapore, shared, "The two recognitions received in less than a year reaffirm our commitment to continuously build Takeda as a great place to work and a workplace that empowers all our employees to bring their best self to work daily. The recognition received by the Vietnam team is a testament of our Diversity, Equity & Inclusion as part of the people strategy."
In alignment with the global vision "Better Health, Brighter Future" for its employees, Takeda Vietnam focuses on health and welfare with the top health care program for individuals and family, vaccines for employees, COVID family support program, and physical and mental health program for employees as well. The company celebrates a culture of appreciation and pay attention to work-life balance by providing a flexibly working arrangement and hybrid working policies and a half-day Friday off. Moreover, the company adds more days for employees to spend more time on themself and family on special occasions.
Takeda commits to people development as the company aspires to cultivate and maintain lifelong learning and an inclusive environment, where every employee is encouraged to grow and perform to their full potential.
Quynh Hoang, Takeda Vietnam's Senior HR Manager, said: "Takeda is an outstanding place to work where I am blessed to work with an amazing team and we genuinely have a warm affection for each other and a supportive, welcoming environment. They prized collaboration and good work ethics, and truly put patients above all else. It is a great place to both contribute and grow professionally and personally. Together, we continue to improve our people's strategies to create a truly pleasant and desired workplace."
In May, Takeda Vietnam was ranked the 4th place on the list of 2022 Vietnam Best Workplaces™ by Great Place to Work® ASEAN & ANZ for its commitment to continuously striving for an "Exceptional People Experience", promoting individual growth and making Takeda Vietnam a truly inspiring and purposeful place to work.