Vietnam has decided to welcome back international travelers from March 15. Many companies in the industry said this is the right time to reopen the tourism market after nearly two years of suspension induced by the Covid-19 pandemic. Having said that, there are many things that need to be done to attract international travelers, from visa policy to pandemic prevention measures. In an interview with The Saigon Times, Seif Hamdy, general manager of InterContinental Danang Sun Peninsula Resort, shared his views about the reopening. Excerpts:
The Saigon Times: The local tourism sector reopened its doors to welcome back international travelers from March 15. What do you feel about the reopening amid the spike in new Covid cases?
Seif Hamdy: This is great news for the tourism industry of Vietnam and we fully support the decision to reopen the country to international visitors. At our resort, we have certainly not been standing still during the pandemic. We've been very busy upgrading our facilities and upskilling our team members so guests can expect the highest levels of hospitality when they return. Naturally, as a member of the InterContinental Hotels Group (IHG), the resort adheres to the IHG Clean Promise Program, which upholds the highest standards of health and safety.
We have seen a huge effort by the Vietnamese Government in terms of the vaccination roll-out and Covid-19 prevention measures. Now, we are ready to welcome the world. I understand that the authorities want to implement the plan properly and carefully. I think it is important to look at other countries that had previously opened their borders and see what we can learn, both in terms of their successes and mistakes, to ensure the process runs as smoothly as possible.
I am confident, however, that this is the right time to reopen and we look forward to welcoming our cherished international guests back to Danang.
How do you expect to see the market respond to the plan?
Many people have been waiting for two years to travel overseas, so I am sure that all travelers will be excited to hear this fantastic news. Obviously they need to be reassured that Vietnam is safe, and have clear guidance from the Vietnamese Government on issues such as visa applications, vaccination certificates and other protocols, plus which airlines will be resuming services to Vietnam. But I am confident that this framework will be put in place.
In terms of markets, we expect to welcome the most visitors from Korea, Japan, Singapore, India and the USA, as well as our own domestic guests. But of course, we will roll out the welcome mat to visitors from all countries.
How did your resort operate during the pandemic? How are you preparing for the reopening of tourism?
Like many other hotels and resorts, we were forced to close a couple of times when restrictions were tightened in Danang. But we used this time constructively by taking the opportunity to refresh our facilities and retrain our staff.
We implemented intensive training for our frontline teams, including guest services, food & beverage training and the IHG Clean Promise, to ensure that every team member is ready to welcome guests back in a completely safe environment.
We have also completely refreshed our landscape and gardens and embarked on some major refurbishments, such as building a new Club Lounge and renovating the Nam Tram cable car, which transports guests from "Heaven", the highest point of the resort, down to the beach at "Sea" level. We are also expanding our family swimming pool, refurbishing our lobby and completely reconfiguring our large family suites, with the addition of private plunge pools.
The last few months have actually been relatively busy for us, with an increase in business from the domestic market. But we are looking forward to revealing our new and upgraded facilities to all our guests.
The tourism departments have been told to put forward solutions to address risks and problems facing the reopening of tourism. Are there any issues around vaccination certificates?
At present, the Vietnamese Government requires all tourists to have a certificate of full vaccination against Covid-19. We are still waiting to see what the requirement is moving forward. The most important thing is that the rules should be clear and consistent. Then it will be simple for travelers to understand and make the entire process easier to follow.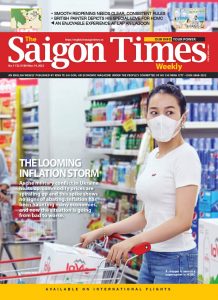 According to you, which factors could impact the success of the reopening program?
The main factor is a lack of information about air services. We need to know which airlines are resuming flights to Danang, from where and how often. This will allow us to prepare for our guests and provide them with the highest levels of comfort.
We must also ensure that entry processes are clear and consistent, to make it easy to plan a trip to our country. If the situation changes or evolves, it is important to reassure the traveler and make those changes easy to understand.
Naturally, many people are still nervous about booking overseas vacations. They worry about changing conditions, complicated rules and confusing procedures. They also worry about their family's health and safety. We must make the entire process as simple and stress-free as possible.
It is a matter of concern that the reopening of tourism will be affected by the ongoing war in Europe. What do you think?
The war in Ukraine is clearly a tragedy and we all hope that it will be resolved very soon. In terms of its impact on travel, it is too early to say. We will need to see what happens.
As a guru in the tourism market, what do you think Vietnam should do to help the tourism industry grow stronger? 
I think the most important thing for every owner, investor and management team to do now is to focus on its people. The pandemic had a big impact on people's lives; not only their health but also their careers and livelihoods. Many hoteliers have left their jobs for other industries. We really need to take care of the people who are still with us. We need to make sure they are paid well, that their futures are secure and that they are motived and inspired. Retaining our talent will be the key to our future success.