For many companies, sustainability is of paramount importance in business. Keppel Land is among them. In line with Keppel's Vision 2030, while pursuing various corporate social responsibility (CSR) programs, the property developer has wholeheartedly committed itself to environmental protection and solutions to climate change.
Given that guiding compass, it is no wonder the company has launched numerous initiatives to this effect. Keppel Land shared with The Saigon Times about its effort to initiate impactful CSR programs that can uplift the communities wherever it operates and promotes environmental protection.
For a cleaner and greener world
Over the years, Keppel Land has persistently conducted actions to contribute to environmental protection.
In 2019, the company sought to raise awareness about plastic waste in the ocean by organizing the display of a plastic straw art installation, which was made from 168,000 plastic straws and packaging recovered from the streets of Vietnam at Keppel Land's mall Estella Place in HCMC. Named "The Parting of the Plastic Sea", the art installation achieved the Guinness World Record for the "Largest drinking straw sculpture (supported)". Also in that year, Keppel Land co-organized the Plastic Diet campaign to raise awareness of the negative impacts of plastic waste.
Keppel Land also organised the Plastic Straw Free challenge at Saigon Centre, which was held to promote the use of biodegradable or reusable alternatives to plastic straws, such as bamboo or paper straws.
The company also organizes regular eco-initiatives to encourage a green mindset among its people, such as 'Trash to Treasure' and 'Green Workshop', the workshops during which its staff and their families learned how to create recycled crafts from trash and unwanted products. In addition, the company organizes annual beach cleanup activities.
Similar initiatives are continued this year.
In July, Keppel Land organized the Green Sculpture Competition and Exhibition, where participants were tasked to create sculptural artworks with recycled materials. The competition received close to 60 submissions from more than 100 students and members of the public.
In the same month, Keppel Land also contributed 3,000 trees to the Dong Nai Culture and Nature Reserve in support of Vietnam's national program that targets to plant one billion trees by 2025.
Keppel Land also supports global movements to raise awareness on environmental protection. Every year, Keppel Land's properties in Vietnam, including Saigon Centre and Estella Place, show their support for Earth Hour by turning off non-essential lights for an hour.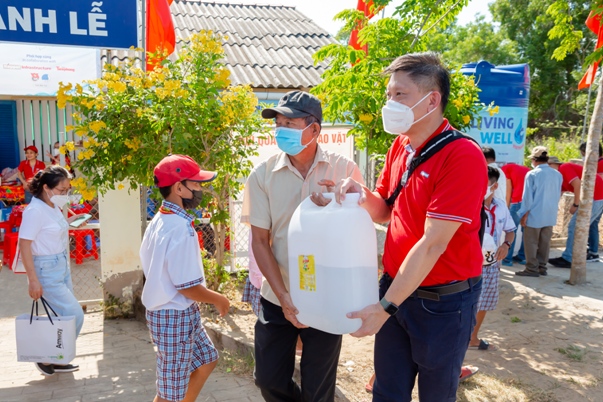 Promote environmental protection through education and other social commitments
While placing environmental protection and actions to fight climate change at the core of its Vision 2030, Keppel Land has also continued to contribute to environmental movements by embracing other social commitments, especially support for education.
During a company trip to Phu Quoc Island in November, Keppel Land introduced its 'R.I.S.E to the Challenge' outreach programme to the students of Ganh Dau Primary and Secondary School. First launched in Singapore, R.I.S.E to the Challenge is an educational initiative, which seeks to raise awareness of rising sea levels and the urgent need for climate action among youths. Keppel Land also contributed to Ganh Dau Primary and Secondary School 100 copies of the R.I.S.E to the Challenge book in Vietnamese, which contains information on how climate change affects Vietnam, as well as the steps that individuals can take to fight climate change.
There are also other social commitments realized by the company. For example, the company launched the Living Well initiative to provide water filtration systems that offer about 20,000 villagers in Dai Hoa Loc and Bao Thuan communes in Ben Tre Province in April 2022. This initiative helped the residents with better access to clean drinking water in a province affected severely by harsh drought and saltwater intrusion in 2020.
Balancing profits and costs, especially when corporate social responsibility is part of it, is one of the dilemmas of many businesses. Placing sustainability at the core of its business and operations, Keppel Land's action plan is making the challenge of profit and cost part of its business strategy to continue contributing to the community as well as protecting the environment.