Floating markets are among the things that characterize Vietnam's Mekong Delta. These markets are where travelers can further explore local lifestyles, culture and food. Cai Rang Floating Market in Can Tho City, which became a national intangible cultural heritage site in 2016, is the biggest of its kind.
Different colors, smells and tastes have mixed to form what has been known as Cai Rang Floating Market. The market on the Can Tho River is more bustling than usual as the old lunar year is counting its last days. Hundreds of boats carrying a wide range of goods gather at the floating market, creating spectacular scenes.
Local traders are busy day and night during days before Tet, Lunar New Year holiday. Goods are bought and sold on board boats. The way boatmen transfer their goods from one boat to another is a unique scene to watch. Each boat has a long bamboo pole erected upright to which samples of goods are tied to show buyers things they can find on that boat. It is a simple but effective way to advertise commodities.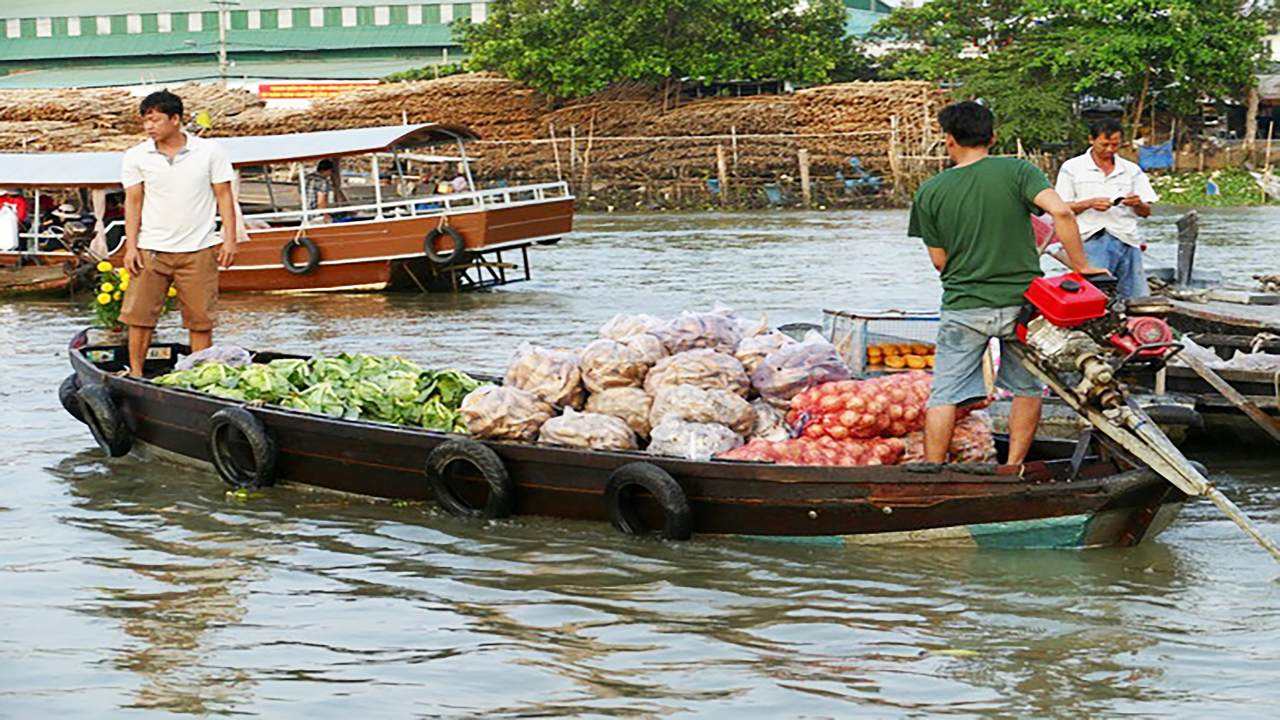 Most of goods sold at the floating market are fresh tropical fruits—rambutan, mango, pomelo, watermelon, durian and mangosteen, to name but a few. Signature fruits from neighboring provinces can also be found here, such as Nam Roi pomelo from Vinh Long, oranges from Lai Vung and durians from Cai Mon. Moreover, the floating market also offers everything from agricultural products, fresh foods, spices, snacks and drinks to clothes, cosmetics, medicines, fuels and even lottery tickets. To cut a long story short, one can shop for anything he or she wants on board the myriad of boats at the floating market.
What's more, Cai Rang is home to a host of floating eateries where local specialties are available. Among them is the southern-style noodle soup which once impressed world-famous British celebrity chef Gordon Ramsay during his visit to the delta in 2013.
But that is not all about the floating market. If you want to discover locla lifestyle on the river, Cai Rang is a viable option. Boats can be called homes in this case, which are turned into floating houses equipped with basic household essentials, such as TVs and music players. In many cases, among the assets on board these boats are pets and motorbikes.
To fully enjoy the atmosphere of Cai Rang Floating Market, travelers should be there at 5 a.m. The market lies about six kilometers from downtown Can Tho City. Travelers can take a boat ride at Ninh Kieu Wharf, which lasts for half an hour, to reach the market.