Despite endorsing the collection of fees for using infrastructure facilities and public services at seaport terminals in HCMC for reinvestment, businesses and analysts said the southern city should look for a more appropriate time to implement the fee collection.
Not the right time
Given HCMC's plan to begin the seaport fee collection from April 1, businesses expressed their concern over the move. According to them, it will increase their cost burden and reduce their competitiveness.
The city has been piloting the seaport fee collection since February 16 and has planned to officially begin from April 1.
Many firms said they have yet to recover from the effects of the Covid-19 pandemic and are shouldering the burden of rising input costs linked to logistics, transport, fuel, materials, and Covid-19 test kits. The on-going Russia-Ukraine military conflict could also further hike sea transport fees. Therefore, if the seaport fee collection is carried out at this time, it would affect businesses.
"While the Government is currently taking various measures to improve the business environment with a focus on administrative reforms and reductions in costs for businesses, is the city's plan to officially begin the fee collection appropriate?" a representative of the Vietnam Association of Seafood Exporters and Producers (VASEP) asked.
Businesses already have to pay several infrastructure-related fees such as tolls, road user charges and BOT fees. Regarding BOT fees, businesses are being charged a huge sum of money as BOT toll stations were set up in large numbers along national highways from provinces to seaports in HCMC. In addition, seaports are collecting a host of infrastructure-related fees such as fees for container storage and using electricity.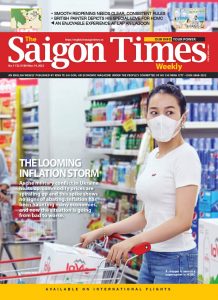 Transparency needed
In the long run, many also threw their weight behind the collection of seaport fees, as they could be used for expanding infrastructure facilities that could help ease the traffic congestion facing seaports and enable businesses to improve their transport capacity.
In reality, many firms complained that roads leading to seaports are substandard and congested, resulting in container trucks being able to transport cargo to and from seaports just once a day. If the roads are clear, each truck can make two trips per night, in addition to another trip during the day, thereby helping share the consumable costs. Accordingly, if investments in roads are not made urgently, these roads could face more congestion and hinder the circulation of goods.
HCMC is not the first locality to begin the collection of seaport fees. Earlier, the northern port city of Haiphong had implemented the collection to serve its reinvestment plans. The results showed that port businesses, exporters and importers and transport operators became the beneficiaries of the collection, and issues linked to time and operating costs were addressed.
Analysts said HCMC needs to make commitments to assuring businesses that the collection will serve investments in infrastructure projects linking to seaports.
Section A, term 4, article 1 of the HCMC People's Council's resolution No. 10 dated December 9, 2020, indicates that all of the collected fees for using infrastructure facilities and public services at seaport terminals in HCMC, after deducting fees to serve fee collection activities, will be submitted to the city's budget for management and further allocations will be made for developing and upgrading traffic infrastructure projects linking to seaports in the city.
Accordingly, the city's plan to use this source of revenue should be transparent, said businesses and experts, adding that a list of roads receiving investment needs to be specific and published.