For the first time, the Vietnam International Agricultural Trade Fair 2022, held in Can Tho City in the Mekong Delta on November 2, featured a variety of high-technology equipment for agricultural production. With seven booths for drones and four for milling machines, there appears to be a new race on the horizon, a stiff competition between businesses and manufacturers seeking to improve the rice-processing quality and profits and pay more attention to environmental concerns.
An unmanned aerial vehicle, a.k.a. drone, is a high-tech device designed to sow seeds, spread fertilizers and spray pesticides in agricultural production. In particular, two employees using drones could spray pesticides in a 50-hectare area faster and more comfortably than the traditional way of one person and a five-hectare working area, according to Nguyen Ngoc Hieu, owner of HCMC-based XAG Mekong Company Limited with an office in Dong Thap Province.
Meanwhile, Do Truong Giang from Nicotex Can Tho, a subsidiary of Nicotex Joint Stock Company, noted that flying drones reduce operating expenses by 30% in terms of fertilizers, pesticides and seeds, and lower labor wages by 50-60%. The technique minimizes health risks and weather condition effects on agricultural crops.
"There has been fierce competition among service providers in the market," said Giang, who formerly charged customers VND350,000 per hectare for drone services. As the rental price is now scaled down to around VND120,000 per hectare elsewhere, Giang said it would be preferable for farmers to own their own drones.
Many drones at the expo were made in China, including DJI, XAG and Top X Gun. The products are priced cheaper than in other countries, ranging between VND300 million and VND700 million, and included with a training course as part of the selling package. Many companies said they already have offices in rice-growing regions in Vietnam. Market expansion is currently a must for businesses, given that the Mekong Delta is moving toward smarter farming and drone-based cultivation methods.
Nguyen Van Hoang Nguyen, a member of Truong Thinh Agricultural Drone Office, a subsidiary of HCMC-based Truong Thinh Trading and Technique Company Limited, stated that the company would pursue a two-pronged strategy that focuses on the Mekong Delta market and expands its operations to the Southeast region and the Central Highlands. By doing so, Nguyen underlined the firm's goals of "servicing durians and certain industrial crop plants".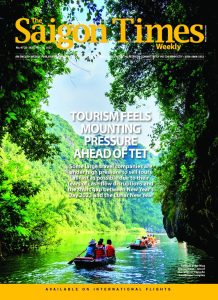 Van Thanh Liem, who runs Minh Ngoc Company Limited in Long An Province, said, "I hope that Top X Gun will work to improve its drones and lower the prices to around VND270 million." He currently charges customers VND370 million per product. According to Liem, it would be ideal if the firm could provide farmers with favorable incentives to boost sales and support local production.
ZenMuse, a Singaporean company, participated in the event with the slogan, "ZenMuse-an expert in professional agricultural drones", noticeably displayed at their booth. The company's interpreter, Thuy Trang, said ZenMuse is seeking more local retail partners. The firm planned to hold the grand inauguration of its first office in Vietnam in Can Tho on November 16, introducing its two drone products to farmers with prices ranging between VND285 million and VND310 million.
According to Trang, "ZenMuse intends to grow its business in the Mekong Delta further."
Additionally, many visitors to the expo were astounded by the technological breakthroughs in grinder, huller and color-softer equipment supplied by businesses such as Bui Van Ngo, Bui Van, DCT and CNC. The machines could weigh tons and span an area as large as a two-story building. Using Japanese cutting-edge electromechanics, the system keeps the product quality consistent throughout various rice-processing stages, including husking, separating, whitening, polishing and screening.
By and large, prices for the products range from VND98 million to VND617 million to satisfy the demands of various customer segments. Meanwhile, the overall cost of a spikelet-to-white-rice machine might vary between VND3.4 billion and 38.5 billion for an output capacity of 8, 12, 14, 15, or 24 tons per hour.
Bui Trong Hieu, director of Bui Van Mechanical Industrial Production Company Limited, said the machines allow rice products to meet requirements to serve domestic and export demand. The proportion of finished items must be between 67% and 69%, with long and thin uncooked grains being consistent in size and shape throughout the phases.
According to Hieu, customers support the firm's initiatives to improve product quality to consume less power, make more finished products and byproducts and be better for the environment. As operating costs fall, local farmers might be able to generate more profit from their paddy fields.
"The more the rice sold, the further the processing technology develops," said Hieu. He stated his optimism for the future of the Vietnamese rice farming business due to efforts to maintain price stability in the market.
According to Duong Hoang Tin, a member of DTC Trading Service Company Limited, by meticulously sifting out its substandard portions, the company's husker and color-softer products help enhance the rice quality for domestic and foreign markets. The Chinese-made machines cost VND1.3 billion and have an hourly capacity of 10-15 tons on average. For over eight years of operation, the firm has steadily developed its customer base across localities in the Mekong Delta. According to Tin, the prospect of local rice industry growth looks promising, with "benefits being offered to farmers, enterprises and the local rice supply chain".
Meanwhile, Smart Sort's CNC separating machine, imported from China, costs approximately VND1.1 billion. According to Truong Phuoc Toan, the firm's sales specialist, the equipment was designed to prevent the growth of mold and bacteria and other shortcomings in rice processing. "The product has immense potential to become the rice processing industry's flagship very soon," added Toan.