While access to capital remains a headache for local enterprises as they struggle to take out bank loans or get funding from the securities market, foreign capital has become a savior, helping cash-strapped companies maintain operations and recover in the coming years
The An Gia Real Estate Investment and Development Corporation (HOSE: AGG) recently approved a short-term loan worth US$10 million offered by the Offshore Banking Branch of the Shanghai Commercial & Saving Bank, Ltd. Earlier, its management board agreed to borrow up to US$15 million, which was revised up to US$18 million later, from Hana Pte Limited.
Another large real estate company, the No Va Land Investment Group Corporation (HOSE: NVL), followed the same path as it took out a secured loan worth US$100 million from Singapore-based investment fund Credit Opportunities III Pte Limited. The company is now planning to apply for a US$40 million loan from VietinBank Filiale Deutschland, a brand of Vietnam Joint Stock Commercial Bank for Industry and Trade in Germany.
Not limited to property firms, banks also sought funding abroad. Among them are the Vietnam Prosperity Joint Stock Commercial Bank (VPBank), the Southeast Asia Commercial Joint Stock Bank (SeABank) and the Vietnam International Commercial Joint Stock Bank (VIB).
VPBank on November 11 inked a US$500 million syndicated loan with five major financial institutions: the Asian Development Bank (ADB), the Sumitomo Mitsui Banking Corporation (SMBC), the Japan International Cooperation Agency (JICA), the Australia and New Zealand Banking Group Limited (ANZ), and Maybank Securities Pte Ltd., a member of the Maybank Investment Banking Group.
The bank said it would use the loan to meet the credit needs of women-owned and small- and medium-sized enterprises (SMEs). Previously, in April, a loan of US$600 million was syndicated from SMBC, Maybank, Cathay United Bank, CTBC Bank, and the Central Bank of India.
Meanwhile, SeABank signed a seven-year term borrowing agreement valued at US$200 million with the United States International Development Finance Corporation to provide funding for individuals, SMEs, and energy-saving projects.
Early this year, International Finance Corporation (IFC) and five international investment funds, including Banque Internationale de Commerce-BRED, BlueOrchard Microfinance Fund, KASIKORNBANK PCL and OPEC và ResponsAbility Investments AG offered the bank a US$220 million credit package, so that it could offer loans to SMEs, women-owned companies, and finance projects tackling climate change.
Also, in November, VIB borrowed US$150 million from IFC with a two-year term. Of the amount, US$45 million will be lent to homebuyers if the property value is below US$35,000. In March, the bank entered into a US$260 million syndicated loan contract with ADB and other large regional banks.
As for financial companies, Viet Capital Securities Joint Stock Company signed a loan contract with a credit line of US$105 million with a group of foreign banks, and it is entitled to expand the credit line up to US$150 million. F88 Business Joint Stock Company has reached an agreement worth US$60 million with international financial institutions CLSA Capital Partners Limited and Lendable. Since January, F88 has raised US$70 million via foreign organizations.
Apart from them, enterprises in other industries also sought funding abroad. Masan Group and its subsidiary, The Sherpa Company Limited, have received a US$600 million syndicated loan with a five-year term. This is the biggest and the longest loan that Masan has ever taken out, with the cooperation of 37 lenders. Since early this year, Masan has been planning to apply for a US$250 million loan to the max from the French bank BNP Paribas, the Singapore-headquartered Standard Chartered Bank Limited, and branches of the Hong Kong and Shanghai Banking Corporation Limited.
Meanwhile, The Sherpa has also been granted a loan worth up to US$350 million by the said organizations. In its 2022 plan, Masan Group would issue convertible, unsecured and without warrant bonds valued at US$500 million.
The ride-hailing firm Be Group has concluded a US$100 million borrowing contract with Germany's Deutsche Bank. In late October, Loc Troi Group Joint-Stock Company held a contract signing ceremony with the local Military Commercial Joint Stock Bank and six international banks, announcing that it would borrow US$100 million from them to boost quality rice production.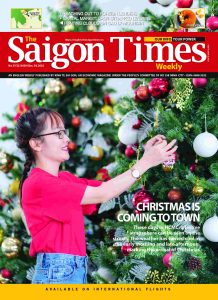 Overall, businesses are thirsting for capital due to the current credit squeeze, the bond market crash, and the stock market slump, not to mention a massive amount of bonds that will fall due at the end of the year and in 2023.
Under the current circumstances, foreign loans have become increasingly important, as they help relieve the financial burden for businesses while supporting the Vietnamese dong on the forex market.
Last week, the U.S. dollar lost 2% against the Vietnamese dong thanks to foreign investors' strong injection into Vietnam's stock market, while the U.S. Federal Reserve started to slow the pace of interest hikes, partly helping the global financial market regain its balance.
Thanks to that, Vietnam's financial market should expect to see more foreign investment returns, given that local firms must try hard to remain attractive.