The construction joint-stock firm FLC Faros had its ROS shares delisted from the Hochiminh Stock Exchange (HOSE) on September 5 due to its grave violations of information disclosure rules
Auditing ROS
Normally, when a stock is delisted from HOSE, it can move to the Unlisted Public Company Market, or UpCom. ROS will possibly move to UpCom, but it is certain the stock cannot be subject to normal trading due to violations of information disclosure regulations. Unless ROS issues its audited 2021 financial statement and its reviewed financial statement for the first half of 2022, its normal trading status on UpCom will not be granted.
There are two possibilities for ROS on UpCom: trading is restricted to once a week pending settlement of violations; or non-trading. The latter possibility is almost certain given the absence of a legal representative for ROS. The board of directors of ROS now comprises only two members. Under prevailing regulations, when a board of directors is downsized by one-third, the company will be required to hold an ad-hoc shareholders meeting to elect new members, and appoint a legal representative.
In a document submitted to HOSE on August 25, 2022, ROS said it would convene a shareholders meeting on September 15, 2022. On the day, ROS also announced two members of the supervisory board had tendered their resignation.
The headache for ROS now is how to find an auditing firm daringly accepting the job to issue an audited financial statement so as to remedy its violations. This bottleneck will continue to hinder the process of dealing with irregularities regarding financial statements of ROS and other companies linked to FLC.
Cash flow from banks
ROS got listed in September 2016. The company's prospectus showed it had multiple times adjusted up its capital from an initial VND1.5 billion to VND4,300 billion. Under regulations, in order to get listed on HOSE, a company must be profitable for two straight years, manifested in its audited annual financial statement. The 2014 and 2015 financial statements of ROS audited by Hanoi Profession of Auditing & Accounting Company Ltd. (CPA Hanoi) certified the amount of capital paid in on the date of December 31 of the two years.
The prospectus also referenced the half-year 2016 financial statement of ROS audited by ASC, certifying that the paid-in charter capital as of June 30, 2016 was VND4,300 billion.
Under the law, ROS safely met all listing requirements. The listing consultant, auditing firms, State Securities Commission and HOSE all failed to detect abnormal capitalizations at ROS. Furthermore, after getting listed, ROS shares have also shown abnormal trades, with prices often skyrocketing, but the stock was not put under monitoring or surveillance.
Only when the police launched a probe into the case regarding cash flow movements that the truth behind the company's capitalization was unveiled.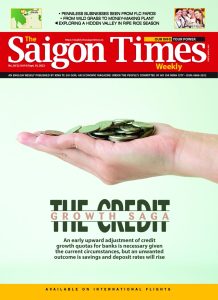 To have money to make contributions, ROS shareholders took out bank loans. After capital was sufficiently paid in, the company registered business expansion and gained a new business certificate for new business scopes. By then, shareholders started to withdraw capital from the company under the forms of entrusted investment or borrowing, or for the settlement of internal transactions among member companies of FLC Group.
According to the prospectus for listing, as of the end of 2015, ROS had conducted 14 entrusted investment contracts with individuals and organizations with a total value of VND3,332.6 billion, including a sum of VND400 billion entrusted to an individual. The accounting entry stated it to be "mobilized and advanced funding yet to be utilized." Who has advanced trillions of Vietnam dong to ROS? Such a huge sum could only have come from banks. ROS by nature was just a penniless entity, which was injected with ample funds at a necessary point in time for a given purpose. When the purpose was fulfilled, ROS turned penniless again.
Seven to ten years ago, the establishment of penniless businesses for different purposes was not widely known. Now, it is normal for such enterprises to be set up, using funds borrowed from banks to aid its operations, including in the real estate business and share issues. It is high time to supplement regulations on securities, and more importantly, to enhance capacity and responsibility of State management agencies in dealing with abnormalities on the bourse.