Having worked as a delivery man during the fourth wave of the pandemic in the city, Nguyen Van My, chairman of the board of members of Lua Viet Tours Co., still considers it a pleasant job to do and gain more experience to design new city tours.
Nguyen Van My, 66, has had over 25 years working in the tourism industry. He used to be a cadre of the Ho Chi Minh Communist Youth Union in HCMC, and a soldier fighting the former genocide regime in Cambodia from 1979 to 1983. After being demobilized, he learned at the faculty of letters of the HCMC Pedagogical University, and later in the then East Germany.
The chairman of Lua Viet Tours says he had to do the job of a delivery man during the strict social distancing period in the city to support his family. Although Lua Viet has tried its best to renovate its products to maintain its operations, the results are still modest, since many people still hesitate to take tours for fear of the raging pandemic.
Non-uniform pandemic response measures adopted by different local authorities countrywide have made it hard for travel firms. While countries around the world have had plans to welcome tourists, provinces and cities in Vietnam are still faithful to their different regulations to a certain extent. Mr. My says what his company could do now is retaining its key personnel.
Almost all economic sectors have been hit hard by Covid-19 over the past two years, and the hardest-hit is the tourism industry. Over half a year under the impact of the pandemic, Mr. My has worked as a delivery man to earn additional income. For him, the temporary job is also to set an example for his employees to follow to overcome hardships. The new job also allows him to have more chances to witness the diverse life of Saigon. In order to do the job well, he has had to learn how to use Google Maps and load packages onto his motorbike and unload them properly.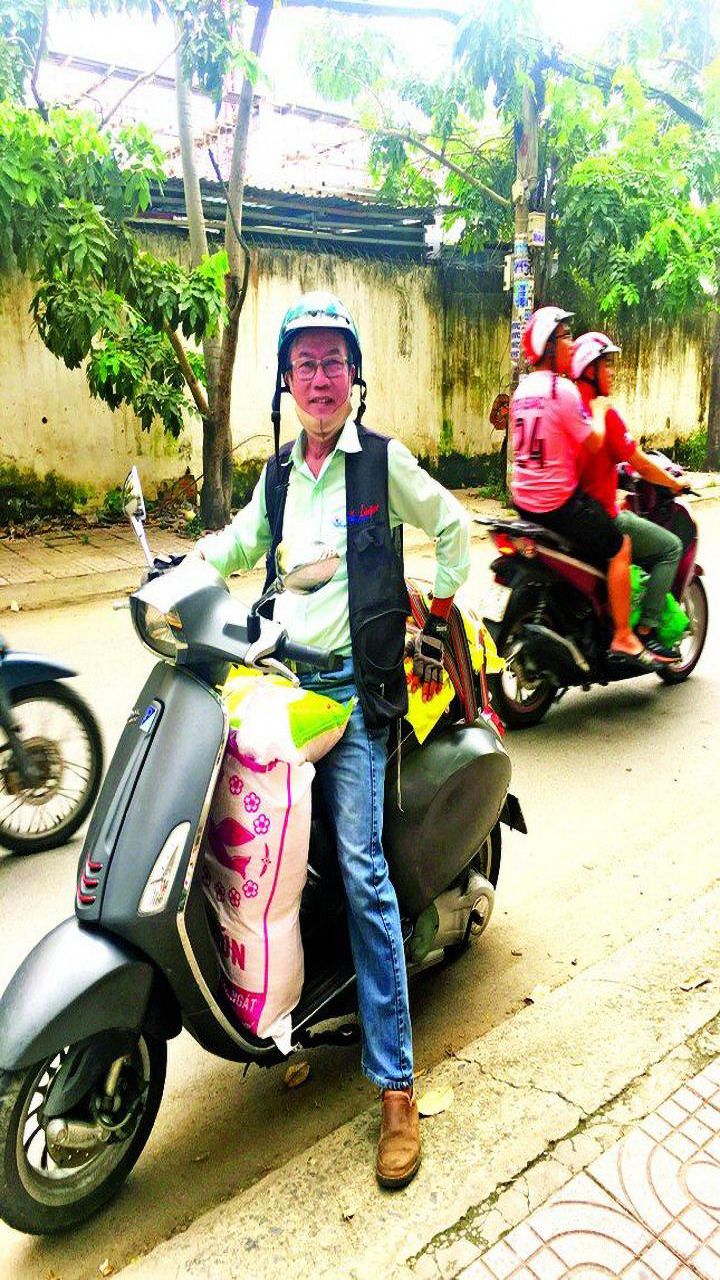 The chairman says the more he ships goods around the city, the more he loves the poor. He will continue to do this job to balance his life by learning new interesting things, and to keep constant contact with his customers. He still ships high-quality Vietnamese products such as rice, fish sauce, honey, meat and fish to his friends and regular customers these days. Some are surprised to see him doing such a job, but he has discovered joy with it, which also gives him more experiences to share and to design new city tours.
As regards the position of Vietnam in the tourism business in comparison with other countries in the region and all over the world, Mr. My says the country lags far behind many of her counterparts, adding that the low efficiency of the combat against the pandemic, especially its fourth wave, has exerted a heavy impact on Vietnam's tourism sector.
According to this expert, although Tet—the Lunar New Year holiday—prompted stakeholders to work at full capacity in the previous years, everything seems to be quiet this year. Almost no travel company dares to book air and train tickets, hotel and resort rooms, transport means and tour guides one year in advance as they did before.
Nguyen Van My concludes that many travel companies have not resumed their operations because of the small number of guests and the complicated developments of the pandemic. When students still have to learn online, the tourism industry is still mired in troubles. And when transport services have yet to be back on track, it is hard for the hospitality industry to fully recover.