Every year, VAS has more than 90% of students getting approved and winning scholarships to study at prestigious universities around the world. Now many of them are pilots, entrepreneurs, or future media experts… Let's meet and listen to the "review" of those prominent Gen Z alumni when talking about their high school!
Dao Tuan Hung – A young pilot of Vietnam Airlines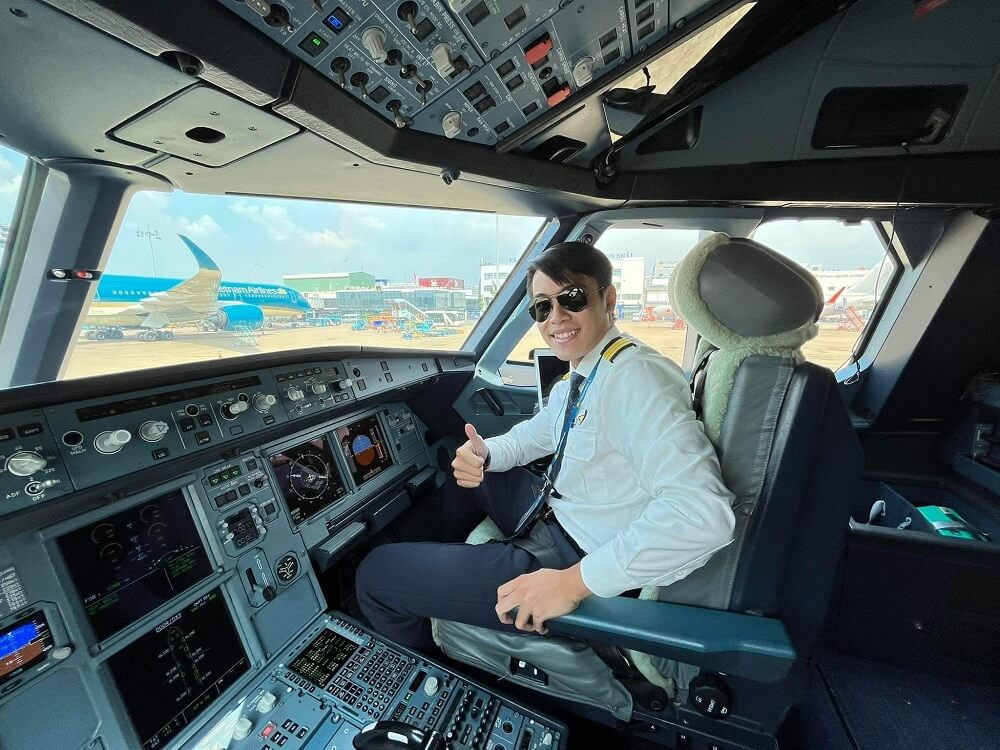 After completing grade 12 in 2016, Dao Tuan Hung, a former popular student of Hoang Van Thu campus, Vietnam Australia International School (VAS), decided to study in New Zealand to pursue his dream of becoming a pilot. Recently, this  dynamic guy officially became the first officer of the national flag carrier Vietnam Airlines, with pride in bringing comfortable and safe flights to passengers.
When talking about his old school, Dao Tuan Hung shared: "There are many useful skills that I was equipped with at VAS that have been helpful to my current job, especially the carefulness and teamwork skills. As a pilot, you have to be extremely careful and coordinate with your teammates and flight attendants because the safety of the passengers is the top priority of every flight."
Chung Quynh Thuy Nga – A well-rounded alumnus studying in the U.S.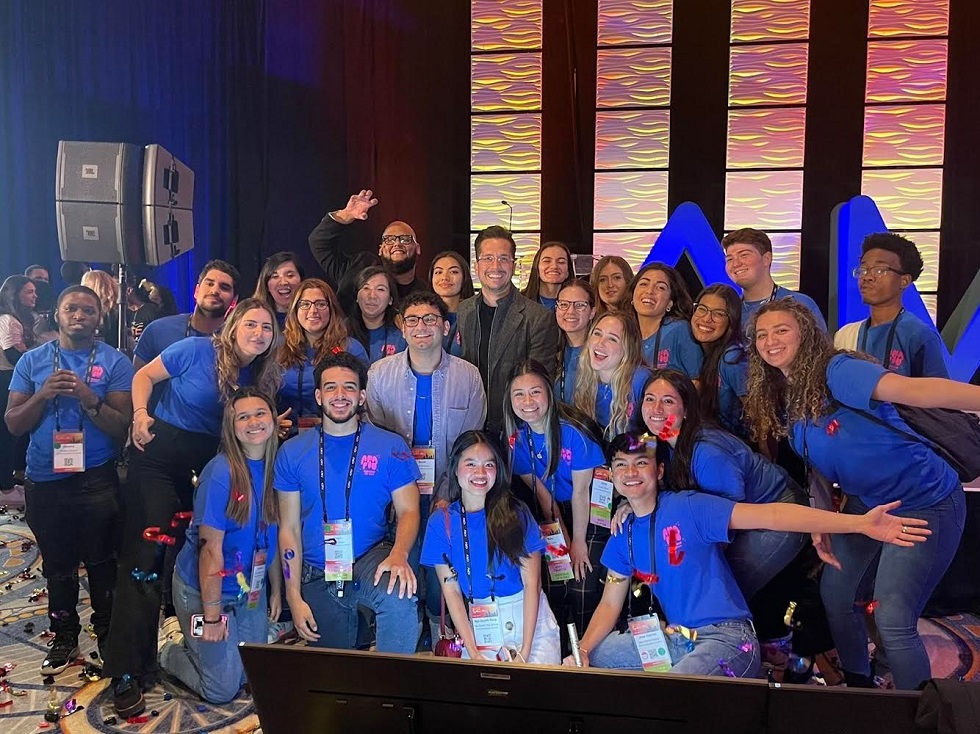 After 12 years of studying at VAS and graduating in 2018, Chung Quynh Thuy Nga decided to pursue a dual major in International Business and Marketing at Florida International University, USA. As the first generation of VAS students to study the bilingual programme of Cambridge A Level and the national curriculum, Chung Quynh Thuy Nga not only achieves excellent academic results but also is very active in cultural exchange activities to introduce and preserve her national identity even when she is not in Vietnam.
"I can say with confidence that VAS has helped me create a solid foundation for my overseas study journey while I am still applying the knowledge and skills from 12 years of studying at VAS to the university environment every day. In particular, I always want to introduce Vietnamese culture to foreign friends by organizing and participating in cultural exchange activities on and off campus such as the Lunar New Year Celebration, World Fair or Asian Cultural Festival. Immersing in these festivals not only helps me feel less homesick, but also evokes a sense of national pride, where I can look back and share the quintessence and traditional values ​​of my country. This is also one of the seven core values ​​taught at VAS," said Thuy Nga.
Nguyen Thuy Quynh – A leader of student activities in Singapore
Not inferior to her predecessors, Nguyen Thuy Quynh, a former student of VAS's fully integrated Cambridge programme at Ba Thang Hai campus, also had an exciting journey at the National University of Singapore when she completed her freshman year in Business Administration. As one of the leaders of the Vietnamese Student Association in Singapore, Thuy Quynh has participated in organizing a series of meaningful events, from the running and cycling campaign "Rang ngoi Viet Nam" – to support the Vietnam vaccine fund, participate in the business solutions competition – VNYA Apprentice Challenge 2022 to taking the role of Stage Director of the musical Esta Noche 2022: The Gray Wedding. This summer, Thuy Quynh became a Marketing intern at a Singapore event and game company, specializing in supporting companies such as Garena, Disney and Apple.
Quynh shared: "During my three years at VAS, I have participated in many extracurricular activities, tried my hand at the role of Vice President of the Student Council, and assisted teachers in organizing meaningful events. During my studies, I was acquainted with business problems and found effective solutions. These experiences have contributed greatly to shaping the way I think and act, making me a more active person, a sharper critical thinker, and above all a person who dares to challenge and experience."
From VAS to the world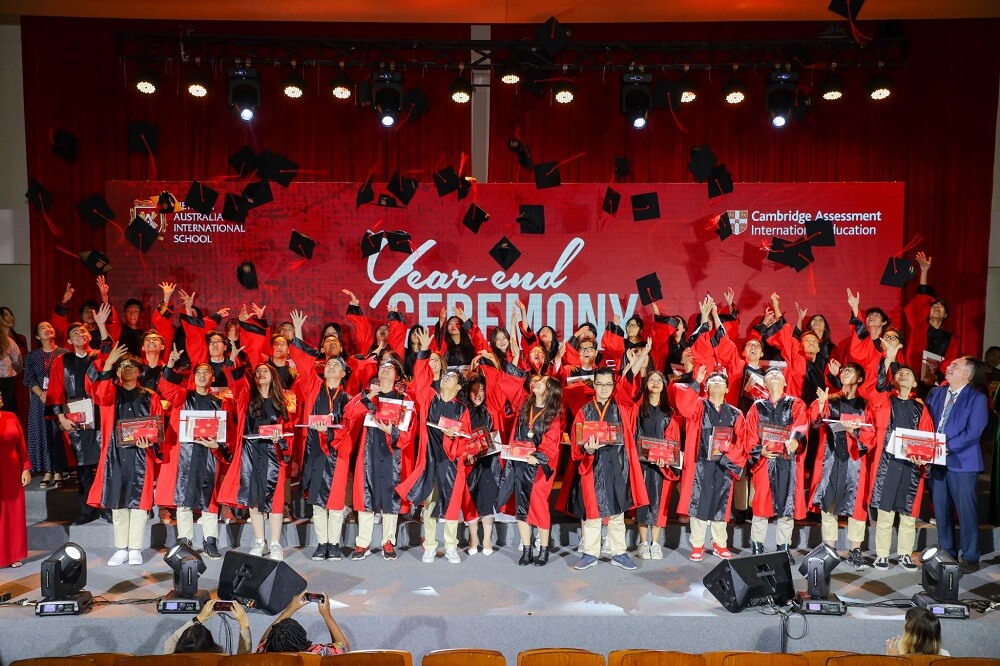 By the end of May 2022, VAS had 25 high school students win scholarships to study in the U.S., Canada, UK, Australia, Switzerland… with a total value of more than VND52 billion. In which, two 12th graders including Chu Ngoc Ha Uyen from Ba Thang Hai campus and Nguyen Hoang Nam from Sala campus excellently won 6-7 full scholarships at prestigious universities in the U.S., with the highest scholarship granted up to US$152,000 /4 years studying at Michigan State University, USA.
Students in other grades of the school have also won more than 300 awards in the competitions for Excellent Student, International Math, English Champion, TOEFL Junior… and talent competitions from the city to the international level. There are also five topics of VAS students participating in the "Scientific Research Project" organized by the Department of Education and Training of Ho Chi Minh City. It is the standard Cambridge education programme and a variety of activities outside the classroom that foster VAS students with a solid foundation of knowledge, skills and values ​​– essential elements of global citizen. This is also a premise to help them build a dynamic and colorful "profile" when applying for and hunting for scholarships to study abroad.
VAS is offering an attractive enrollment incentive programme of VND20,000,000 for new students who register early for the school year 2022-2023. Find out more about VAS's Cambridge international programme at www.vas.edu.vn or hotline 0911 26 77 55.