Travel companies have restarted selling inbound tours after Vietnam reopened its international tourism services from March 15. However, only a few markets have been seeing a positive response, while others appear to be waiting and seeing.
Resuming commercial flights in January and reopening the tourism market from mid-March are highly expected to create huge opportunities to fuel growth for the local tourism and aviation markets after two years of reeling from uncertainty.
According to the Civil Aviation Authority of Vietnam, there are 23 local and foreign airlines operating routes to and from Vietnam to 20 countries and territories. Compared with the pre-pandemic period, only eight countries have yet to restart daily flights to Vietnam. The number of international flights has increased significantly since the middle of last month. Within seven days from March 15 to 21, Singapore Airlines operated 45 round trips, making it the busiest international airline that is operational in Vietnam.
This April is expected to see more routes from Singapore, Taiwan, Thailand and South Korea to Danang and other cities. More flights from different countries are creating favorable conditions for the international travel segment. However, wooing international travelers to the changing market due to the ongoing pandemic is a tall order.
Looking to new markets
Many travel companies have introduced tours to their partners in South East Asia, Europe and India. While they have received positive feedback from some markets, including cruise ship travelers to Europe and the United States, other markets have shown a lackluster response. Some companies said reconnecting markets would depend a lot on the health control policy as well as the quarantine policy in those markets.
"We had a plan for the Thailand market, even introducing a periodic tour. But we have yet to sell the tour because the country is still applying the one-day quarantine policy and charging travelers fees when they return to their country," said Nguyen Son Thuy, director of Duy Nhat Dong Phuong Travel Company.
Thuy is planning a fam-trip for 20 representatives of travel companies in Thailand from April 3, preparing to receive a dozen travelers from this country at the same time.
"We will have to wait until after May 1 when the government of Thailand lifts its quarantine policy; then we can plan further steps," Thuy said, adding that when it comes to wooing travelers to Vietnam at the moment, it depends on the pandemic prevention measures in that market. For example, South Korea, one of the big markets of Vietnam, said it would relax its health control policy from April 1, but recently announced a strict measure against the disease again. Meanwhile, it is not until the third quarter of this year that the two main markets of Taiwan and Japan will open their doors. And thus, many travel companies have not launched their marketing plans for these markets.
Some other businessmen said the tourism market witnessed many changes after the pandemic, making it hard to access customers. To adapt to the new normal, some companies have changed their products to align with the new market demand.
"Green is a new trend. After the pandemic, travelers need open spaces," said Phan Xuan Anh, chairman of Viet Excursions, a company active in the cruise ship segment.
Anh said the company had received positive feedback from cruise ship operators for the travel season at the end of this year and in early 2023. From November this year, the company will receive some 20 cruise ships from Europe and the U.S. to the Phu My, Saigon, Nha Trang, Chan May and Quang Ninh ports. The number of travelers is equal to that seen during the pre-pandemic period, but they are now seeking more green tours focused on environmental protection.
"In HCMC, some companies have designed the boat rowing on Nhieu Loc Canal program as part of their city tours, terming it a green destination which was once polluted but has now been cleaned. At all destinations, our partners are demanding green tours," Anh said.
He said service providers at destinations need to change their service manners and include more open spaces for travelers. This requires a significant investment, but it should be done to meet the new demands of travelers.
Tour operators also need to adjust their products to answer to the market demand after the pandemic. Bui Viet Thuy Tien, managing director of Asian Trails Company, said the company is not setting up long tours for European travelers but is dividing them into shorter ones. Instead of selling a 10-day tour, the company is designing three- to four-day tours for travelers to visit main destinations in the North, the Central and the South. This change will help travelers save time, money and get more flexibility in their trips.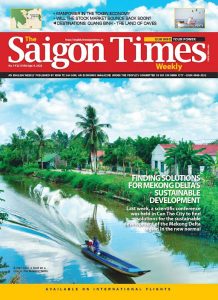 Making destinations more attractive
Speaking to the Saigon Times, some companies said that Vietnam is at an advantage since it reopened its doors early and issued a relaxed health control policy for international travelers compared with other countries in the region. However, to have the edge over other competitors, Vietnam should promote and launch more marketing programs and offer more incentives to make destinations attractive to travelers.
Thuy Tien of Asian Trails Company said there should be a consistent regulation nationwide in handling Covid infected cases. If not, it is annoying for travelers when each locality comes up with its own regulations in dealing with the pandemic.
It also needs to be more flexible in providing services. For instance, to enter Vietnam, a traveler must have a negative test of SARS-CoV-2 before departure. But if he/she gets Covid, hotels and service providers should allow him/her to reserve the service for a year instead of charging fees.
"This shows hospitality and encourages travelers to buy tours. But to translate the policy into reality, it needs support from the Government. If not, travel companies have to ask hotels to reserve the service. According to me, this could be considered a stimulus program for tourism in 2022-2023," Thuy Tien said.
At present, airline ticket prices are on the rise due to the limited number of flights to Vietnam and the fuel price spike. On some flights from Europe, one-way ticket prices have increased 20% compared to the pre-pandemic period. Also, some hotels and resorts are offering promotional prices for just a few months, which will soon be revised up to that of the peak season in 2019 later this year. Increasing prices will make it difficult to lure visitors, and thus there needs to be a stimulus program.
Some companies proposed there be a significant stimulus program as was done in 2009. At the time, Vietnam launched the Impressive Vietnam program in the aftermath of the economic recession, with many discount tours and services offered to stimulate demand.
This time, management agencies should study closer to the market, as well as look into potential customer segments to have the right marketing program to help the tourism sector recover.