My eating habits, which were originally simple and mainly focused on filling my stomach and prioritizing convenience, turned healthy after living nearly half of my life in a foreign country. Hence, the only favorite dish I can remember from my childhood is Pho.
In those days, there were not many delicious Pho stalls in Hanoi. The Pho I remember eating was at stalls near my house or when my mother decided to butcher a chicken to cook a big Pho pot full of noodles at a family event.
I remember two occasions during my childhood when I had the most delicious Pho. The first time was when I went with my uncle, a person who held a high position in the commercial industry of Hanoi at that time, in the subsidy period. After waking up in the morning, I was taken in his official car to a Pho stall where we were served the most delicious Pho bowls, full of fresh beef, a rare material at that time.
The second time I had authentic Pho was when my father's place of work organized an event where beef noodle Pho was served. It was flavorful and tasty.
After graduating from university, I had a memorable Pho-related experience, which happened late on a quiet night. After spending half a day sitting next to my foreign friend who had an accident during a trip to a semi-mountainous area, I was hungry. Getting back to Hanoi, I dropped by a late-night Pho stall near my house, devouring three bowls of Pho so fast that the vendor had to utter, "you must be so hungry". I do not remember how delicious the dish was, as enjoying a hot edible soup late at night to fill my empty stomach was my priority then.
After that, I went to Japan to study. Though I lived there for over a decade, I never wanted to try the Pho there, especially after seeing mushrooms eaten with Pho being served on a menu.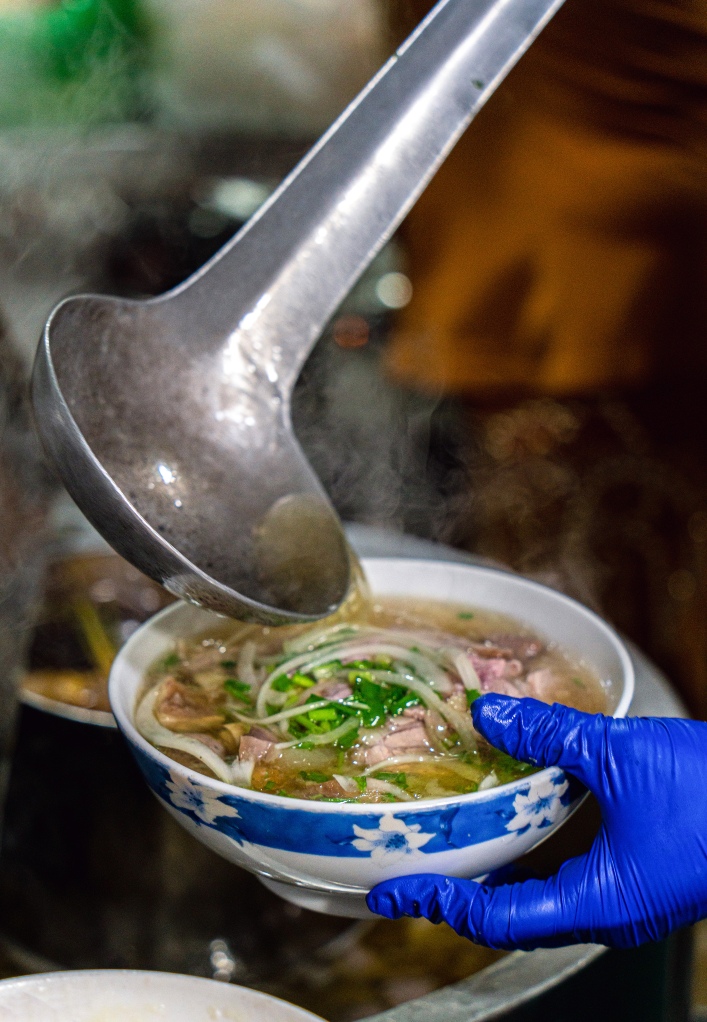 I finally enjoyed a truly delicious bowl of Pho when I returned to Vietnam a decade ago during our visit to Yen Tu. On the way there, our family dropped by a Pho stall for breakfast which was located somewhere in Sao Do Town. The bowl of raw beef Pho was covered with a few tubular green leaves of scallion and thin sliced onion, with the spicy taste highlighting the delicacy of the soup. Though it was simple, I still remember its taste so clearly that I can describe it even now.
After moving to Singapore for many years, I tried Pho in this country a few times, mainly when I was invited by my colleagues. Pho in Singapore was cooked in the southern Vietnamese style and although it still had raw beef, beef ball and beef brisket, I could hardly swallow it. I did not enjoy the strong floury taste of the noodles and the frozen sliced meat. The soup was slightly salty, sometimes smelled like herbs and at other times of chemicals, totally different from the bone broth we usually cooked at home.
The northern Vietnamese Pho is the most delicious for those born and who grew up in the north like me. After eating Pho in Singapore served in the southern style, I had Pho several times when I returned to Saigon. But I was not lucky enough to find good Pho stalls then, so the Pho I ate did not leave a very good impression.
However, the southern Vietnamese Pho I ate in Melbourne, Australia, was a different experience. There, I was taken to eat Pho at a quarter where there were a lot of Vietnamese stores, by a friend of mine, a native who used to also live in Vietnam for some time. That was an excellent Pho bowl with fresh and tender noodles, highlighting the sweetness of the soup but without it originating from sugar or vegetables. All the materials and herbs were fresh, as if they were picked from the garden, making the Pho at that time the most delicious, including several times of eating Pho in Vietnam later.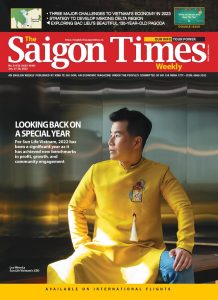 Later in Sydney, the two different restaurants I was recommended by Asians, including Vietnamese people, served Pho with the same flavor I had tasted in Singapore. I then lost interest in trying Pho.
However, despite my previous bad experience, I could not resist trying it out in Manhattan, New York. My son found a store in Brooklyn which had been operating for two years and had a high rating. We were so disappointed with the Pho at this place; it was even worse than the Pho in Singapore. Its noodles were tough and stuck together that we had to use our sticks to separate them. Moreover, we had to spend nearly US$25 for each bowl, including a 20-25% tip.
After returning to Vietnam, I tried northern Vietnamese Pho at some famous stalls in Hanoi, which was delicious. The first time I ate it at Pho T. Lo Duc, the Pho had a unique and tasty flavor. However, after that, the sweetness of the soup was not due to the stewing of bones and meat. The most terrible thing was that the cashier cum waiter put the money he collected from the guests into the basket of scallions while he was busy arranging the bowls.
This summer, I had the chance to visit a realty complex of a corporation in Hanoi and tried Pho at a store under the brand name Pho T. Lo Duc. I was curious to know if it was franchised or a branch of Pho T. Lo Duc. However, the only impression left in my mind was the bowl full of meat was expensive and lacking flavor.
I once ate Pho T. near Hoan Kiem Lake many years ago, and in my memory, it was rather delicious. Since then, I did not have the chance to try Pho T. again, so I was not sure whether it had retained its flavor till now.
Pho S. was also popular and served with lots of meat, and that was the only thing that gave me my money's worth.
The northern Vietnamese Pho I ate in Helsinki, Finland, late last year left me with a terrible aftertaste, literally and figuratively. Besides Pho with beef and chicken, Pho in Finland was cooked with pork and tofu. Each bowl of Pho cost around 16-17 EUR, which is higher than its price in other countries but acceptable, especially in Finland. The odor of Pho spread to every corner of the restaurant, lingering on the hair, clothes, mouth, and tip of the tongue after many hours of eating. Some Vietnamese articles have said the Pho served in foreign countries was originally made with meat boiled in water mixed with instant seasoning packs. My son, who had a fever, could not stop coughing after eating a few bites of Pho, leading to us concluding the articles might not be entirely wrong.
I would like to end with my very good impression of Pho in Prague. During my vacation to Europe in 2016, a friend from high school working at the Sapa market invited me to eat the northern Vietnamese Pho cooked by the northern people. That Pho was so delicious, nearly the same as the Pho I ate during my childhood or the one I had in Sao Do Town a long time ago.