Vietnam's imports and exports are dependent on three factors: the foreign-invested sector, imports and foreign markets
Dependent on FDI
After foreign direct investment (FDI) enterprises entered Vietnam, they quickly dominated the export market share of the country and secured the upper hand. Over the past three years, the foreign-invested sector has accounted for over 70% of the export market share (70.1% in 2019, 72.3% in 2020 and 73.6% in 2021). Vietnam's total import-export turnover in 2021 reached US$668.5 billion, while the FDI sector contributed US$465.6 billion to the total, representing 69.6%.
Not many FDI firms are doing business in Vietnam, while the number of FDI enterprises active in some fields is much smaller than that of Vietnamese enterprises. However, their contribution to exports is significant. For example, for woodwork exports, the contribution of FDI firms to the country's export revenue is 48% compared to 52% from Vietnamese enterprises, while the number of FDI enterprises accounts for a mere 15% of the total operational companies compared to 85% of domestic enterprises. Like hi-tech products, a few FDI enterprises have joined the export market, but are earning considerable export revenue.
Many cities and provinces have been relying on the foreign-invested sector. For instance, Bac Ninh Province earned US$44.8 billion from exports in 2021, ranking second in the country after HCMC. The province enjoyed a trade surplus of US$6.5 billion, supported by the foreign-invested sector, while HCMC ran a trade deficit of US$15.4 billion. Relying on FDI firms, Thai Nguyen, Binh Duong and Dong Nai provinces also saw positive results with exports.
Dependent on imports
Upon choosing Vietnam, FDI enterprises expect to be provided with domestic components, parts and materials to reduce input costs and become proactive in production. As such, investment in supporting industries in Vietnam is encouraged, with an aim to change the stereotype that Vietnam's industry only comprises "outsourcing and assembling," and attract more FDI. However, the development of the supporting industries is still sluggish, so the FDI sector is forced to rely on imports.
Meanwhile, domestic enterprises are more dependent on imports than FDI ones. A large number of and various types of parts and materials need to be imported because apart from parts and materials that are technological, agricultural products are also imported for export and local consumption.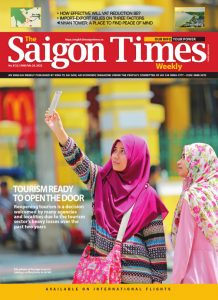 Aquatic products for export are processed from imported raw material seafood. To export cashews, the firms need to import raw cashew nuts. Wood processing depends on the import of logs, plywood and fiberboard, all a result of the country's weak supporting industries.
In addition, the development of coal-fired power plants also increases the dependence on imports. Since 2011, the country has continuously imported coal. In 2021, 35.7 million tons of coal was imported into the country, 18 times higher than the volume of exported coal. Vietnam, a coal exporter in the past, is now a coal importer.
Due to the high demand for imports, Vietnamese firms are reliant on quantity, progress, quality and exporters, and face several risks such as delivery delays.
Dependent on markets
Vietnam imports commodities from over 90 markets, but mainly from China. In 2021, Vietnam bought goods worth US$109.8 billion from the neighboring country, accounting for a third of the total import turnover, up 30.4% against 2020. The proportion of imports of some principal items from China was the highest; almost half of phones and components are imported from China.
Vietnam's import volume of machinery, equipment, tools, and parts from China was much higher than that imported from the other three main exporters, Europe, ASEAN, and South Korea. The country's top three fabric exporters were China (nearly 60%), South Korea and Taiwan. China also ranked first in exporting fiber to Vietnam, accounting for over 50% of the total fiber import. In addition, Vietnam imports wood material from 14-15 markets, mainly from China.
Besides, the country is also dependent on importers. Despite signing a free trade agreement (FTA) with the United States, joining the World Trade Organization, implementing the Comprehensive and Progressive Agreement for Trans-Pacific Partnership and signing the European Union-Vietnam Free Trade Agreement and many other FTAs, with multiple incentives, Vietnam has yet to see a big boost in exports. Many countries have protected their domestic markets through technical barriers, while others have tightened control over imports. Aside from several complicated and costly exporting procedures, anti-dumping tariffs have also been levied on imports.
Local importers find it hard to export fresh fruits after harvest. The congestion of trucks at the border gates in Lang Son Province in late 2021 was considered a "super congestion" as it set a record for being the longest one, involving the largest number of trucks and causing the most significant damage. The main reason for the predicament was dependence.
The import and export markets cannot be reciprocal. Vietnam has trade ties with most of the countries and territories in the world, with many of them offering incentives to attract Vietnamese exports. However, importers and exporters are from different markets, so the incentives and policies given by importers or exporters in one country to boost Vietnam's imports and exports will differ from those in another.
Vietnam enjoyed a trade surplus of US$4 billion in 2021, extending its trade surplus streak for six straight years from 2016 to 2021. However, the achievement was thanks to the foreign-invested sector that ran a trade surplus of US$29.3 billion, while Vietnamese enterprises suffered a trade deficit of US$25.3 billion. Five years ago, the situation was similar.
Way to exit
Numerous solutions were presented, including developing the supporting industries with a focus on some key sectors and in connection with domestic producers of parts and raw materials to replace imported sources, restructuring production with modern techniques, improving the competitiveness of goods and developing logistics services. This is in addition to transforming agricultural product processing, diversifying markets, taking advantage of opportunities, limiting challenges from FTAs, enhancing trade remedies and reforming import and export management.
However, the direction of import-export development is still unknown. With a new position, potential and prospects, imports and exports in 2022 are expected to achieve or exceed targets not only in terms of quantity but also quality.