Some dishes of the Nguyen kings are still popular in the ancient capital of Hue, and are most loved by those who enjoy good food. Although they comprise up to 35 dishes, the kings did not actually eat all of them, but just tasted them.
One can eat such royal food and admire the scenery on Hen Islet in the middle of the Perfume River.
Although I didn't eat any delicious dishes on Hen Islet, I still remember the times I stayed at the Century Hotel on the right bank of the Perfume River and enjoyed dishes such as banh beo, banh nam, banh bot loc and bun bo as well as rice with mussels.
Cake for breakfast?
Banh beo is delicious. As they are presented separately, they look eye-catching, topped with some stir-fried and crushed shrimp and onion oil. The inhabitants of the region often use thin bamboo sticks instead of chopsticks to eat banh beo. That's why there is a saying, "bamboo knife, stone bowl," which refers to eating banh beo in the Hue style.
What is banh nam? This "cake" is made from rice flour with shrimp, wrapped in dong (Phrynium placentarium) leaves in a rectangular shape. The mixture of flour and shrimp is coated on the surface of the leaves.
Don't eat the banh nam too quickly so that you can enjoy the feeling of the "cake" melting evenly, with a slight taste of shrimp. The right way to eat this "Hue-style cake" is to open the banana leaf, leave the leaf intact, roll it out on a plate, and then eat it with a spoon.
And the banh bot loc? Pork belly, shrimp and tapioca flour are the main items in this cake. The cook mixes the dough evenly with salt, sugar and cooking oil. But she or he will use minced pork belly with fresh, clean shrimp, cutting off the head and tail, and then frying them all. This "cake" is also enveloped with banana leaves, but is cylindrical in shape. It is then put in a steamer. The "cake" has moderate transparency, reasonable toughness, and is rich in shrimp and meat flavors after being cooked.
To eat it in the original style, one needs to open the leaves, take out the "cake" and lay it out in a plate. Then, one has to dip it in fish sauce made in two regions near Hue – Thuan An beach and Vinh Hien beach, Canh Duong. Chili and pepper are also added for an extra spicy kick.
Previously, boc loc with banh nam and banh beo, collectively known as "Hue cakes," were eaten for breakfast. However, they can now be devoured at any time!
If you want to try these cakes in Hue, which are more delicious than those at the luxurious Century Hotel, then Ba Do, a small restaurant on Nguyen Binh Khiem Street, is the place you need to visit. The cakes are delicious and affordable.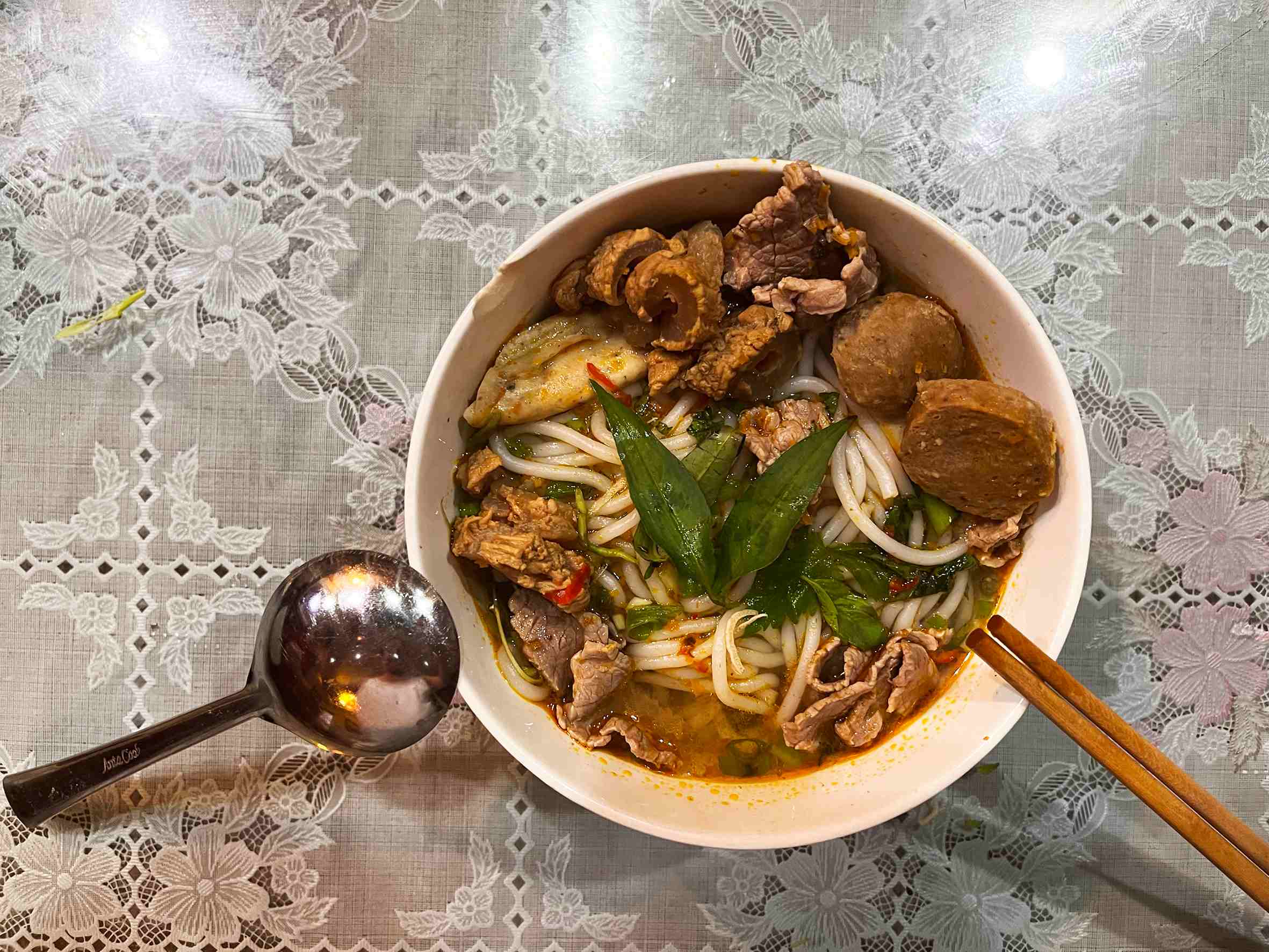 Bun bo and rice with mussels
For a long time, Hue's beef soup has been popular in most parts of the country.
It is spicy and slightly salty, with beef as the main base and rice noodles. The broth is boiled with beef bones and spices, including lemongrass and fish sauce.
When serving it, hot and smoky broth should be poured plentifully into the bowl. The vegetables are thinly sliced. Leg pork rolls can be added. So, the dish is also known as "bun bo gio heo."
Recently, Tuyet's small restaurant on Nguyen Cong Tru Street and Vong's small restaurant on Nguyen Du Street in Hue have been dishing out delightful bun bo at an affordable price.
What about the rice with mussels? It is a combination of boiled and well-cooled rice mixed with fried mussels cooked with oil, and spices such as pepper, cinnamon, and real pure fish sauce are added. It is eaten with veggies such as thinly sliced banana flowers, bean sprouts, lentils and crispy pork rind. And, of course, the "Hue-style fish sauce".
The mussel juice is not thrown away, but ginger is added and it is cooked again. It makes for a nice soup.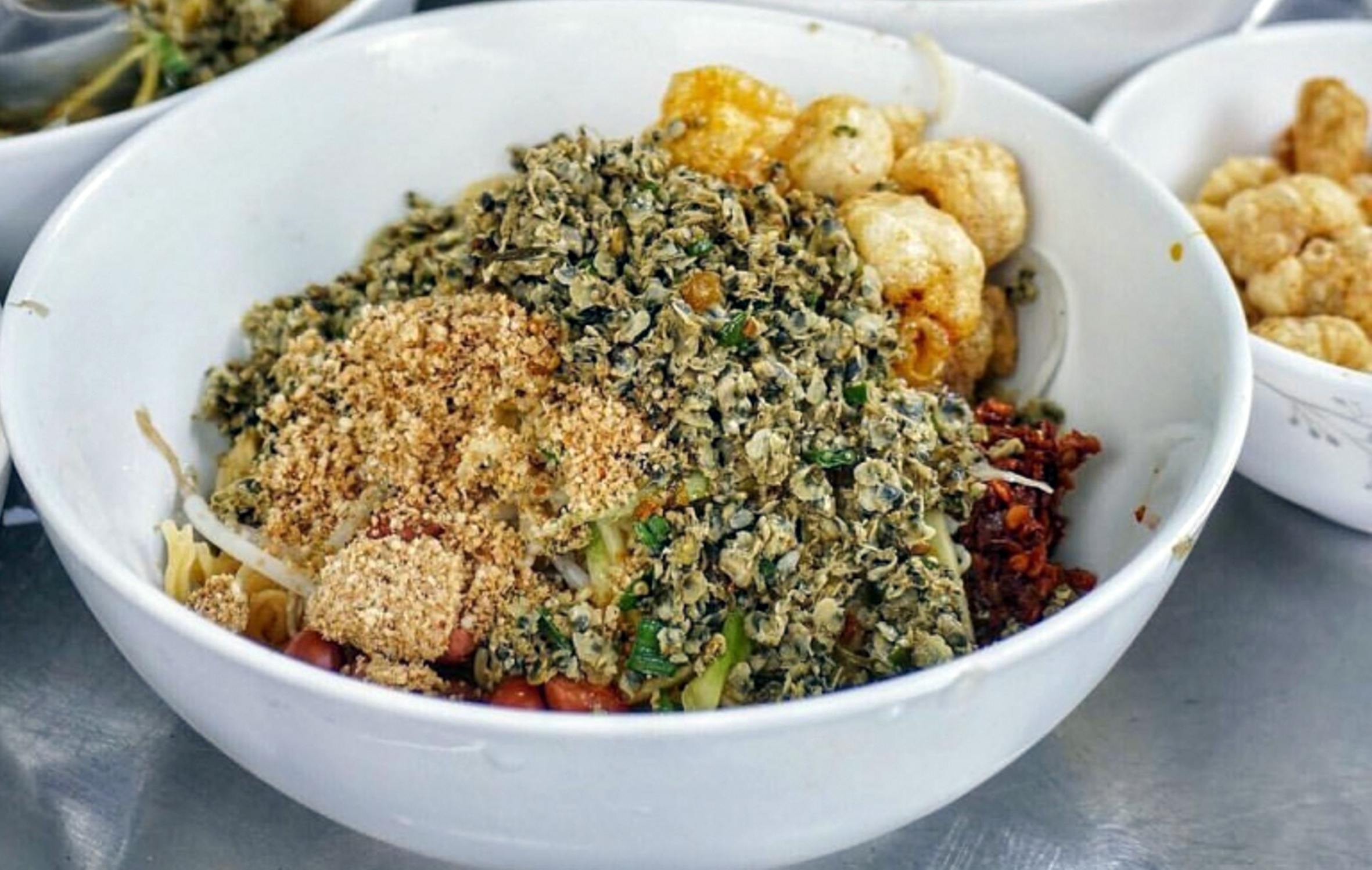 Rice with mussels is a frugal dish compared to bun bo but quite rich in vitamins.
If one wants to eat delicious and affordable mussel rice on a trip to Hue, try any of the popular small restaurants such as Hoa Dong, Ung Binh Street, or Dap Da, Han Mac Tu Street.
In fact, Hue cuisine has many other delicious dishes.
My mouth is now watering, and I'm craving some bun bo or rice with mussels! Oh, and a side of "Hue cakes" from the Hue Restaurant in HCMC. Now, that would make a perfect meal.