It is an urgent need to invest in human resources and resolve personnel hurdles to get ready for a digital economy.
The People's Committee of HCMC on April 15 organized the HCMC Economic Forum (HEF) with the theme "Digital economy: Driving force for the future growth of HCMC".
The municipal leaders, speakers and attendees brought up several issues at the event. These issues ranged from a sandbox-style trial of the management mechanism, where to find resources to support small and medium-sized enterprises in digital transformation and the lack of coordination between public agencies in implementing digital transformation, to Vietnam's lack of readiness for some new technologies. Above all, the most prominent problem may be a surprise for many people: human resources.
I, myself, before attending this forum, did not think of human resources as a bottleneck of the digital economy in HCMC or Vietnam, for it is widely believed that Vietnamese people are quick to access new technologies. I, personally, have seen a lot of Vietnamese running very decent technology applications in the field of digital economy at home and abroad.
However, after this forum, it dawned on me that the biggest bottleneck in the digital economy in Vietnam, in general, and HCMC, in particular, is probably human resources indeed. There are two levels of this personnel problem.
First, the workforce's readiness for digital technology remains limited. Only 37% of workers in HCMC have undergone training, much lower than other countries in the region such as Malaysia or Singapore, despite the fact that the city is the economic and human resource locomotive of the nation. As per the analysis of ASEAN+ digital competitiveness by the Asian Competitiveness Institute, Vietnam's human resources, investment in technology and information, and readiness of e-government are all below the regional average, even lagging far behind.
Young Vietnamese people may be proficient Tiktok users, but their ability to compose e-mails, make business contacts, visualize a reasonable digital transaction process and deal with problems in the digital space apparently leaves much to be desired, with solutions entirely based on those platforms full of risks to transactions and network security. That's what I observed after a couple of seminars in HCMC, and the time I spent on some procedures for my personal problems. It helped me understand a paradox between survey figures and our initial impression that young people are adept at fast access to technology.
Second, it is the awareness of the digital economy. Here, there are several layers.
The bottom layer is deployment for the business community, especially small and medium-sized enterprises, where there is neither "digital" (with data not digitized, unsystematic, and low-quality) to integrate into the digital economy, nor resources for digital transformation.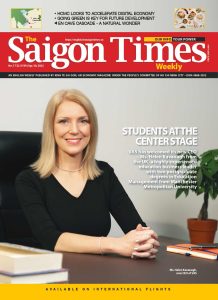 One thing is clear that digital transformation is an investment activity, i.e. you have to spend money initially, seen by many Western countries as an initial "cost" in accounting. Micro and small businesses with a short-term vision may find it hard to spend on digital transformation unless they get assistance, or face pressure from the market or other factors. The Covid-19 pandemic has provided a test case that allows certain online services to replace their in-person counterparts, but as the economy returns to normal, further digital transformation may stagnate.
The second layer is the perception that public agencies in charge of digital transformation have of this matter. Problems such as "your rights or mine", "whose app to use", "whose guidelines to follow", "whose method of digital transformation to adopt", or "who plays the central role" are painfully complicated. A perfect example of this is how medical applications have mushroomed amidst Covid-19.
A very important issue, now, is how digital economy and digital transformation are interpreted differently by different ministries, agencies, and policy advisors for the government, which, however, is normal even for those countries that have gone ahead of Vietnam in introducing digital transformation. For example, many of us limit the digital economy to Industry 4.0 applications, while overlooking the potentials of digital applications in agriculture, healthcare, and education, etc. Such discrepancies in viewpoints will sooner or later expose the surface of digital economic policies. The skewness in policy, vast difference in thinking and deployment of the digital economy between different state agencies, without a central point for linkage and coordination, is a potential bottleneck.
The final layer is the way the top leaders perceive the digital economy. Where is the digital economy in Vietnam's economic development strategy? What is its order of priority over other economic strategies? And how does it interact and relate with socio-economic goals? Quite a few workers will be rendered jobless once digital transformation eliminates a number of traditional services and tasks (e.g. artificial intelligence, robots and chatbots taking away human jobs).
Along with that, there are always difficulties due to the lack of resources for digital transformation at small and medium-sized enterprises. Such difficulties can neither be resolved by these enterprises themselves nor the public system without public participation. However, to engage public participation in the resolution of these problems, there needs to be decisions and mechanisms at the highest level. Whether it is a decision or a sandbox mechanism, it all depends on the leadership's perception and vision of the digital economy.
Transitioning from the traditional economy to the digital one is essentially bringing a group of people with technology, finance, knowledge, and the ability to implement policies together in the so-called "sandbox", for them to explore and examine new models, new products and services with the hope of creating high added value for society. To do this, infrastructure, institutions, technology, and finance are, of course, needed, but above all, the human factor is still decisive.
(*) The writer is a lecturer at the University of Bristol, the UK