The Governor of the State Bank of Vietnam Nguyen Thi Hong has just signed a decision to award a certificate of merit to Home Credit Vietnam for its contributions and positive social activities in the prevention of the Covid-19 pandemic in the past two years.
In addition to strict compliance with the pandemic prevention and control directives of the Government, the State Bank and relevant authorities, Home Credit Vietnam has donated around VND2.5 billion to the vaccine fund initiative, assisted frontline health workers, and supplied several thousands of meals and necessities for ten field hospitals, isolation wards and care centers for the lonely elderly, orphaned and disadvantaged children. The company also joined other donors and sponsors to present 1,000 gifts to children, most of whom became orphans due to Covid-19.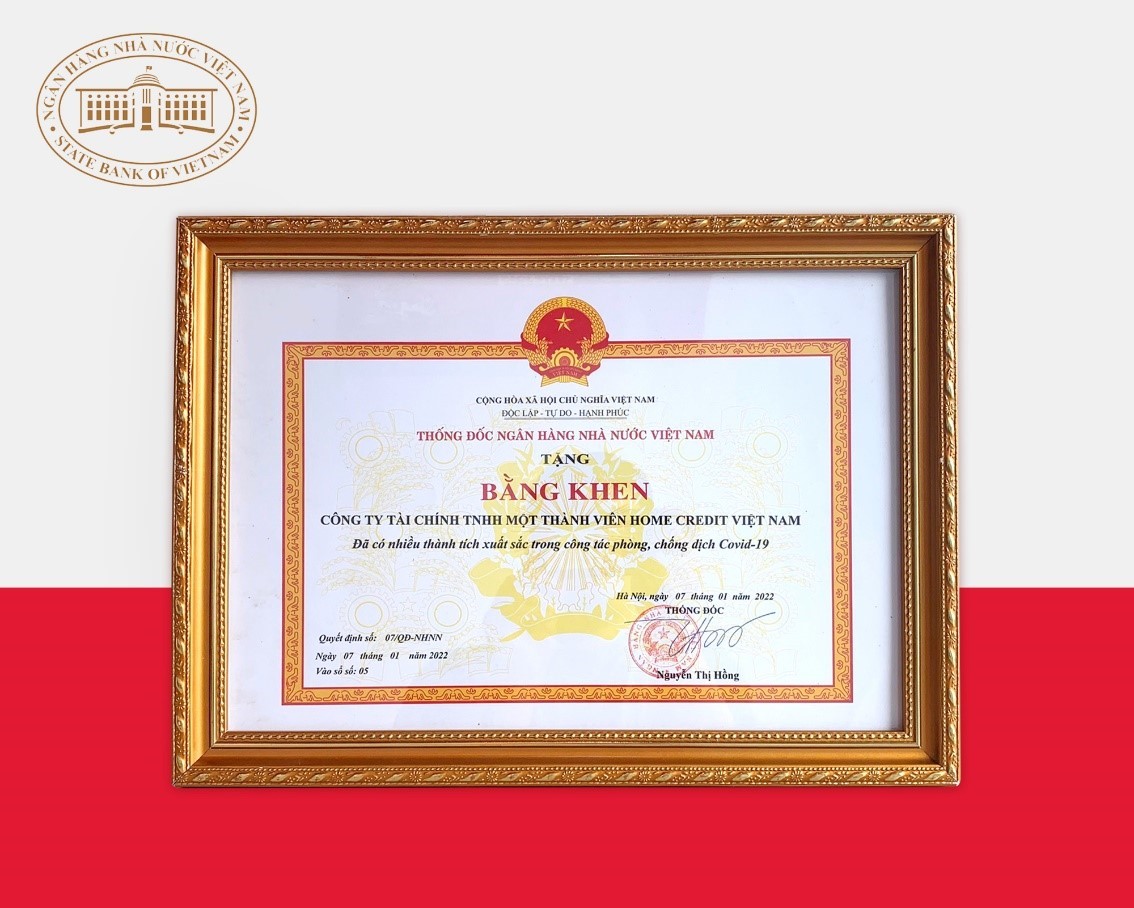 Social distancing and lockdowns have brought extreme hardship for workers. In order to support customers to deal with Covid-19 induced difficulties, Home Credit Vietnam has made efforts to develop and adjust appropriate interest rate frameworks aiming to reduce financial distress on households and individuals. Interest rate exemptions and reductions and suitably adjusted loan repayment periods are part of the environmental, social and governance (ESG) goals pursued by Home Credit (For more information, please click on Home Credit Vietnam.)
Home Credit recently published its first ever report on ESG activities on the projects that the group has been implementing to support customers and the community. The report also highlights responsible lending, enabling people to fully understand digital and financial inclusion as elements that are woven into the corporation's DNA. These principles are also the cores of ESG activities in Vietnam, forming a solid foundation for Home Credit to support its customers, communities, employees and partners.
Mrs. Annica Witschard, CEO of Home Credit Vietnam, shared: "In Vietnam, we are leading the way on ESG standards. I am delighted about how we have quickly and decisively acted to help others, especially during Covid 19."
According to a report by FiinGroup, the impact of the Covid-19 pandemic on the world's consumer finance segment was recorded but did not show any significant moderating effect. Studies by HSBC, Kantar Vietnam and Nielsen IQ Vietnam all say spending by young people will greatly affect Vietnam's consumption in 2022, forcing financial firms to apply new technologies, build a financial ecosystem to adapt to the increasing competitive pressure brought by the fintech surge.
This was reflected by Governor Nguyen Thi Hong at the National Assembly last October. "Consumer lending plays an important role in economic and social developments, improving life quality for people through provision of loans and credit lines to lift up customer spending in the country," she said.