With the vision of becoming the most trusted insurance company in Vietnam and the mission of providing services and solutions for life, Hanwha Life Vietnam Insurance Company Limited (Hanwha Life Vietnam) has committed to enabling social, economic, and environmental prosperity by implementing multiple corporate social responsibility (CSR) activities during more than 14 years of operation in Vietnam.
According to the insurer, the majority of Vietnamese people are young, optimistic, and autonomous. However, in order to be more successful, to go further, they need a partner to give them support. Thus, Hanwha Life Vietnam is taking part in inspiring young people with positive Life energy, enabling them for long-terms development. This has reflected in different themes such as health and wellness, education, contest and career orientation while going along with Hanwha Life's CSR long term strategy.
Opening arms to children
One of the highlighted activities that demonstrates Hanwha Life Vietnam's CSR strategy in 2022, was joining hands with Childfund Vietnam and Childfund Korea on October 24 to launch a children protection campaign called "The Hug Project" taking care about children's mental health. Children are among the most vulnerable group in the society. They need care and protection.
Meanwhile, child abuse remains a serious issue and is on the rise. According to the Ministries of Public Security and Labor, Invalids and Social Affairs, nearly 2,000 child abuse cases were recorded in 2021.
It is worth noting that up to 72.84% of Vietnamese children have faced the physical violence caused by their family members.
This resulted from the Covid-19 pandemic, when schools were closed and mobility restrictions were imposed, prolonging children's stay-at-home time.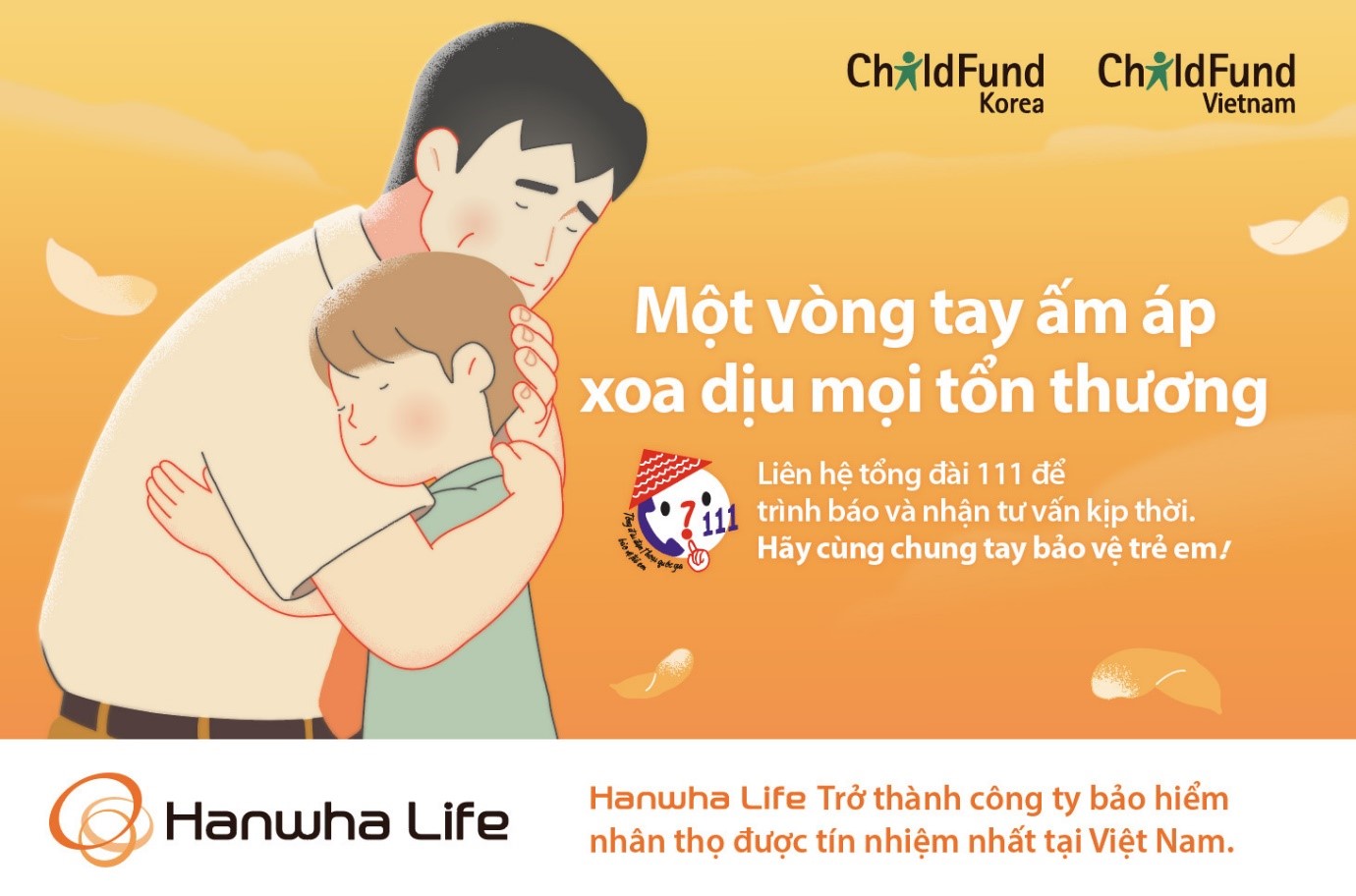 According to UNICEF, these figures are just the tip of the iceberg.
Last year, there were over 507,800 phone calls to the national child protection hotline 111 and the figure was some 202,000 in the first quarter of this year.
Children suffering from maltreatment will be more likely to repeat what they have experienced. However, the public awareness of reporting child abuse cases remains low.
With the message of "A warm HUG to heal any pain", "The Hug Project" campaign would be actively, widely introduced on many platforms to educate and spread the message of loving and protecting children as well as to enhance the public awareness of child abuse and children's rights. Small and simple loving acts can help children feel secured and heal their souls.
According to the insurer, present solutions is better than solve problems, thus educating people to nurture children with love, care about children's feeling is one of the powerful ways to strongly prevent negative issues for children and build a brighter future for children in the future.
Hwang Jun Hwan, CEO of Hanwha Life Vietnam, said that at Hanwha Life Vietnam, all of their efforts are aimed at customers and the community.
"We expect the project will bring about positive changes to the worrying child abuse, thus contributing to make a safety, happiness and growth for the young generation," Hwang added.
Lighting up students' future
Hanwha Life has attached much importance to CSR activities supporting students, the future generations of the country. The insurer has demonstrated its orientation and long-term strategy in accompanying and supporting the education sector.
It has built two schools, awarded many scholarships and bicycles, and conducted various activities to help disadvantaged students in many localities.
On December 6, 2021, Hanwha Life Vietnam signed a cooperation agreement with the University of Social Sciences and Humanities, under the Vietnam National University-HCMC, to co-organize a writing contest titled "YOUNG ENERGY – LIME Ambassadors".
The contest is for young people from 18 to 30 years old across the country who love writing and wish to ignite the development of a healthy, prosperous, happy community and enhance the quality of life through 04 main themes (Wellness): Inspirational wellness; Mental wellness; Physical wellness and Financial wellness.
After three months, the contest has achieved breakthrough results with hundreds of entries from students from 25 universities, more than 10,000 downloads of the LIME application, and over 12,000 likes for articles posted on the application. LIME is a mobile application for customers of Hanwha Life Vietnam to not only manage their contract, update insurance policy but also experience many other interesting features under one platform. Till now, LIME has made a very positive impression from users by its convenience using, friendly interface, and unique lifestyle content.
For the contest, Hanwha Life Vietnam awarded 132 prizes with a total value of VND192 million. Moreover, the scholarships package of VND225 million was also given to 45 underprivileged students by the company to encourage them to overcome adversities and persevere in studying amid the Covid-19 pandemic.
In addition, on March 18, Hanwha Life Vietnam presented scholarships worth VND200 million to students who overcame difficulties to study well of the Korean Language & Culture Faculty of Van Lang University in HCMC.
On October 21 and 28, Hanwha Life Vietnam also cooperated with Van Lang University to organize a training course on life insurance for students.
The various activities sponsored by Hanwha Life Vietnam has opened many opportunities for students to demonstrate a multi-dimensional perspective on personal financial management, from planning spending, saving money from part-time jobs, developing important skills for good jobs, or investing in the stock market… which can help them continuously strive for self-improvement, dare to think, dare to do, and overcome difficulties and challenges.
Wider arms for community
Besides activities supporting children and students, Hanwha Life Vietnam has accompanied the 14th "Red Sunday" program, which is a blood donation program, from January to October 2022, demonstrating its mission and social responsibility.
On January 10, 2022, the 14th "Red Sunday" program was launched by Tien Phong newspaper in association with the National Traffic Safety Committee, the National Institute of Hematology and Blood Transfusion, the Steering Committee for Voluntary Blood Donation and the Ho Chi Minh Communist Youth Union of some cities and provinces.
With the message of "Donating blood – Your life and mine", the "Red Sunday" program, which has been organized annually for more than a decade, has received the interest and support of many agencies and a large number of donors of various ages, regions, ethnic groups and professions.
The amount of blood collected through "Red Sunday" has increased significantly in the past 12 years, from over 8,400 blood units in 2014 to nearly 61,500 in 2020.
Within the framework of the "Red Sunday" program, Hanwha Life Vietnam has coordinated with the organizer to promote the meaning of life insurance to the public and partners in the program taking place throughout 2022 in over 40 cities and provinces nationwide.
Vietnam needs about 1.9 million blood units each year, while the collected amount currently meets only 75% of the country's demand.
Therefore, the "Red Sunday" program has contributed many good values to the community and connected thousands of benevolent hearts of Hanwha Life Vietnam with a noble deed – donating blood to save lives.
Hwang Jun Hwan, CEO of Hanwha Life Vietnam, said: "At Hanwha Life Vietnam, we echo caring and sharing spirit, therefore we'll keep making relentless effort to enhance life for everyone in the coming years."