According to real estate distributors and brokers in Hanoi, there is still a market segment attractive to customers despite the sluggish property market in general. Specifically, Hanoi's real estate brokers forecast apartment products will be the most potential in the future.
High prospect for apartments
A report on the real estate market of Hanoi and the northern region by batdongsan.com.vn revealed that for the sector of property for sale, apartments are the product seeing a 3% rise in  customer's interest in 2022.
For apartments for lease, customer's interest shows an even more impressive growth at around 21%. The increases of interest level and rental have brought these factors to the pre-pandemic rate. Compared to HCMC, the apartment price in Hanoi is on the rise and its rental income is higher.
Some 63% of the realty brokers in Hanoi participating in the survey said that the price of apartments for lease in Hanoi will continue to rise, with 16% of respondents estimating a strong increase and 47% projecting a mild rate.
Given the selling price increase margin for the last 15 quarters, 61% of the brokers remarked that apartments would be the product line with the highest potential in the coming time, followed by landed houses with the approval rate at 15%, street-front houses at 12%, land plots at 8% and the rest at 4%.
According to Do Van Kien, general director of Property X Hanoi, apartments still attract investors and buyers with actual demand in 2022 thanks to price rises, high demand in the context of limited supply and effective sales policy of many investors.
He analyzed that given the shrinking new apartment supply in Hanoi, buyers with actual demand wanted to close the deal due to their concerns about difficult access to the high quality products and expectations of a price hike. When the second half of 2022 saw difficult access to loans for apartment purchase, a flexible sales policy of the investors has helped maintain the liquidity.
"Customers have never had opportunities to possess their own apartments at the most reasonable price when there are numerous primary projects with a maximum discount rate like now. Besides the buyers with actual demand, the investors also shift their investments to apartment products when realizing the market is full of potential with a high rental, flexible liquidity and a breakthrough sales policy for future profits," said Kien.
The attractiveness of the apartment products could be seen at several primary projects such as Hanoi Melody Residences in Tay Nam Linh Dam. This project launched in July has seen 90% of products in the basket open for sales snapped up, while a new apartment building is now available for sale, supplementing the tight supply. Many factors such as prominent facilities, good location, green space have made the project attractive to customers. Of which, the flexible sales policy plays a key role.
This project has recently announced their discount rate of up to 30% for those customers using their own money and making payments ahead of schedule. Customers who resort to the financial support package will be subject to a maximum interest discount rate of 11% per year till the apartment handover. These two categories of customers will also be entitled to a discount of 50% for management fee in the first two years. These policies have helped attract customers for the project.
An expectation of a blooming market
Besides internal factors of the products, investors and huge demand, optimistic forecasts for apartments in particular and the real estate sector in general stem from the macro adjustments.
During the past month, the Government has issued a series of documents requesting related ministries and departments to ease access to credit , stabilize the market and remove regulatory hurdles. The most recent document is Dispatch No. 1164/CD-TTg, aiming to lift the obstacles for the realty market and housing development.
Specifically, the Prime Minister assigned the State Bank of Vietnam governor to direct, coordinate and guide localities, commercial banks and related organizations in providing loans timely for the economy; granting loans and making quick disbursements for suitable enterprises and eligible property projects. Loans will be prioritized for social housing projects, housing projects for workers, commercial houses with a reasonable price and other types of real estate serving for production, business and social welfare with high probability of repayment and development.
Related ministries and departments were also tasked with removing hurdles for the entire realty sector.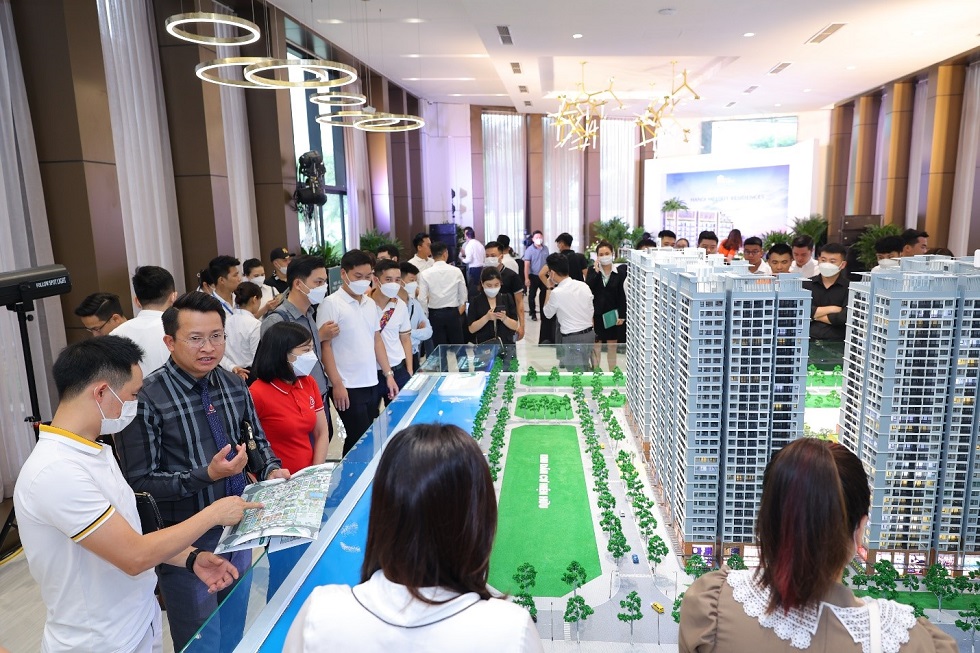 These adjustments have enhanced the market confidence. As a customer who had to delay her plan to buy a house due to difficult access to a bank loan, Thuy Hang shared that with the macro adjustments, she looked forward to buying her dream apartment next year with a reasonable interest rate. She would keep choosing a primary mid-priced apartment upon accessing the loan.
Meanwhile, experts expressed their hopes that the removal of hurdles would basically ease the hardships and activate the market.