The National Tourism Year 2022 hosted by Quang Nam Province is themed "A green tourism destination." This will also be the keyword of Vietnam's tourism industry in the time to come. According to insiders, Vietnam needs to do much more than just use the word "green" as a slogan.
Quang Nam Tourism Association (QTA) is cooperating with the Swiss Sustainable Tourism Program (SSTP) to support the development of Quang Nam's Green Tourism Criteria, paving the way for designing green tours and a green lifestyle to determine the depth and value of tourism activities.
Accordingly, a Famtrip was designed with the participation of a maximum of 40 people comprising tourism managers, tourism development organizations, tour operators and partners. This was seen as a kick-off to recovering tourism, responding to the National Tourism Year 2022 – Quang Nam – A green tourism destination. Through the Famtrips, tourism insiders want to promote green journeys among people as well as stimulate the inherent values of the land and people of Quang Nam.
Green tour: A suggestion for sustainable tourism
After meeting at the Phynig House co-working space next to the old-aged Hoi An Banyan Tree, guests traveled by e-cars to Chum Ngay Garden, starting the trip to experience the urban organic waste recycling model and the medicinal plant nursery.
Here, guests could craft and mould soap bars from used cooking oils. Natural solutions were exploited for organic waste treatment, such as natural microorganisms in organic waste treatment, biological cleaning water from vegetable peels, vermicomposting and black soldier fly (Hermetia illucens) larvae.
Moving to Thanh Dong Village in Cam Thanh Commune, Hoi An City, guests visited the Refillables Hoi An store to hear stories from the owner, Alison, about her journey to establish a reusable and never-ending plastic packaging shopping model. At Refillables Hoi An, guests were also thought about sharing responsibility and taking action to protect the environment.
Guests were inspired by organic agriculture and traditional agricultural civilization values when they walked through the Thanh Dong community vegetable garden, traveling on a coracle across the Do River, and walking through organic rice fields leading to the entrance of The Field Restaurant, for a "zero waste" lunch.
Applying the sharing economy and circular models in product and service supply, people operating in sustainable tourism always create a green supply chain. Meals at The Field Restaurant are always mobilized and shared using resources from the Thanh Dong community organic garden, Chum Ngay Garden and Refillables Hoi An store.
Talking about the menus, The Field's manager said, "After a meal, we emit only 100 grams of organic waste per guest. This waste is then recycled again."
Respect for nature
Speaking about the tour, Le Hoang Ha, director of Emic Travel, said, "Since the early days of 2012, Emic Hospitality and Emic Travel has had orientations to develop tourism products based on the environment-friendly platform and cultural experience. Keeping pace with this trend, we have been trusted by many international travel agencies."
"After the Covid-19 crisis, we are thinking more about the green lifestyle. Since the beginning of 2020, the company has been organizing a sustainable tourism program that focuses on environmental, cultural, community and sharing economy factors. This way of thinking and acting has inspired UNESCO, SSTP and many other organizations," Ha added.
With the perspective of a person who has practiced a natural lifestyle and started an agricultural business based on nature, Nguyen Van Nhan, owner of Rom Vang Farm, shared his change of perception and sustainability stories by creating resources by recycling wastes, conserving precious trees, respecting nature and making products with high human values by limiting damaging natural resources.
"I am touched by the action that businessmen have learned to respect nature—the motherland, share benefits with the disadvantaged, share the community culture and join hands to protect the environment to find value in each of their activities," Nhan said.
As a businessman passionate toward green, circular and sustainable tourism, Phan Xuan Thanh and a group of businesses in Quang Nam have still kept the fire of passion burning despite many difficulties caused by the pandemic.
Recently, Thanh proudly showed off his new organic vegetable garden in cooperation with businesswoman Pham Thi Hai Nguyen—investor of Sea'lavie Boutique Resort & Spa in Hoi An City.
Located right in the resort, the vegetable garden with more than 10 wooden crates grows different vegetables. The special thing about the garden is that the soil and fertilizers are completely organic and were composted many months ago (during the Covid-19 outbreak) with cooperation from a group of experts on organic cycling and the Sea'lavie staff.
These vegetables are then used for meals at the resort. The waste from these meals is used for composting and then again for the vegetable garden.
Nguyen said that in order to build and take care of this garden following the circular rules, over the past two years, she and her staff members had attended various training courses on circular tourism organized by QTA.
Phan Xuan Thanh, chairman of QTA, said the association would develop the model among hotels, homestays and resorts in Quang Nam.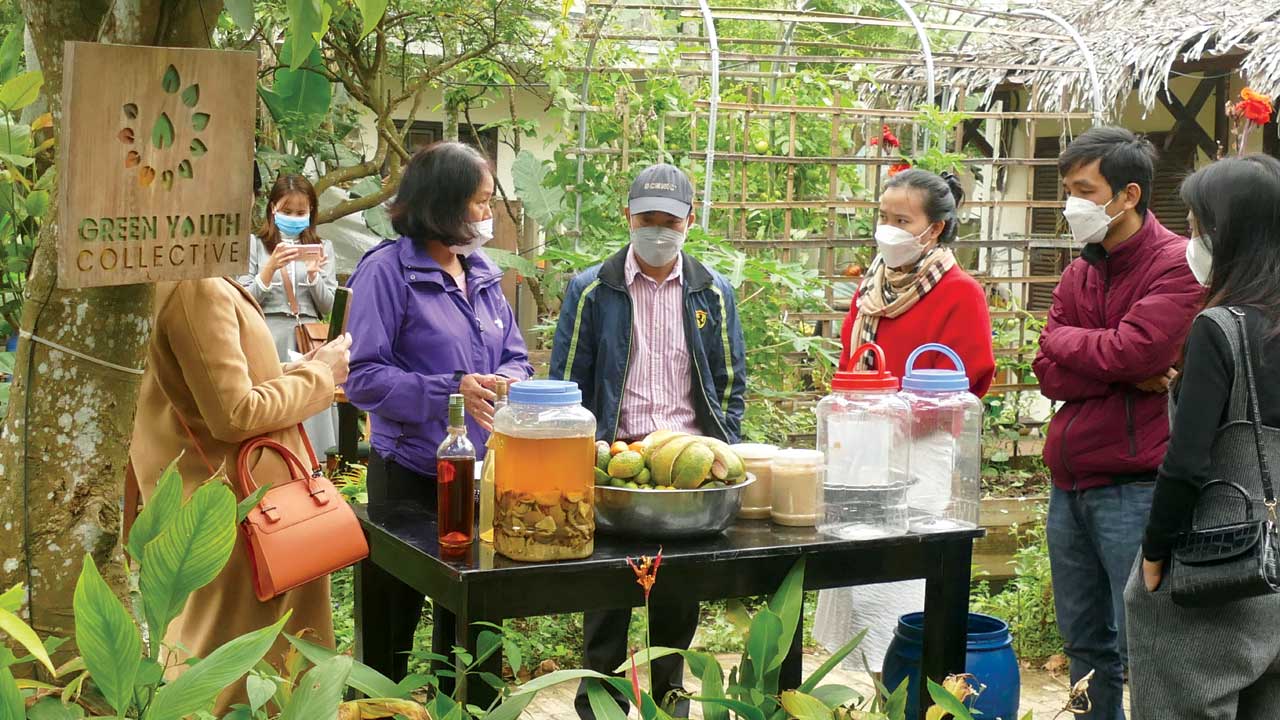 A long journey to go
However, one of the biggest challenges for developing such models is that after Covid-19, many people will travel again. And most likely, businesses will no longer maintain some of the green tourism criteria to meet the various demands of tourists.
Thanh said he had thought of this problem and mapped out solutions. It is a commitment to follow the sharing economy model. Corporate members of QTA will significantly reduce the input fee of products when they are able to share human resources and travel data apart from cooperation in market promotion, participation in sustainable supply chains, among others.
QTA as well as the Quang Nam Green Tourism Club will support enterprises to overcome these obstacles and challenges, he said.
Businesses committed to green tourism will be able to share the value chain in terms of human resources, corporate culture, markets, product promotion, communication as well as technical advice related to green tourism criteria.
"We will cooperate with international green tourism organizations to raise our voices for green tourism, increase the position of businesses, targeting establishing a potential and sustainable destination," said Thanh, adding that green models will play a leading role in the coming time.
"I think this is a valuable and fundamental product. It clearly shows the three pillars of Earth – People – Economy. It helps Quang Nam tourism have a competitive advantage over other destinations in the region and worldwide," Thanh told the Saigon Times. "When exploiting tourism resources today, we must think of future generations. In other words, we will not regret what we are doing now. I hope it will be renewable tourism and green growth."
He added that when people are aware of and ready to change for green tourism, changing the corporate governance system will be a challenge for the competent authorities. This includes changing the governing method as well as business operations, personnel and corporate culture and the process of creating products and services.
Vietnam has announced the reopening of the entire tourism industry from March 15, 2022. It might be too late for us to develop green and sustainable tourism products as planned. However, better late than never. To some extent, the green way ahead has been assured by the head of Vietnam's tourism industry.
Talking to the Saigon Times at the recent National Tourism Year 2022 press conference, Nguyen Trung Khanh, chairman of the Vietnam National Administration of Tourism, said under experience gained from the National Tourism Year 2022 in Quang Nam, Vietnam's tourism industry would develop and revive the smokeless industry toward green tourism in the coming years.
Khanh said green tourism and green growth are the keywords of Vietnam's tourism until 2030. According to Khanh, in recent years, many localities across the country have implemented green and sustainable models. Along with activities to promote green tourism destinations in Quang Nam this year, these will be practical experiences for Vietnam's tourism industry to study the way forward toward green tourism.