For a company in the F&B industry, business means satisfying the tastes of consumers. Nestlé Vietnam, needless to say, does this well, but beyond such work-a-day business practices, the company has gone to great lengths to win the hearts and minds of the community. In tough times induced by the Covid-19 pandemic, Nestlé Vietnam has proved itself a good corporate citizen: sharing the burden with authorities and residents alike.
Nestlé Vietnam since the early days of the pandemic has been implementing innumerable charitable programs to contribute to the country's fight against Covid-19. In each stage of the Covid pandemic, Nestlé Vietnam has rolled out practical and meaningful activities to support the Government, frontline workers, disadvantaged people and children, and anti-pandemic volunteers across Vietnam.
Prompt support for frontliners, residents in hotspots
In June, Nestlé Vietnam and La Vie, a subsidiary of Nestlé, donated VND4 billion to Hung Yen, Dong Nai and Long An to help the provinces soon access Covid vaccines to achieve herd immunity.
Furthermore, drink items worth more than VND700 million were presented to frontliners and households affected the pandemic in My Hao Town in Hung Yen Province by Nestlé Bong Sen Factory last month. Le Quang Hien, chairman of My Hao Town, appreciated the donation, saying "contributions from enterprises in the locality like Nestlé have encouraged front-liners and supported poor people in the pandemic. We believe that given the determination of the local government and support from enterprises, the pandemic will soon be controlled for the locality to move to the new normal."
Up to date, Nestlé Vietnam has delivered donations in cash and in kind of up to VND4.5 billion to Hung Yen Province alone during the pandemic.
Other beneficiaries included Bac Ninh and Bac Giang provinces. In May and June, Nestlé Vietnam collaborated with its partners to donate a total of VND860 million in kind to the two provinces to fight the pandemic, besides food and drink items valued at over VND3.8 billion.
As the Covid pandemic was raging in HCMC and several other southern provinces months ago, Nestlé Vietnam, in July, donated some 450,000 essential items worth VND8 billion to frontline workers, poor patients and residents living in areas under lockdown in the southern region.
Binu Jacob, CEO of Nestlé Vietnam, says that contributions from enterprises would help the Government and local authorities with more resources to cope with the Covid-19 pandemic.
"I believe that the highest determination of the Government coupled with the contributions from firms, organizations and individuals will soon fight off the Covid pandemic," he remarks.
In the fight against the pandemic, support to front-line forces serves as a morale booster, and Nestlé Vietnam has therefore attended more to these people.
In May, Nestlé Vietnam presented some 60,000 nutritious items worth over VND1.5 billion to over 20,000 healthcare workers at 15 hospitals and healthcare centers in Hanoi City. The company also gave 7,500 gift sets of nutritious food and drink items branded Maggi, Nescafé and Nestea worth VND270 million to anti-pandemic forces and border guards in the southern region to assist their efforts to prevent the spread of Covid-19.
And in September, the firm donated plenty of medical equipment and devices, including oxygen concentrators, infusion pumps and patient monitors, to a number of field hospitals and Covid-19 treatment centers in HCMC and Dong Nai.
Since the beginning of the coronavirus outbreak in Vietnam, Nestlé Vietnam has donated over VND66 billion to the country's battle against Covid-19, according to a representative of the company.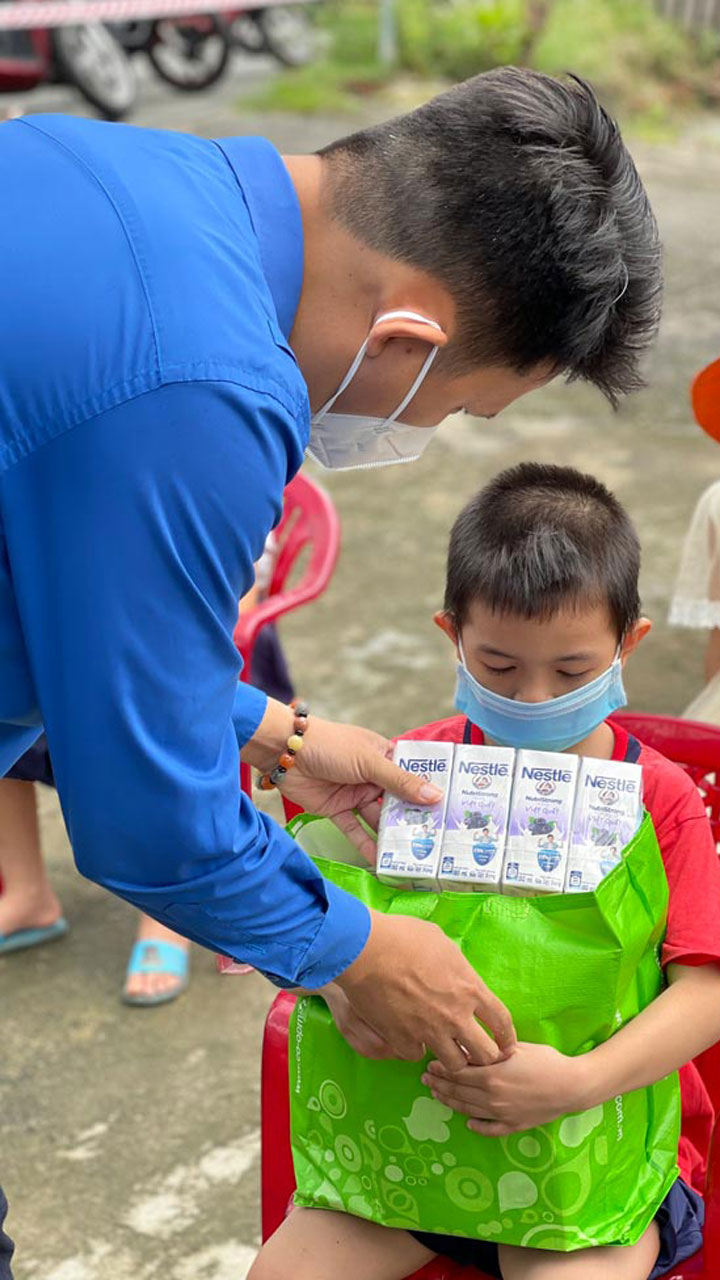 A helping hand to the underprivileged
With an aim to spread its support far and wide, Nestlé Vietnam has also conceived new initiatives to improve the well-being of as many people as possible, especially the underprivileged.
In October, the company initiated the "Millions of survival bags" program that benefited the poor, unemployed workers, freelancers, students, disadvantaged children and patients suffering from serious diseases. The program is targeted to donate one million survival bags with each including rice, cooking oil, eggs, dried fish, canned meat and vegetables to these groups of people across Vietnam.
As the Mid-Autumn Festival is a special occasion for Vietnamese people, especially children, the company in late September managed to bring joy and happiness to children from Covid-affected families in Dong Nai Province. Nestlé Vietnam, in cooperation with the Dong Nai Industrial Zones Authority and the Dong Nai Communist Youth Union, presented 73,000 nutritious food and drink items to them.
"The fourth coronavirus wave has taken a heavy toll on the lives of residents and left impacts on children's physical and mental health. We hope these small gifts will partially help children ease their sufferings," said Khuat Quang Hung, head of corporate affairs at Nestlé Vietnam.
Nestlé Vietnam also launched a photo contest titled "Saigon Pho Men Thuong" in July, calling on the people to encourage frontliners in the fight against Covid-19 by sending in photos of Saigon food with messages of encouragement conveyed to these front-line workers. The online contest run by the company between July 24 and September 9 saw over 1,000 entries, and in response, the company handed out 8,000 gift sets to volunteers joining the combat against Covid in HCMC.
In July, Nestlé Vietnam also launched the "Love Market" campaign to offer free necessities to residents residing in areas under lockdown in HCMC and run a support program benefiting numerous hospitals and quarantine centers in the city.
In the journey to implement its corporate social responsibility, Nestlé Vietnam has cannoned its attention to situations of emergency so as to benefit the community in the best way possible. As the Covid-19 pandemic is the biggest public health crisis ever in Vietnam, Nestlé Vietnam has quickly set five main priorities to help the country overcome the pandemic, including guaranteeing the benefits and interests of its employees, optimizing supply sources and distribution channels, and joining forces with the Government and society. And Nestlé Vietnam has covered long miles in this journey.