Eye of God Mountain (also known as Thung Mountain) attracts tourists thanks to its unique appearance—a hole in the center of the mountain, which looks like a giant eye.
Located in Quoc Toan Commune, Tra Linh District, the Eye of God Mountain is a prominent destination at the Non Nuoc Cao Bang UNESCO Global Geopark. In recent years, the mountain has become a favorite destination among tourists for its majestic natural scenery.
The mountain is some 50 kilometers from Cao Bang City and visitors can travel there by car or motorbike. However, the motorbike is the most convenient means of transportation as the road to the mountain is quite narrow, allowing only motorbikes to reach deep inside the valley.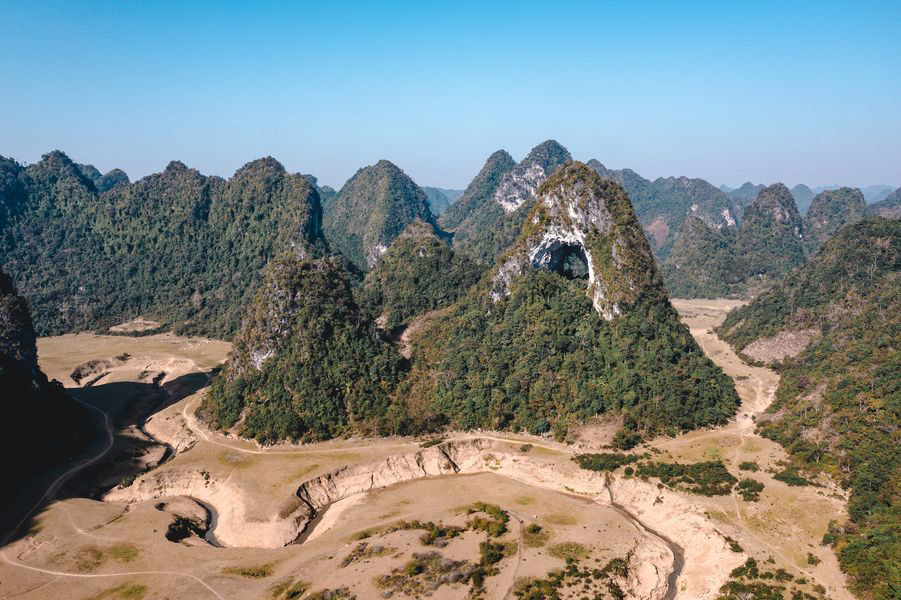 God's Eye Mountain is in the Thang Hen Lake complex valley with 36 interconnected lakes in Cao Bang Geopark. It is surrounded by wide steppes and lakes. During each season, the scenery surrounding the mountain offers a different beauty. In the rainy season, from June to August, the water from the headwater fills the valley, turning the area into a large lake for rowing and fishing. During the dry season, this place is covered with green grass. Tourists can camp, walk or cycle around the landscape.
At sunrise, the sunlight shines through God's Eye at the top of the mountain, creating a masterpiece. God's Eye Mountain stands out in the middle of the valley amid the white dew and sunshine.
In addition to enjoying the beautiful scenery, tourists can set up tents and camp overnight. At night, the temperature can drop quite low, so tourists need to carry warm clothes to keep their bodies warm. They can also row stand-up paddle boards, go fishing, and immerse themselves in nature.
Besides the unique Eye of God Mountain, along the trail leading to the mountain, visitors can learn about the daily lives of friendly Tay ethnic people with their stilt houses, stone fences, rice paddle fields, etc. There is also the Nam Tra Waterfall, a beautiful waterfall worth visiting.