Having escalated non-stop for almost a year, inflation has now become an issue of grave concern, threatening the post Covid-19 recovery of economies worldwide
In its recent World Economic Outlook, the International Monetary Fund (IMF) forecasts inflation this year will likely be 5.7% in advanced economies, and 8.7% in emerging and developing ones, much higher than its previous projections. Inflationary pressure has forced most central banks worldwide to reverse their monetary policy, gradually putting up interest rates along with quantitative tightening. Such a monetary policy reversal, combined with a rapid increase in the prices of raw materials, fuels, and wages, is putting the world economy at risk of falling back into recession, dealing a hard blow to those economies with a greater openness like Vietnam.
Meanwhile, according to the General Statistics Office, the consumer price index (CPI) at home this May inched up 0.38% against the preceding month and 2.86% over the same period last year. On average, Vietnam's CPI in the first five months of 2022 rose by only 2.25% year-on-year. That said, these figures are probably not substantial and do not fully reflect the recent spike in consumer costs in various areas.
Inflation is rapidly going up in Vietnam for several reasons. First of all, it is the recovery of consumer demand during the post-Covid-19 era, especially in the service sectors previously subject to stringent lockdowns. The total retail sales of goods and services, passenger transport, freight transport, export of goods, and public investment have all grown at a double-digit rate in recent months compared to the same period last year. Credit growth as of the end of May was estimated at 7.75%, twice as high as the year-ago figure.
However, a more important cause of the current rampant inflation is the surge in the prices of raw materials and fuels that has been around for about a year and worsened since the Russia-Ukraine war broke out. The prices of gasoline, fertilizers, animal feed and base metals are now at their historic highs in decades. The rapid increase in production costs not only pushes up consumer prices, but also puts quite a few businesses and people at risk of downsizing production.
The ongoing fight against inflation cannot rely much on the monetary policy for it cannot inhibit the rise in the prices of inputs that Vietnam has to import from the world market. Meanwhile, the economy's demand, although recovering significantly, remains weak as the incomes of most people and businesses have been badly hit after two years of struggling with the pandemic. Besides prudent money supply control, inflation restraint now should rely more on fiscal tools via the reduction of taxes and fees for crucial inputs in production.
One of the things that Vietnam can do right away is to cut taxes on oil and gasoline, considering the powerful spillover effect this group of items may have on the output prices of many manufacturing sectors in the economy.
Oil and gas prices in Vietnam are currently at an average high level, whereas the income of the Vietnamese people is at a moderate low compared to other parts of the world. In other words, any increase in the price of this commodity group will have a more negative impact as people have to spend a larger share of their incomes on fuel. What's more, Vietnam is in the top 29 nations with crude oil resources and exports in the international market, making it unfair that the Vietnamese have to pay exorbitant petroleum prices like those countries without such an advantage.
Moreover, import tax, special consumption tax, and value added tax are currently levied on oil and gasoline at a fixed rate. That is to say, the higher the prices of imported fuels, the heavier the duties each liter is charged with. Therefore, the fact that petroleum prices are now sky-high in the domestic market is not only due to the rise in its import prices, but also because the amount this item is taxed is enlarging.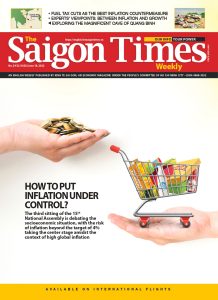 Vietnam should eliminate the special consumption tax on petroleum products due to its irrationality. The disincentive to consumption since fuels are a cause of pollution is already a role played by environmental protection tax. Meanwhile, fuels are an essential commodity, not a luxury. Therefore, there is no reason to impose a special consumption tax, regardless of whether their selling price is high or low, and especially in the context that people and the business community are currently in need of support.
Furthermore, additional sources for the price stabilization fund for oil and gasoline should be considered as well. At present, this fund is mainly operating under the "people pay first and enjoy later" mechanism by setting aside certain sums when prices go down and spending them when prices go up, without any other means for stabilization. Meanwhile, budget revenue from crude oil exports is now rising thanks to soaring oil prices. Therefore, Vietnam may consider putting all the extra budget revenue from crude oil exports into the price stabilization fund for oil and gasoline without affecting budget plans.
(*) National Economics University