As a responsible organization, besides focusing on being purpose-led and returns-driven, Frasers Property is well aware to create lasting shared value, for people, businesses and communities. Frasers Property's Community Investment is the Group-wide umbrella for all of Frasers Property's social impact initiatives in over 70 cities and 20 countries globally, and is the solid foundation that allows them to accompany and support their wider business community.
As a purpose-led organization, Frasers Property is committed to inspiring experiences and doing good for its stakeholders. Guided by a commitment to stay true to doing good, their shared purpose is to make a positive impact on the people and local communities where they work and live in.
Having been established in Vietnam for the past decades, Frasers Property is on the way to deliver quality customer experiences and contribute to a better quality of life in the country. This demonstrates that CSR activities are not simply the measurement of business value, but must emerge from the respect of collective prosperity as an achievement of the company.
To spread this collective mission to all employees, customers and partners, Frasers Property choses November as the month of Community. Here, by leveraging Frasers Property's diverse culture, CSR plans would be charted for the year ahead, while milestones in the past year are also reviewed with the aim to promote and spread collective compassion, aim to offer community investment programs that empower, engage and inspire all of them, including their customers and partners to make a difference in the communities they serve.
Give blood, share life, and save lives
This November, Frasers Property's Community month with the theme "Doing good all around" starts with a Blood Donation Drive. Frasers Property teamed up with the Vietnam Red Cross Society to elevate this movement, provide funding and location, and most of all motivate a crowded participation of volunteers for this activity.
The need for blood is universal, and a single unit of donated blood can save up to three lives. As usual, there is overwhelming support from customers and employees of Frasers Property in this activity. Valuable blood units have been donated and many lives have been saved as a result.
Wider arms in Covid time
From day one of the pandemic, Frasers Property was a pioneer to contribute 20 thermal scanning cameras worth more than VND1 billion to the Vietnam Fatherland Front Committee of HCMC in support of Vietnam's community efforts against Covid-19.
At the same time, while the vaccine supplies amidst of Covid-19 infections in the country was a major problem, Frasers Property, along with business partners contributed US$1 million to the Vietnam Fund to the purchase of Covid-19 vaccine. Not only that but Frasers Property also joined hand with Thu Duc City to donate 400 food packages for underprivileged families affected by Covid-19, supported VND100 million to the poor at Phu Tan Ward in Binh Duong Province, as a way to bring warmth and hope to the local community affected by Covid-19.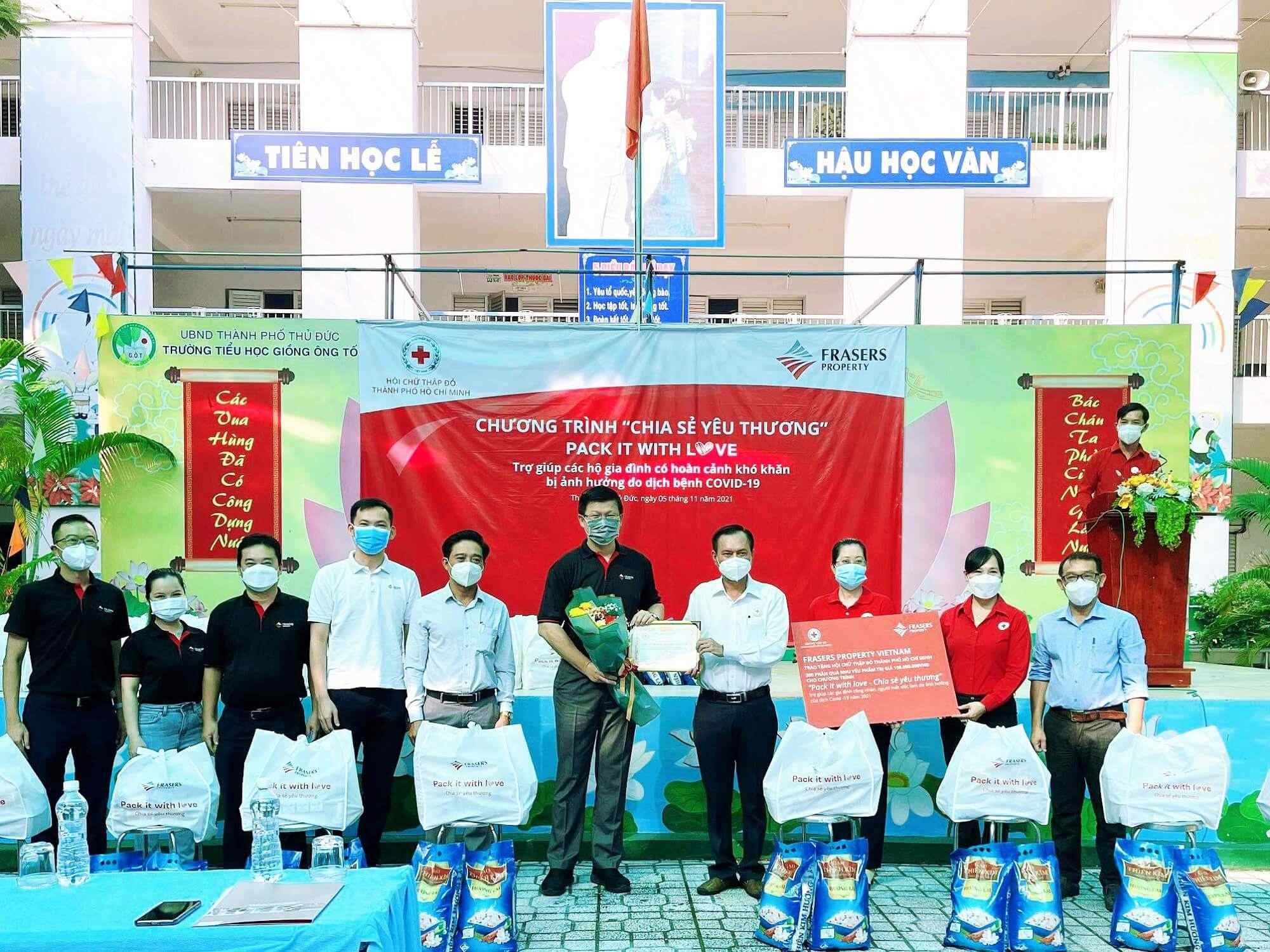 Back to school, love connection
When Vietnam's Central region was facing both the pandemic and the stormy season, Frasers Property raised VND500 million to support "Back to School" Initiative of Vietnam Red Cross Society. The funds will go towards the repair of school facilities in the central provinces affected by recent natural disasters, especially those in Ha Tinh and Binh Dinh provinces, which were severely damaged by Typhoon No. 12.
A bridge to connect life, a bridge to connect dream
During a business trip to a rural locality in the Mekong Delta, seeing people, especially pupils struggling to cross unstable bridges in Bac Lieu Province gave Frasers Property's Management Board an indefinable feeling that sparked them to take actions, and thus without hesitation, Frasers Property supported more than VND300 million to repair makeshift bridges and build two new concrete bridges to ensure the safety and accessibility for communities.
At Frasers Property, they affirm that there is nothing more important than the health and wellbeing of communities. A healthy community can give a stable life; thus a responsible company needs to develop alongside the community. Frasers Property commits to doing good all around, building a more resilient future-ready business which can help build a more inclusive and healthier world.