Vietnam currently ranks second in Asia-Pacific in terms of food waste, with over 8,000,000 tons of food wasted every year even though it is still edible, causing losses of US$3.9 billion a year, accounting for nearly 2% of the current GDP. The rate of food waste in Vietnam is twice as much as that of other advanced and wealthy economies worldwide.
The fight against food waste requires the participation of individuals, enterprises, and the Government. This is also a sustainable development target set by the United Nations.
Higher than wealthy nations
Worldwide, around one-third of the food produced to satisfy human demand is wasted during the farm-to-table process, in which one-third is thrown away after being purchased, while the remainder is lost during harvesting, processing, transporting, and storage. This huge loss amounts to US$940 billion every year.
According to a survey by CEL Consulting in 2018 – a supply chain and agriculture operation consultancy firm, food waste occurs in every section of the supply chain in Vietnam, from the beginning of the harvest to the finished food. Of this, 25% of food produced is lost before being transported to the processing factories or distribution centers. The total volume of food waste in Vietnam is estimated at 8.8 million tons, equal to US$3.9 billion, accounting for 2% of the GDP of Vietnam.
The statistics of CEL Consulting reveal that the loss rate in the vegetable group makes up the majority, at 32%, equal to 7.3 million tons of fruits and vegetables lost every year. For the meat industry, the rate of loss reaches 14%, equal to 694,000 tons every year. For the fish and seafood sector, the rate is 12% of productivity, equal to 804,000 tons every year.
According to Food Bank Vietnam, up to 87% of Vietnamese households admit to wasting at least two food plates every week. Rice, vermicelli, pho, and noodles make up the largest proportion of the diagram of wasted food by categories (68%), followed by cooked fish and meat (53%) and vegetables (44%).
Experts and international organizations claim that the cultural and psychological factors of the Vietnamese play an important role. Over 50% of wasted food is initially generated from the psychology of saving food for those who cannot get together with their family to have a meal. Some 49% of wasted food is a result of it being left in the fridge until it is inedible. Some 35% is due to the lack of proper food portions while processing and cooking, resulting in excess. Apart from the above, other psychological factors should be taken into account, such as the habits of leaving little food on plates or excessive partying.
Vietnam is not yet a wealthy economy, but the rate of food waste in solid waste is higher than that of any wealthy nation. A report by the World Bank (WB) shows that there are 5-8 tons of biodegradable waste in every 10 tons of waste in Vietnam, the majority of which is food waste. The more developed a country is, the less food waste it has, at an average of 32%, over 57% of the food waste of less developed countries.
This is ridiculous as there are still many needy people in Vietnam. The General Statistics Office of Vietnam defines needy households as households with food reserves, cash savings, and assets that can be sold to buy food, equal to less than 13kg of grain per capita or 9kg of rice per month. Thus, from 2013-2017, there were nearly 283,200 poor households and 1,185,000 needy people annually in Vietnam.
A national action plan entitled "No more poverty in Vietnam till 2025" was approved, whereby one of the plan's targets is "no more food waste, no more food loss." However, the road to this target is a bumpy one.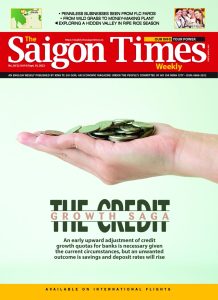 Role of consumers
According to experts, consumer awareness is necessary for fighting food waste. A majority of consumers fail to distinguish between the two labels, "Use by" and "Best by," a report of UNEP's environmental program revealed.
UNEP's survey shows that at least 90% of users throw food away after the date on the label. Most do not know that "Best use" indicates the food is at its best before the given date but is still safe to eat even after the date. On the other hand, bacon or unsterilized dairy products are perishable and hazardous if consumed after expiration.
Few Vietnamese consumers know that several products such as powder, sugar, biscuits, or canned food can retain their quality after the date given on the label and are still edible. Especially sugar, if kept in good condition, it does not go bad. Fresh cakes or vegetables labeled "Best by" go on sale in the supermarket or are donated to soup kitchens and charity organizations when they approach the expiration date.
In other countries, near-expired goods have become a billion-dollar business wherein some companies set up a buying channel and distribute quickly and effectively the amount of unsold and nearly expired goods. Vietnam has yet to have such a market, except at Bach Hoa Xanh, where anyone who shops after 7 p.m gets complimentary vegetables.
However, Vietnamese supermarkets and food enterprises have yet to focus on promotion or communication campaigns about the information on food labels. "Cultural factors such as the habit of making reasonable savings take time to change, but making the information on the food labels understandable is within reach of local enterprises," said Bui Phuoc Hoa, a standard and quality expert under the High-Quality Vietnamese Goods Association.
Responsibilities of enterprises
Supply chains, logistics infrastructure, and postharvest issues are reasons for declining food quality. According to a survey by the Ministry of Agriculture and Rural Development in 2020, the loss of food and farm produce before processing averaged 10% for Vietnamese fruits, 20% for vegetables, 30-35% for aqua products, and 10-15% for food.
However, as per CEL Consulting, only 14% of farmer households or farms in Vietnam understand the importance of the cold supply chain in preservation, processing, transportation, and distribution to consumers. This new billion-dollar investment market is drawing the attention of many Vietnamese enterprises, especially after two years of the Covid-19 pandemic.
Reducing intermediates and investing in technology to create added value for farm produce play an important role. Rationalizing each stage to reduce intermediates and investing in technology can reduce losses in rice production and help increase the income of farmers and enterprises, said Luu Thi Lan, a representative of Sun Rice Group in Vietnam. Another example is Co May, an enterprise in Dong Thap, which has invested in technology to collect rice bran oil while processing rice or using a straw to grow mushrooms.
Meanwhile, hotels and restaurants are trying to recycle waste in the food and catering industry. JW Marriot Hotel Hanoi has set up a farm to grow vegetables at the hotel since October last year.
Chef Steven Peter uses oyster shells to fertilize the hotel's lakeside vegetable garden. Pizza 4P's restaurants in Vietnam conduct saving programs for food ingredients and also call on clients, suppliers, and the community to come up with ideas for fighting food waste. The Pizza 4P's founders have applied these criteria to Environment, Social, and Governance standards, which are annually reported to the investors and the community.