Around four years ago, Le Thi Thanh Nhan quit her good job despite her family's strong objections to founding Lavin Home in Hue City, Thua Thien-Hue Province, to create job opportunities for young people with disabilities and help them feel more welcome.
At Lavin Home, the 29-year-old teaches the disabled how to make paper flowers at no charge for sale. Local people thus call Lavin Home by another friendly name, "Flower house."
Every day, deaf-mute people come to the flower house to learn and make paper flowers together. Meanwhile, those with brittle bone disease must work from home due to their inability to commute long distances to Lavin Home.
Therefore, Nhan visits each house of these people once a month, some 40km away from her place, to instruct them to make the flowers, and she will buy them for reselling at Lavin Home and on social media platforms. Nhan also takes charge of purchasing all ingredients needed to make the product so that disabled people do not need to tap their budget.
She also organizes regular workshops at Lavin Home where visitors can learn how to make paper flowers and sign language from the disabled, according to thanhnien.vn.
The brother of thousands of children
Seeing many school dropouts in mountainous communes of Moc Chau District despite the construction of schools there, Lieutenant Duong Hai Anh, 26, an officer of the Police Department in Son La Province, tried to look for the reason behind this.
He found that most of them quit schooling to help their parents look for food for their families in the forest. Anh then decided to carry out the "Supporting Moc Chau students" project to serve nutritious lunches for needy students from January 2021 as a way to take them back to school.
So far, this project has served lunch for nearly 4,000 students. Costing up to VND9.2 billion, the project has been sponsored by many benefactors throughout the country.
The young police officer has also launched other projects to donate water filtering bottles, uniforms, warm clothes, blankets, books, and learning tools for mountainous students, with philanthropists' help. As regards the "Happiness for students" project, Anh told vietnamnet.vn that the project aims to build houses for poor students and schools for students in border communes.
To date, the project has built three houses and seven schools for mountainous school children.
Trans-Vietnam tour on foot
Tran Duc Trung, a 33-year-old man from Nghe An Province, is on his trans-Viet journey on foot to realize his dream before the age of 60.
Having traveled to many localities on his old motorbike, he thought of making a journey on foot across the country, and he began making a plan for his trip.
Trung made a three-wheel cart to contain his clothes, a mosquito net, and a blanket in it and to push it with him along his long journey on foot, which he planned to pass some 20,000 kilometers in three years. He also attached a strong magnet under the cart to attract nails and other iron scraps on the road to prevent flat tires for road users.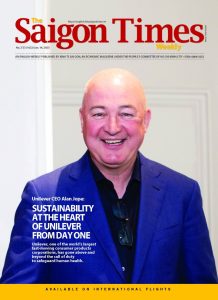 On September 18 last year, Trung caught a coach from his home province of Nghe An to Ca Mau, the southernmost province, to start his trans-Viet trip. After over three months, he had passed all cities and provinces in the Mekong Delta, the southeastern region, and the Central Highlands.
He will continue his trip on foot to the south-central and north-central localities and head north until arriving in the final destination in Mong Cai City, Quang Ninh Province.
Trung told Saigon Tiep Thi that locals warmly welcomed him wherever he came or stayed overnight.