The "Getting ahead of opportunities – Opening up investment" conference, organized in HCMC on November 25 by Asia Commercial Bank (ACB), attracted hundreds of visitors from foreign-invested enterprises.
Vietnam – An attractive destination for foreign direct investment (FDI)
The conference was attended by many experts such as Tran Anh Tuan from the HCMC Department of Planning and Investment; Do Thien Anh Tuan from Fulbright Vietnam University; Dang Thuy Ha, Northern Region Manager of NielsenIQ Vietnam; Nguyen Duc Thai Han, Deputy General Director of ACB; Nguyen Hieu Nhan, Director of Corporate Banking Division at ACB; and Huynh Duy Sang, Deputy Director of Financial Markets at ACB. The event was seen as a special convergent point for representatives from foreign-invested enterprises to network, discuss obstacles and sound out cooperation opportunities.
The conference was held in person and online, centering on the overview of FDI in 2022; HCMC's supporting policies in 2022-2023; Vietnam's competitive advantages; expenditure management from the perspective of banks; and growth outlook in 2023-2025 and FDI opportunities in Vietnam.
The total foreign investment approvals countrywide in the year to October 20 had reached nearly US$22.5 billion, with fresh capital rising by 15.2% year-on-year at US$17.45 billion and accounting for 80% of the total investment approvals. In HCMC , foreign capital mainly flowed into the retail field (38%), science and technology activities (26%), and information and communications technology (21%). Six industries and two fields saw strong interest, including mechanical engineering, electronics and telecommunications, pharmaceutical chemistry, value-added food and foodstuffs processing, industries with reduced labor intensity, and high-technology industries.
Besides, the country has improved FDI attraction policies over the past few years, including supplementing regulations on incentives and support for projects that help boost the socio-economic growth, and the Politburo's Resolution 50 on improving the quality and efficiency of foreign investment by 2030.
During its journey of joining global supply chains, Vietnam, with its prime location at the heart of the Asia-Pacific region, has become an attractive destination for foreign investors who are seeking to set up production facilities beside China.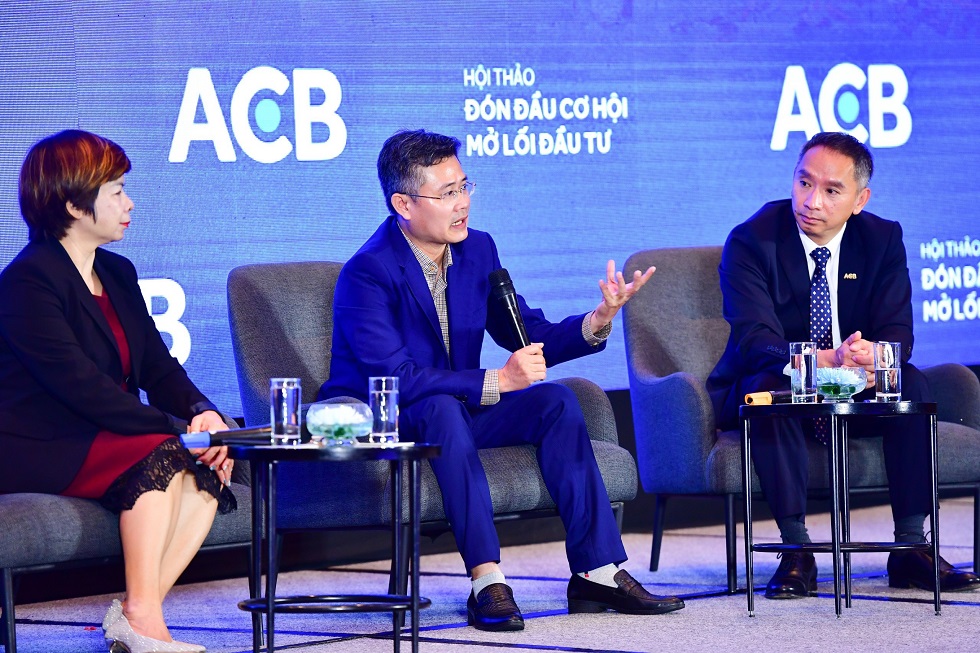 Market trends, opportunities and challenges
Vietnam boasts much potential to attract foreign investment flows. Expert Do Thien Anh Tuan said that Vietnam is "a reliable destination of FDI in a world of uncertainty," while FDI plays a pivotal role in growth towards 2045. Though several countries have seen less positive economic prospects than the previous forecasts, many developing and emerging economies in Asia, especially Vietnam, are expected to be a motivation for development.  He also provided in-depth analyses on the country's policies and competitiveness and comparison on various issues, mainly financial problems with other countries in the region.
In addition, Dang Thuy Ha shared numerous interesting perspectives of FDI in Vietnam, offering a variety of proposals and suggestions on cost management to foreign-invested firms in Vietnam. Particularly, 18 trends shaping the world's economic growth are divided into four groups, including product innovation, technology, sustainability and retail transformation. These trends will result in the expansion of mobile payment and digital banking.
According to NielsenIQ Vietnam's Personal Finance Monitor in the fourth quarter of 2021, ACB was among three banks with the best brand equity index in HCMC, alongside Techcombank and Vietcombank.
All experts had common viewpoints about FDI attraction, saying that the current FDI attraction is more selective, with a focus on the efficiency of technologies and environmental protection.
In spite of multiple investment opportunities, foreign investors are facing several challenges when doing business in Vietnam. As such, the experts advise FDI firms to cooperate with at least one bank to get capital, financial, expenditure management, consulting and risk control services. In the country with dense population and complicated mechanism, posing many risks, FDI enterprises should find a healthy companion to gain advantages.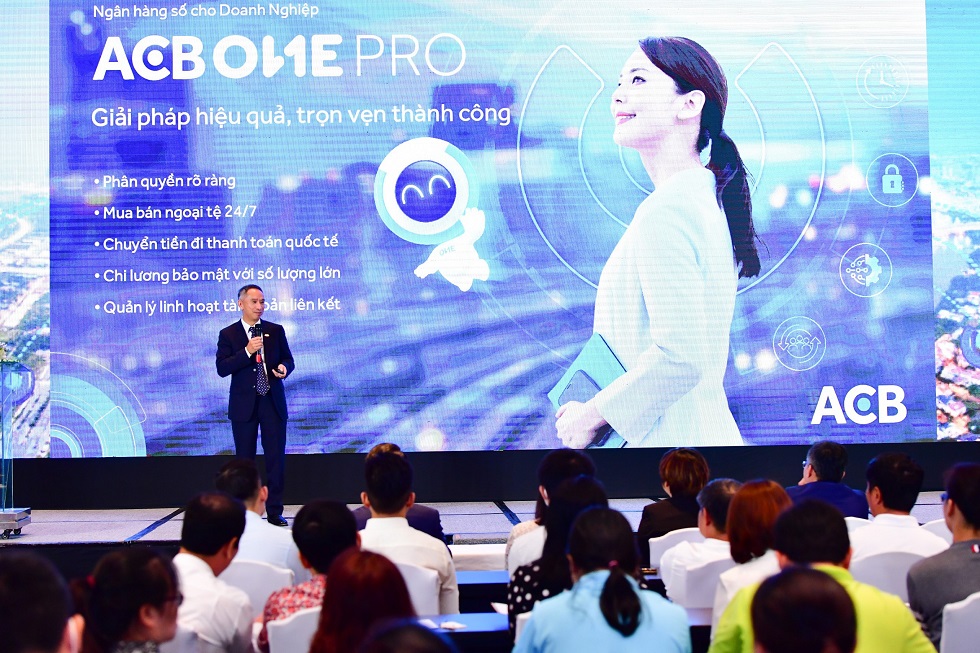 ACB's AFDI solution: Effective financial solution for FDI firms
With its nationwide operation, ACB has become a local reliable partner of many FDI firms, giving them a clear and broad vision of the Vietnamese market to grasp opportunities to make profitable investments.
At the conference, Nguyen Hieu Nhan also put forward various useful and comprehensive solutions to reassure FDI firms so that they can be ready to pour money into Vietnam, including ACB ONE BIZ – a digital banking solution for small and medium enterprises, ACB ONE PRO – a digital banking solution for medium and large firms, and AFDI – a special solution package meeting the credit and noncredit needs of FDI enterprises.
With a wide range of banking products and services, ACB has studied the demands of firms at four stages of development to offer suitable packages. The "A-Approach" package is geared up for startups, while the "F-Foundation" package targets firms which are investing in business facilities. The "D-Departure" package is designed for companies in the process of production. The "I-Invovation" package targets enterprises which are expanding their reach.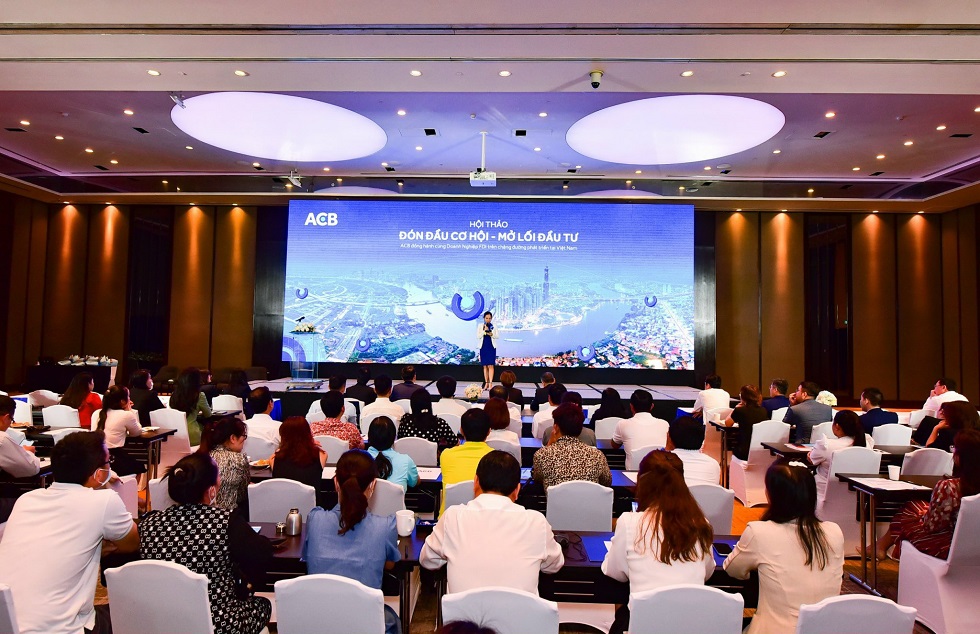 At the stage of new establishment, firms often focus on some key aspects such as workforce, financial monitoring systems and product advertising, together with procedures of establishing a company, opening bank accounts and registering information for transactions. To meet the needs, ACB provides these firms with a special package consisting of opening accounts and direct investment capital accounts, and offering such services as ACB Online, salary payments, ACB Business Banking and forex.
As for firms in the process of building facilities, they need to well monitor their capital and need diversified payment methods. As such, ACB offers them more services, including corporate credit cards, fixed savings, international payments, POS and guarantees.
When firms are in production, thereby paying attention to increasing capital and expanding their reach, they will be entitled to short-term loans and preferential programs. As for enterprises which are expanding their operation and production, the bank will offer them long-term preferential loans.
Generally speaking, AFDI is a solution geared up for foreign-invested enterprises to help them optimize investment and thrive sustainably.
For further information, please visit the ACB website acb.com.vn, or visit any ACB branches or transaction offices nationwide; or call the Contact Center at 028 38247247.