Apart from being a cultural heritage spot, the Co Loa Special National Monument is proof of the creativity, technical skills and culture of the ancient Vietnamese people and a unique destination for tourists.
Co Loa is considered the oldest citadel in Vietnam. Located in Dong Anh District, Hanoi, it was built in 208 BC on order of King An Duong Vuong. The citadel has witnessed the glorious history as well as the development process of Vietnam and preserved precious cultural values from the past.
The Co Loa Citadel is described as the most unique citadel in Vietnam's history, with the largest size and highest scale. The citadel has a conservation area of 830 hectares with some 60 relics, including various architectural and artistic, historical and archaeological sites such as the An Duong Vuong Temple, the Cao Lo Temple and the Trong Thuy-My Chau Well, etc.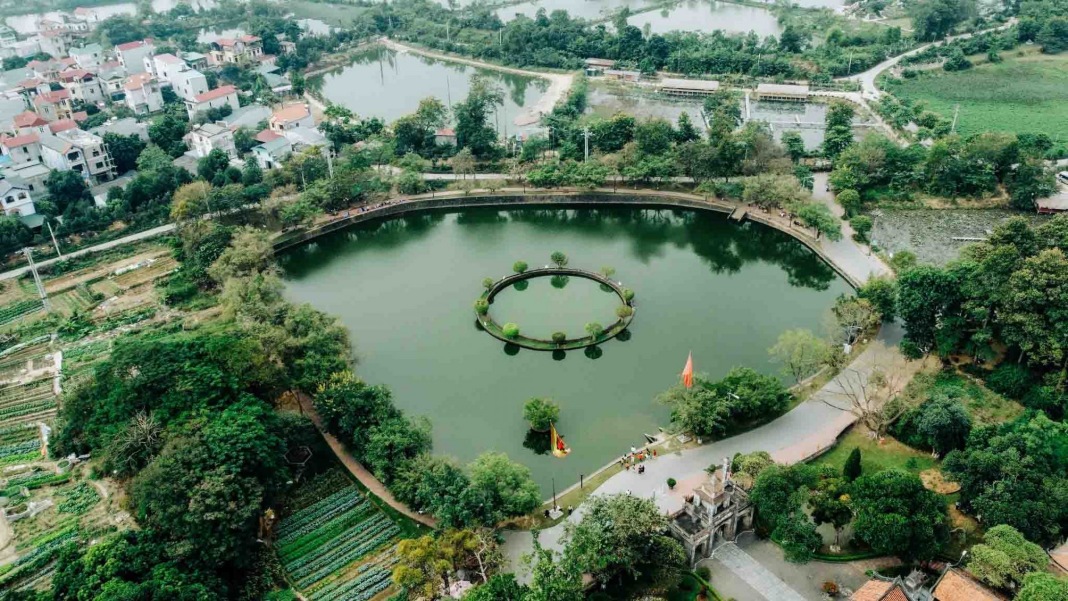 Right in front of the An Duong Vuong Temple is a semi-circular lake. In the center of the lake is the Trong Thuy-My Chau Well – the highlight of the Co Loa Citadel. From a distance, the water in the well appears turbid red, standing out amid the clear blue lake water and trees.
Legend has it that the well water is the tears of Princess My Chau. When the water is used to wash pearls, the pearls turn exceptionally bright and beautiful.
There are many benches around the lake for visitors to sit and rest under big trees and enjoy the cool, peaceful atmosphere. In the temple, many archaeological artefacts were excavated from the ancient citadel, such as bronze statues, bronze spears and arrows, and delicately carved porcelain and stone items.
The Co Loa Citadel is a cultural heritage and evidence of the ancient Vietnamese people in the national defense against foreign invaders. It serves as an ideal destination for travelers who want to discover cultural values and peaceful northern villages.
For the locals, Co Loa Citadel plays an important role in their spiritual life and cultural activities. On the sixth day of the first lunar month, people there hold the Co Loa Citadel Festival to honor the constructors of the citadel and express gratitude to King An Duong Vuong. The festival attracts many tourists from around the world to participate and immerse themselves in unique and interesting folk games.