Hosted by SCG, the leading organization on sustainable development in ASEAN, ESG Symposium 2022 with the theme "Achieving ESG and Growing Sustainability" has brought together many green initiatives and promoted collaborations among public and private sectors, women, and rising generations to move to a low-carbon society.
Green Meeting
Following the Green Meeting concept, every detail at ESG Symposium 2022 was carefully planned and executed to reduce waste and energy. For example, the venue where the conference was hosted is close to public transportation, which helped reduce traveling by private car. To minimize food leftover, food was prepared in the right amount for the number of participants and also used local ingredients. Also, SCG had proper waste segregation and management set up in front of the event hall to encourage participants to join hands to promote waste collection and recycling.
It's also interesting to note that air conditions at the event were adjusted to 25°C; the stage and exhibition zone were decorated from reusable and recyclable materials; and staff's shirts were made from recycled plastic bottles as well.
All of these green initiatives not only demonstrated SCG's efforts to tackle plastic waste and environmental pollution but were also aligned with ESG Symposium 2022's theme, which was Achieving ESG and Growing Sustainability.
Green messages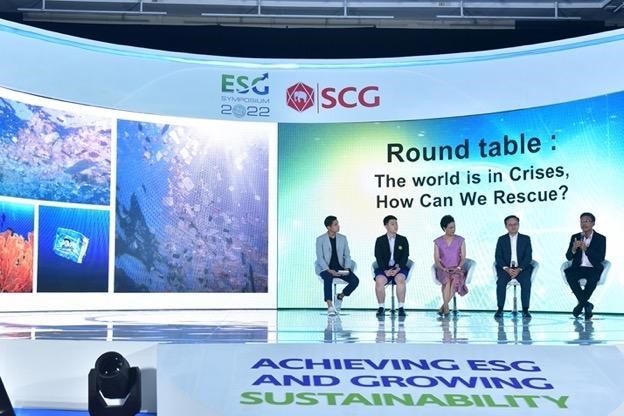 Besides green ideas in organizing the event, via ESG Symposium 2022, SCG also delivered green messages and promoted collaborations in building a low-carbon society. Specifically,  to reach net zero carbon emissions by 2065 in Thailand, brainstorming outputs at ESG Symposium 2022 stated plans to establish a consortium to intensify net-zero innovation development. This will convene collaborations from public and private sectors both globally and locally, consisting of scholars and executive CEOs from various industries such as energy, logistics, electricity, petrochemicals, construction, and consumer goods. The alliance aims for a prompt roadmap to produce the best innovation to relieve carbon emissions for use and seeks to pool know-how, technologies from international parties and is expected to roll on by the end of this year.
The final conclusions at ESG Symposium 2022 also highlighted the importance of unifying networks to magnify collaborations and accomplish a low-carbon society. This embraces areas of alternative energy and a circular economy that cultivate optimal resource usage and sustainable consumption. The green message on collaboration was delivered thoroughly via initiatives from the ESG Symposium 2022. Some of the most outstanding ones were infrastructures that facilitate clean and renewable energy usage, green financing support, efficient waste management system fostering waste sorting habits, and sustainable designs.
Accelerating collaboration, at the ESG Symposium 2022, SCG incorporated 315 coalitions of public, private sectors, women, and rising generations to help build a low-carbon society. "Relieving the crisis ranks first in every person and every sector's agenda. They must act now and collaborate to create tangible outcomes. I strongly believe that outputs from the ESG Symposium 2022 are practical and scalable as planned. SCG is dedicated to helping coordinate with all related parties and track progress. This is because, to bear fruit and see results, the collaboration must advance while benefiting all in the value chain. This shall contribute to building the Green Economy, in line with the BCG concept (B – Bioeconomy, C – Circular economy, G – Green economy) to deliver a sustainable world for generations to come," said Mr. Roongrote Rangsiyopash, President & CEO, SCG.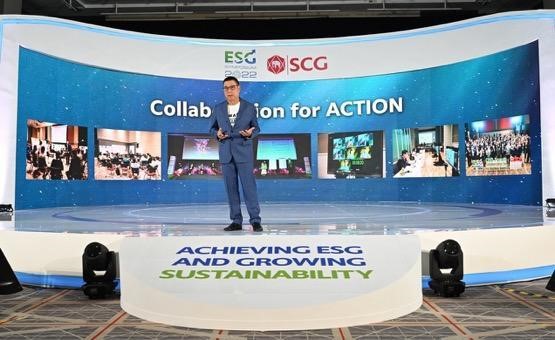 Green solutions from ESG 4Plus
With its partners, SCG is now looking to expand collaborations in accordance with the ESG 4Plus guidelines (Set Net Zero, Go Green, Reduce Inequality, Embrace Collaboration, plus harnessing good governance) as it is the sole pathway to alleviate the crisis after crisis that is upon us.
The corporation injects an estimated initial investment of VND47,000 billion to enhance the production process and propel low-carbon businesses to achieve the 20% reduction target of greenhouse gas emissions by 2030. SCG prioritizes low-carbon energy use such as the biomass from agricultural waste and RDF in cement production, uses excess hot air energy from the production process and solar power, as well as invests in deep technology such as electric vehicles (EV), AI supervisory for energy analytics, and Carbon Capture Utilization and Storage (CCUS).
To go green, SCG is dedicated to eco-friendly innovation so consumers can take part in easing greenhouse gas emissions and reducing resource consumption in line with the circular economy notion. The target is set to double the proportion of the SCG Green Choice label products from 32% to 67% by 2030. Some products include the SCG Hybrid structural cement and SCG Solar Roof Solutions. In addition, the CPAC Green Solution contributes to speeding construction and reducing construction waste while the SCG Green Polymer, an innovative eco-friendly polymer, optimizes resource usage under the circular economy guidelines. As for SCGP's packaging, they provide fully recyclable, reusable, and degradable packaging.
Rooted from a strong sustainable foundation, the initiatives showcase SCG's aim toward a low-carbon society, tackle global crises and create a better future for next generations. All these efforts apply the ESG strategy that SCG has been following.