Dine-in services are permitted with conditions in some "green zones" in HCMC where the Covid-19 pandemic is relatively under control while Hanoi has come up with a plan worth VND39 trillion to supply commodities during the upcoming 2022 Tet, the Lunar New Year festival. These are positive signals from both local governments and business circles in the context that economic activities are recovered and they still have to adhere to pandemic prevention measures.
One month has elapsed since the social distancing order was eased in HCMC and some other localities. Vietnam's economy is on the way back, filling cracks on supply chains, as businesses and organizations begin to be accustomed to the safe, flexible and effective adaptation to Covid-19 control.
Knots untied
Speaking at a recent event, Nguyen Chanh Phuong, general secretary of the Handicraft and Wood Industry Association of HCMC (HAWA), maintained that the classification of places in accordance with four pandemic levels is among the most positive points of Resolution 128/NQ-CP introduced by the Government. According to Mr. Phuong, by scrutinizing the resolution, international partners may predict Vietnam's possible responses to pandemic developments. Meanwhile, businesses can feel more assured because they may not have to halt production completely even in the case of high risks.
Some enterprises said they have gained considerable experience in carrying out the dual goal of production resumption and anti-pandemic task, from preparations of stay-in-place healthcare conditions to scenarios for infection detection. The attitude of businesses has been different now, no longer showing passivity but proactivity, Mr. Phuong said.
Nguyen Van Be, chairman of the HEPZA Business Association (HBA), cited the case of Freetrend in Linh Trung 1 and 2 industrial parks which he said shows the preparations of enterprises to adapt to the new situation of the pandemic.
In July, when the first dozens of infected workers were spotted, more than 30,000 employees of Freetrend had to stop working and its factory be closed. When Freetrend resumed production in early October, screening tests were carried out for the first group of 4,800 workers came back to work, 20 of them were found positive and sent to healthcare facilities. Meanwhile, the factory kept working and more workers continued to take tests to go back to increase the scale of the work force. Therefore, Freetrend is no longer confused even if infections are found in the factory.
As for the safety of production in the pandemic time, Mr. Phuong, HAWA general secretary, said as it is an immediate issue for enterprises, companies should be proactive about it. "More than anyone else, we are quite aware that we have to keep our production environment safe to sustain production," he said. Many HAWA members have acquired their own ambulances and strengthened its cooperation with local healthcare agencies so that an emergency case can be tackled immediately after being detected.
In Linh Trung 2 Industrial Park, said Mr. Be, a Covid-19 field hospital is being finished to be capable of treating 250 first-level patients at a time. Thu Duc Hospital in Thu Duc City will work closely with this hospital in issues related to healthcare.
In the meantime, foreign-invested enterprises in the Saigon Hi-Tech Park have joined hands to build a Covid-19 field hospital for their own. The park's authority said it is a model which can help enterprises actively deal with new infection cases, if any.
Business people have argued that the birth of Resolution 128 is timely and provided a common mechanism for localities. Although it is rather late and there still exist obstacles, the mechanism has helped remove technical barriers and facilitate travel between localities. As a matter of fact, commerce and transactions by the end of the year have begun to thrive.
However, production and supply chains do not concern only goods. The contingents of workers in HCMC and neighboring provinces—such as Dong Nai, Binh Duong and Tay Ninh—are closely connected and the number of commuters who live in one city or province and work in another are enormous. Business leaders argued that without workable plans, the designation of the pandemic level in each locality may hinder the flow of goods and workers' travel and thus procrastinate the recovery process.
The labor shortage and abundance
The recent "homecoming" of a huge contingent of migrant workers has temporarily destabilized the labor supply and demand in cities and provinces in the southeastern region which is also the most affected area during the latest pandemic recurrence. Reports have been made on labor shortages in various industries, such as electronics (55.6%), leather and shoes (51.7%), garments (49.2%), electrical appliance production (44.5%) and textile (39.5%).
Truong Tien Dung, general director of Saigon Aquatic Products Trading Joint Stock Company (APT), said although his company has put up recruitment notices since early October, few job applicants have applied. Meanwhile, orders, from both domestic and foreign partners, are on the rise. Some 75% of APT's former work force has returned and about 100 workers have not come back for various reasons. Mr. Dung said APT currently needs approximately 200 more workers to execute its orders from now to the end of the year. However, the company is facing problems in recruitment and has had to revise its business plans for the entire 2022.
APT's failure to hire enough workers for its production schemes is also the common headache confronted by quite a few businesses in HCMC. However, the overall picture of HCMC's work force is more diverse, not only grappling with labor shortages.
On October 24, the Center of Forecasting Manpower Needs and Labor Market Information of HCMC (FALMI) released the results of its latest survey on the city's labor market and demand. The study conducted by the center on 11,520 enterprises in the third quarter in HCMC shows that 9,858 interviewees replied their business was adversely affected by Covid-19, a rate of 85.71% of the total interviewees. The respondents saying they faced difficulties in finding customers for their products accounted for 42.7% of the total; those that confronted problems in capital made up 27.15%; those that said aid had not reached them the way it ought to made up 18.23%; and enterprises in short of materials accounted for 11.92%. Of 251,027 workers in the polled enterprises, 129,582 were affected by the pandemic, a rate of 51.62%.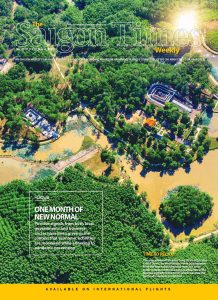 Workers who had to work for a shorter time or be put on furlough accounted for 48.18%, and those who had to end labor contracts or be laid off accounted for 32.21%. Workers who had to postpone their labor contracts made up 8.2%; workers who had to stay home and receive part of their salaries made up 7.45%; and those who had to stay home without pay made up 3.96%.
Of the responding enterprises, 4,493 that had to reduce their work force during the last months of the year accounted for 39.06%. Of these, firms expected to cut working time or apply furloughs made up 59.02% and those temporarily laid off their work force paying part of the salary made up 11.49% and without pay made up 8.75%.
Phan Ky Quan Triet, FALMI vice director, explained that as enterprises have had to shoulder tremendous pressure when having to halt or scale down production, the ratio of workers losing their jobs or temporarily jobless is on the increase.
Efforts to recover the labor market
During a live stream on the topic of labor in HCMC, Nguyen Quang Cuong, director of the Center for Jobs for the Youth (Yescenter), said a slew of enterprises are paying attention to supporting workers who return to HCMC to resume their jobs.
When back to the city, workers may contact the enterprises they used to work for to know the job demand, or they should access websites of companies or job centers under the HCMC Department of Labor, Invalids and Social Affairs.
Otherwise, workers may contact the Yescenter for assistance in procedures or connection with potential employers. The center is providing a "3-in-1 Combo," which includes free boarding house, free Covid-19 rapid test and free job application assistance.
Meanwhile, according to FALMI, quite a few companies are building business plans which re-arrange their work force, including new recruitments supplanting those who have left. Job-seekers may therefore find their opportunities with these chances.