HCMC – Duy Tan Plastics Corporation is moving towards environmentally friendly production by turning to renewable energy, particularly solar power, for its factory.
The company is developing a rooftop solar power project at the Duy Tan Long An plastic plant at the Tan Do Industrial Park, Duc Hoa Ha Commune, Duc Hoa District, Long An Province.
With the total capacity of 9,932 kWp, this solar power project is expected to generate 13 million kWh a year. This is equivalent to the power consumption of some 1,900 households, or 7,600 people, a year.
The project covers an area of up to 95,300 square meters, equivalent to 13 football pitches of FIFA standards. It has an expected lifespan of 20 years.
According to a representative of Duy Tan, this solar power project will help reduce emissions of some 8,740 tons of CO2 a year, equivalent to emissions by 1,900 automobiles a year.
Among 10 potential contractors from different countries, on June 26, 2020, Duy Tan Plastics Corporation chose TTC Energy Joint Stock Company, which has more than 40 years of experience in multi-industry investment, as contractor of the project. After a long time of research and evaluation, Duy Tan Plastics Corporation and its partner were able to select the best technical solutions and economically efficient investment options for the project.
The project is divided into three phases. In the first phase, which began on September 20, 2020, the contractor kick-started the installation of solar panels.
In the second phase, TTC Energy and Duy Tan Plastics began large-scale installation on September 26, 2020.
During the installation process, they faced many challenges due to unfavorable weather and the Covid-19 pandemic. However, thanks to joint efforts of everyone, together with regular surveillance of the project management board, they have been able to ensure the progress and quality of the project.
Duy Tan has always strictly complied with Covid-19 infection prevention and control measures as regulated by the Ministry of Health during the construction of the solar power project. Therefore, the pandemic has not significantly affected the project's progress.
To ensure the quality of the project, Duy Tan has put its heart in every step, from preparation to design, inspecting input materials, examining the prices, identifying technical standards and construction methods, and labor safety.
Duy Tan staff have also regularly inspected the construction to ensure that the contractor strictly followed the construction options that the two sides had finalized.
In the third phase, Duy Tan has officially partially put the project into operation in each area of the factory.
Power generated from this solar project will be used for production at the Duy Tan Long An plastic plant. According to a representative of Duy Tan, the project will meet 25% of the plant's power demand, helping the company save up to VND5.3 billion a year.
This is a source of environmentally friendly energy, expected to contribute to not only the sustainable development of Duy Tan Plastics but also the local socioeconomic development.
"The project will help create clean energy, save power and production cost and reduce the products' prices," shared a leader of Duy Tan Plastics.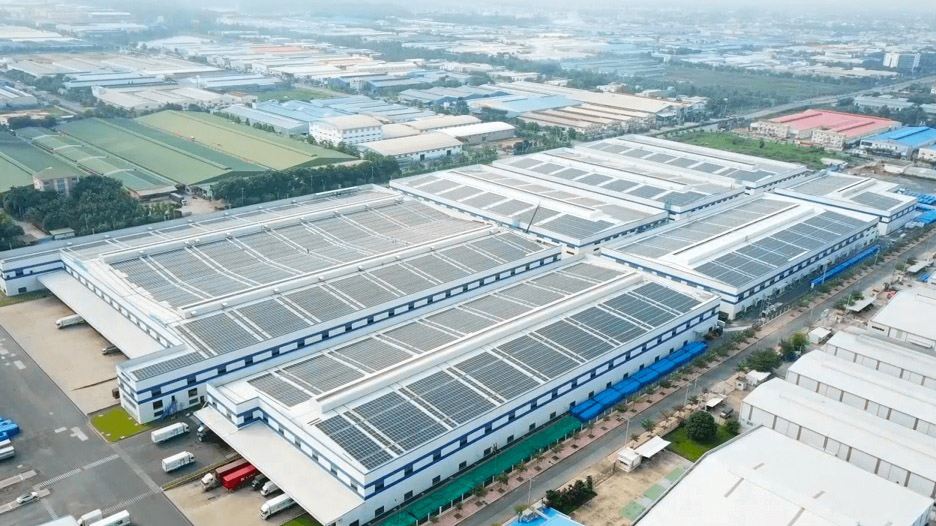 Advocator of environmental protection
To contribute more to environmental protection, besides developing renewable energy, Duy Tan Plastics has joined the Packaging Recycling Organization (PRO) Vietnam, a coalition of leading FDI and Vietnamese companies that have high prestige from consumer goods, packaging, retail, and import industries.
The members also have a common responsibility: make Vietnam green, clean, and beautiful by promoting a circular economic model through more accessible and sustainable packaging collection and recycling process. This is an important pillar in the 3R principle (Reduce, Reuse, and Recycle).
Duy Tan has spent up to US$60 million investing in a plastic recycling plant to help with plastic waste reduction. This is the first plant of its kind in Vietnam to apply the "Bottle to Bottle" recycling technology, which means plastic grains are produced from used plastic bottles for new bottles.
In the first phase of the facility, which has been put into operation, Duy Tan buys 60 tons of used bottles each day. The volume of used bottles purchased by the firm reaches up to 22,000 tons each year, which is highly meaningful when it comes to environmental protection.
After the construction of its second and third phases is completed, the plastics recycling plant will turn out some 100,000 tons of plastic grains per year, using more used plastic products such as desks, tables, chairs and wardrobes for recycling.
Moreover, to encourage the employees to save electricity and other sources of energy at the workplace, as well as to recycle used items, Duy Tan has applied the renowned 5S method at the company's offices and factories.
5S is a workplace organization method that uses a list of five Japanese words seiri, seiton, seisō, seiketsu, and shitsuke, which can be translated into English as "sort", "set in order", "shine", "standardize", and "sustain".
Using this method, Duy Tan has been able to organize a work space for efficiency and effectiveness by identifying and storing the items used, maintaining the area and items, and sustaining the new organizational system.
For further information about Duy Tan Plastics and the corporation's corporate social responsibility program, visit https://www.duytan.com/