Identifying social corporate responsibility (CSR) practices as a lodestar of its operation, Herbalife Nutrition has committed to a slew of community-driven initiatives that create value and bring a better life to needy people. With a desire to bring positive impacts and healthier living to the community, the global nutrition company has helped create countless feel-good stories for both people and the planet.
Support for disadvantaged children
As a nutrition company, Herbalife Vietnam always puts the health of people first. During its 12 years of operation in Vietnam, besides providing numerous high-quality and science-backed nutrition products for the local market, the company has helped children in need gain access to good nutrition every day.
The company, together with the Herbalife Nutrition Foundation (HNF), has been providing healthy meals to children in need every day, not for days or months but spanning several years.
Launched in 2013, HNF's Casa Herbalife Nutrition program annually helps some 1,000 children in Vietnam access good nutrition through four "Casa program houses" at the Dong Tam Social Protection Center in Binh Dinh Province, the Huong Duong Orphanage in Hau Giang Province, the Xa Dan Secondary School in Hanoi City and the HCMC Women's Charity Association in HCMC. With grants totaling over US$600,000, about 100,000 healthy meals have been provided to these needy children so far.
Herbalife Nutrition always seeks to implement various meaningful activities that can make them strong and healthy. Notably, the company initiated the Nutrition For Zero Hunger Star program to encourage children to eat healthily and exercise regularly from an early age.
Through the program from November 2020 to February 2021, the children at the four Casa Herbalife Nutrition centers were guided by their teachers and caregivers to eat nutritious food every day and exercise regularly. Each child was provided with a booklet to track what they ate and their physical activities on a daily basis.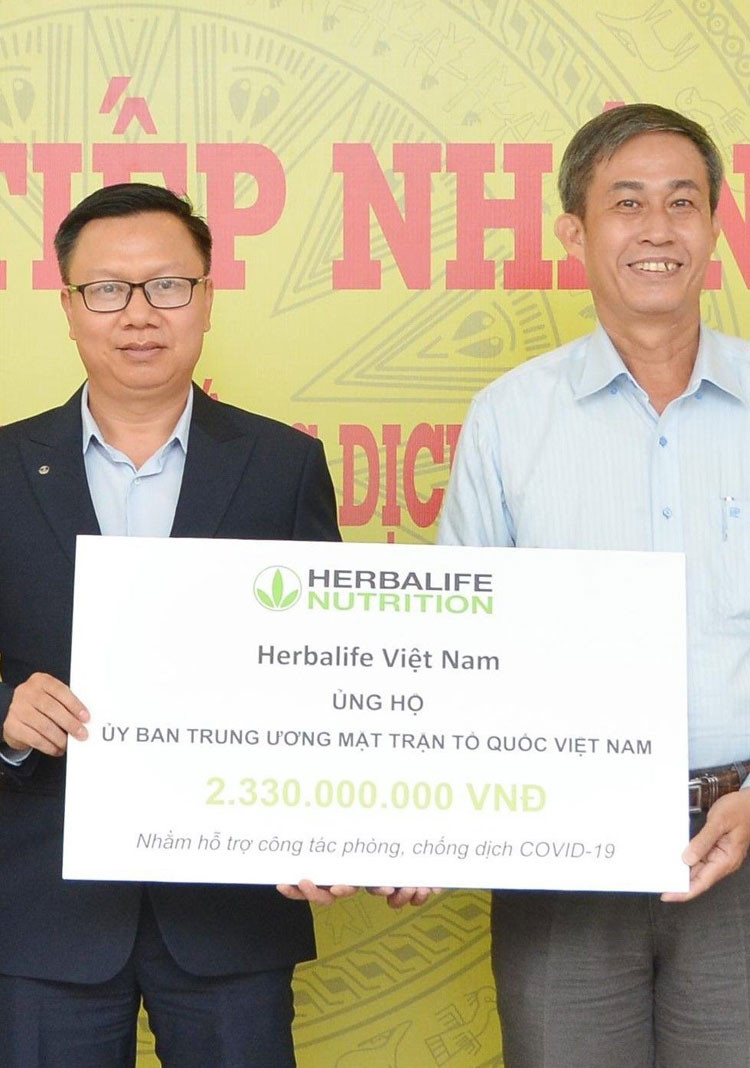 Making timely contributions to combating Covid
In response to the Government's call, in 2020, Herbalife Vietnam donated over VND3.7 billion to the fight against Covid-19, including VND2.33 billion in funds handed over to the Vietnam Fatherland Front Central Committee and VND1.4 billion worth of medical masks and protective gear contributed by its distributors and employees presented to a number of hospitals in Hanoi City and HCMC.
In June 2021, Herbalife Vietnam called on its employees and distributors to make donations to the national Covid vaccine fund. Accordingly, VND875 million was collected and handed to the Vietnam Fatherland Front Central Committee.
Furthermore, Herbalife Vietnam's distributors and employees also gave VND290.5 million to the "Millions of Survival Bags" project initiated by the Central Committee of the Ho Chi Minh Communist Youth Union. The project aimed to provide practical help to those affected by the pandemic. Accordingly, over 1,160 bags of essential foodstuffs were delivered to people in need in HCMC, Dong Nai and Binh Duong.
Kindness as a good corporate citizen
Herbalife Vietnam's generosity is not limited to improving the health of poor people and supporting the country's battle against the pandemic as the company has been rolling out a host of heartwarming CSR campaigns to benefit more people in need.
Annually, Herbalife Vietnam cooperates with the HCMC Humanitarian Blood Donation Center and the National Institute of Hematology and Blood Transfusion to organize a blood drive, with the participation of hundreds of the company's partner-distributors and employees. The annual blood donation campaign is aimed at saving patients in need and solving the chronic blood shortage in the country.
With a strong belief in  the power of the human spirit that helps people overcome difficulties, Herbalife Vietnam collaborates with Tuoi Tre newspaper to organize the "Spread the Positive Energy" contest, a contest people of all ages are invited to join by sending their inspiring stories about how they have overcome challenges to become healthier and achieve successes in life. Such true stories create positive impacts on people and spread positive energy in the community.
As a good corporate citizen, Herbalife Vietnam will endeavor to protect the planet and to contribute to bringing about a cleaner and healthier living environment for all people. Moving towards building a green environment, Herbalife Vietnam has launched the Go Green program, which calls on people to stop using single-use plastic bags. Last but not least, the company is reducing and eliminating the use of single-use plastic items during all its events.
During its ongoing CSR journey, Herbalife Vietnam will continue doing good for children, the poor, the environment and society, especially for the country's battle against Covid-19, which is still raging, as a way to fulfill its commitment to nourishing people and the planet.