"Each enterprise has its own purposes in doing business. Some want to get rich or become well-known, while some others want to contribute to the community alongside its pursuit of business development. For Dacotex, a small enterprise, our main purpose is to help laborers better themselves, build their happy families and have jobs to support themselves and their families," Cecile Le Pham, CEO of Dacotex, commented on the group's business philosophy.
Especially, many of the foreign-invested apparel company's laborers are those growing up at Hoa Mai child protection centers, also established by Dacotex CEO Cecile.
Support for disadvantaged children
Over the past two decades, Dacotex has developed its factories in the central region to create jobs for laborers, especially those who used to be nurtured at Hoa Mai child protection centers. Despite lacking the love of their parents or facing difficulties in life, they have been raised and taught to become good citizens.
In 1992, after leaving Vietnam for nearly 20 years, Cecile, who was vice president of the Association for Protecting Vietnamese Children in France (ASSORU) at the time, led a team of French and Vietnamese French medical workers to Vietnam to provide medical checkup and treatment services for poor children in remote areas free of charge.
She later built the first Hoa Mai Center in Can Tho, her hometown, and other Hoa Mai centers in Hau Giang Province and Danang City.
Three Hoa Mai child protection centers are now homes to more than 120 children, mainly orphans and underprivileged children. The centers are funded by Dacotex, ASSORU and other benefactors.
In 2002, Cecile and French investors established Dacotex Group in Danang City. The group specializes in producing and exporting apparel products to European and American countries.
Dacotex has invested in Hue Garments for Export JSC (Hudatex) in Thua Thien-Hue Province and the Hai Au Xanh Factory in the Bac Chu Lai Industrial Park in Quang Nam Province, creating jobs for thousands of workers.
However, Cecile said Dacotex's greatest achievement is not its revenue, as the company takes pride in its support for laborers. Many children growing up in Hoa Mai child protection centers are now laborers of Dacotex's factories.
"Many children who were brought up in Hoa Mai centers 18 years ago are now holding managerial posts at the centers, helping their younger generations," Cecile said. "Over the past years, we have been always seeking ways to develop children's knowledge and vocational skills so that they could live on their own. Some have worked at Dacotex, while others have worked in the IT, tourism or catering sectors."
This is a motivation for Dacotex to continue its journey for the betterment of the community in Vietnam over the past 20 years.
Dacotex hopes to create jobs and become a fulcrum for disadvantaged children so that they can integrate themselves into the society and have jobs to earn their living and support their families. Dacotex's leaders have joined hands to support these children with an expectation to create a big family with more factories and protection centers.
Cecile has met with a representative of the European Chamber of Commerce in Vietnam (EuroCham) in Danang to seek new cooperation opportunities. EuroCham has committed to run events to raise funds for Hoa Mai centers and send its experts to these centers to teach children there languages and vocational skills.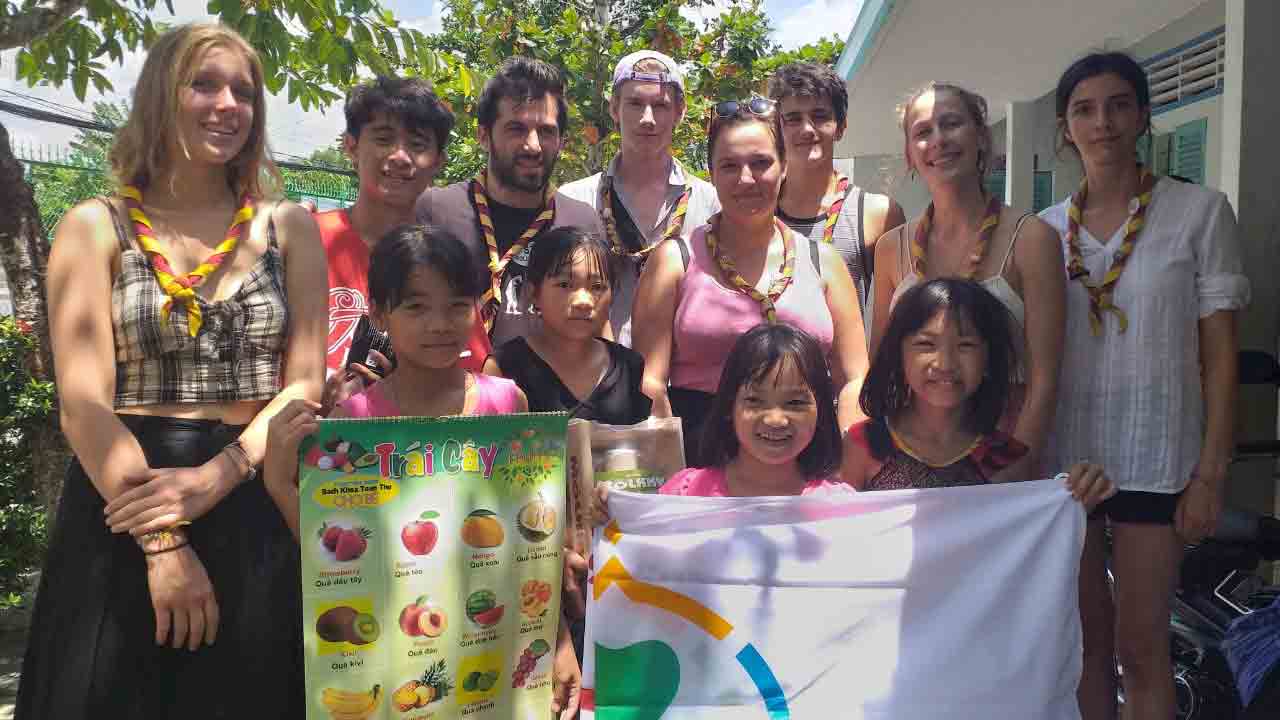 Fighting Covid-19 pandemic
While ensuring the smooth operation of Hoa Mai centers, Cecile, with the support from her son Pham Le Lam Christian, has sought ways to resume production and export activities at Dacotex's factories after the Covid-19 pandemic.
Cecile said since Dacotex opened its factory in the central region, it has brought many central people return to their hometown. They can now live happily with their families in their own houses.
Amid the pandemic, children who are brought up in Hoa Mai centers have been still safe and sound. Hoa Mai centers have ensured their lives during the pandemic, said Cecile, adding that she was happy as she could still pursue her dream over the past 20 years.
However, Dacotex has been struggling with the difficulties in business caused by the pandemic. Like other enterprises, Dacotex has found it hard to spur business as it could not produce or sell products.
She suggested administering Covid-19 vaccines to laborers in industrial parks, the tourism sector and small and medium enterprises. The early vaccination will help gain the confidence of enterprises and reassure them.
Moreover, Cecile wanted to join forces with the authorities to create jobs for residents completing their quarantine periods, not only meals for them or milk for their children during the quarantine period. This job needs the cooperation of many enterprises, local authorities and banks as "thousands of workers and laborers need us," Cecile said.