Thien Cam Son is well known as the highest mountain peak of the marvelous Seven Mountains in Tri Ton and Tinh Bien districts in the southwestern region's An Giang Province. The landscape is majestic in all the four seasons, appealing visitors to come for "check-in" photos with clouds and mysterious mountainous views. On multiple tourism forums, numerous travel lovers are excitedly sharing a series of their cloud-hunting photos at Cam Mountain – "Cloud-hunting Paradise" in the southwestern region, and showing their interest and surprise at such a breathtaking scenery.
Visitors are recommended to wake up early to hunt clouds and admire cloudy mountainous landscapes and vaporous winding paths. The early morning is the best time to hunt clouds. Visitors can enjoy an artistic cloud performance in sky. Clouds float slightly from the foot of the mountain, circle around the mountain, move to the peak and scud away with winds.
Traveling to the higher position – the Vo Bo Hong peak, tourists can experience a feeling of touching and catching clouds and admire the panorama of Cam Mountain and immense paddy fields sprawling to the coastal area of Ha Tien and the southwestern borderline. Bo Hong Temple features a Jade Emperor Statue, attracting countless pilgrims and visitors each year. It is as freezing cold as Dalat City, so visitors should wear warm clothes when conquering the place.
Visitors can immerse themselves in a fairy-tale landscape at daybreak when mists hang over the mountain peak, creating a peaceful and sacred space. On the peak of Cam Mountain, tourists can take a deep breath of fresh air and take a look at charming views, unspoiled landscapes and floating clouds. At this moment, closing their eyes, visitors can imagine that they were birds to fly and enjoy the mysterious beauty of the nature.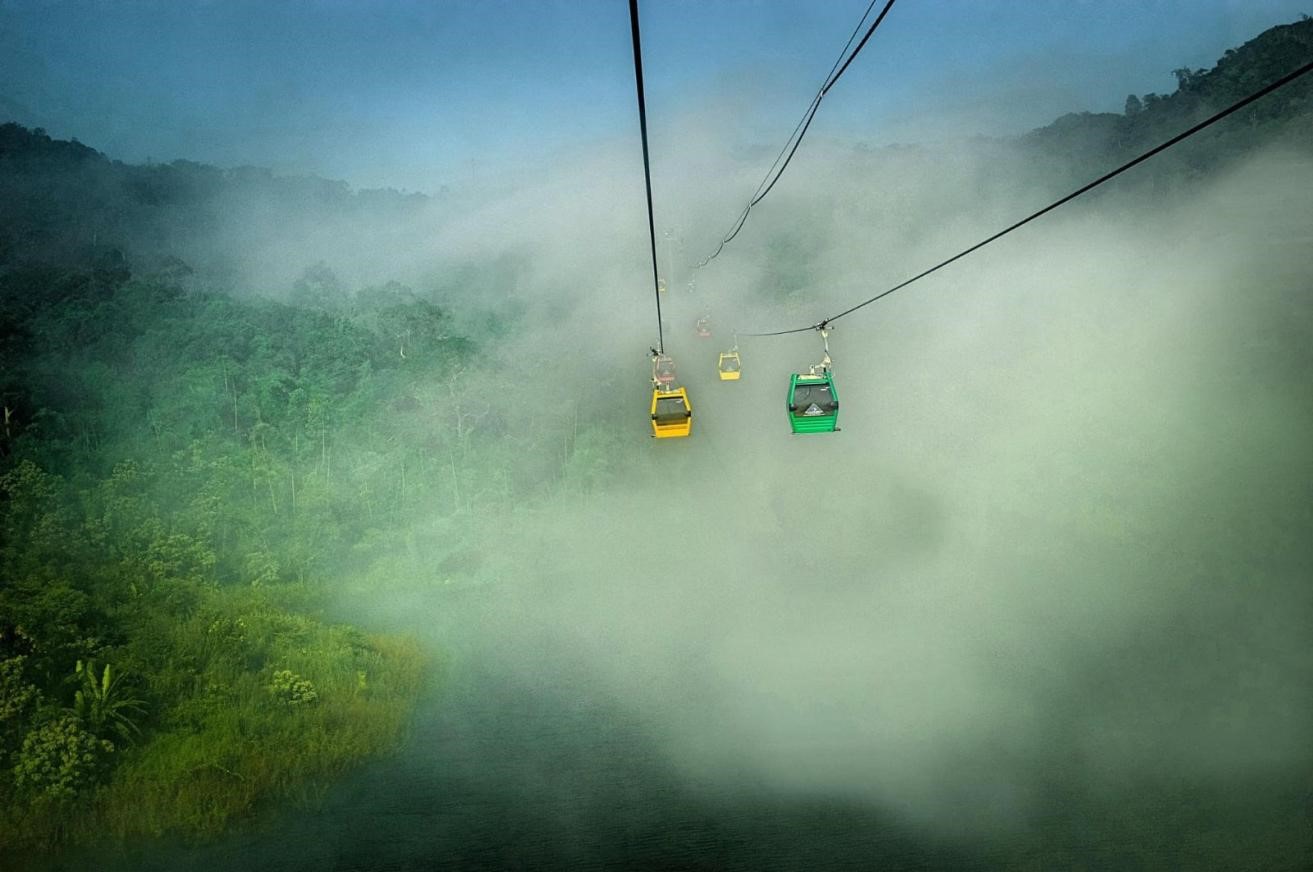 There are many ways to conquer the spectacular mountain peak, but to save time and ensure that all family members, including children and old people, can explore the tourist destination, most visitors have chosen to travel by cable car. With the 3.5-kilometer-long cable car system, tourists can admire the beauty of mountains, lakes and wild forests.
Faraway magnificent mountain ranges and hills become much attractive due to tranquil palmyra palm fields and vast yellow paddy fields on the last harvest season of the year. The tourism sector is in the fourth industrial revolution era, so to avoid a long wait, visitors can book tickets via official websites or hotline at 0963851651 with multiple discounts and promotional programs.
The Cam Mountain tourist area will continue to be developed to offer the best service to tourists during the upcoming Lunar New Year 2023, maintaining its position as an "outstanding tourist destination in the Mekong Delta region" voted by the Mekong Delta Tourism Association annually. The Cam Mountain tourist site will continue introducing unique tourist products and services such as spiritual tourism and wellness retreat to visitors, moving towards becoming a key tourist destination in An Giang Province.