Nguyen Thanh Tam, a retired teacher in Go Vap District, HCMC, has made many Christmas decorations like Jesus Christ and Mother Mary, Santa Claus, reindeer sleighs, snowmen, and pine trees, to name but a few, from eggshells on the occasion of the upcoming Christmas.
Tam made such items from eggshells in 2002 to illustrate English words relating to Christmas for his students. Apart from Xmas ornaments, he has also made Snow White and the Seven Dwarfs, and many other artworks for such events as SEA Games, World Cup and Tet (Lunar New Year), all from eggshells. Now at the age of 71, he has made over 1,000 artworks from eggshells.
Tam told vietnamnet.vn that he uses the shells of chicken eggs, duck eggs and quail eggs as the main material for his artworks. He also uses other simple and easy-to-find materials such as straws, face masks, cotton, zinc wires, cloth and clay. He keeps most of what he has made as souvenirs and only sells some for those insisting to buy.
Mekong Delta man spends three decades making boat miniatures
Nguyen Van Leo, 72, has made over 400 miniature versions of traditional fishing boats of the local people in southwestern Vietnam over the past 30 years for preservation and not for commercial purposes.
"Now, if I don't work with miniature boats, everyday, I feel unwell," the resident of Ben Tre Province, who spends most of his day making miniature boats in a four-square-meter workshop, was quoted by vnexpress.net as saying.
He gained fishing experience when he was young, and it remains a source of inspiration for him to make miniature versions of fishing boats. He quit his fishing job in 1975 and began making miniatures of boats that were etched on his memory.
"The shapes, sizes and functions of fishing boats have changed over time. I was afraid our future generations would have no idea what their ancestors' daily life was like if I didn't restore the boats," Leo said.
Without prior experience in carpentry, he learned to make the miniatures from scratch, with the first one being completed after a fortnight of working in 1989. He had to halt his passion several times due to financial woes and complaints from his wife. But the passion never waned and he managed to resume it by doing other jobs to earn extra money, including selling banh mi, aka Vietnamese sandwich.
Collection featuring Chinese Vietnamese people in Saigon
Duong Rach Sanh, a Chinese Vietnamese currently living in HCMC's District 6, has preserved around 2,500 items, including household stuff, pictures and clothes dating back to the 19th century of the Chinese Vietnamese people in Saigon-Cho Lon, HCMC's old name.
These items are being showcased in a 200-square-meter zone at another one of Sanh's houses in District 5. Most of them were donated to Sanh by the Chinese Vietnamese families in Saigon. After the number of donated items increased over time, he set up his own exhibition zone in 2019 to better preserve the antiques.
"My family immigrated to Vietnam from China over 100 years ago. I started collecting lots of items of the Chinese Vietnamese community since their presence in the Saigon-Cho Lon area so that the next generations could know more about their tradition and culture," the 44-year-old told vnexpress.net, adding that he planned to open this private corner to the public in the future.
Hoi An's Nguyen Tieu recommended as national cultural heritage
The People's Committee of Quang Nam Province has suggested Nguyen Tieu (the 15th day of the first lunar month) Festival be recognized as a national intangible cultural heritage.
According to the local government, Nguyen Tieu Festival reflects the love, dream and aspiration of the people toward the nature and life, and social relations featuring community solidarity, cultural preservation and exchange among the peoples.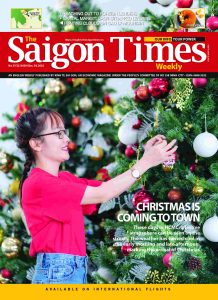 Since 2010, Nguyen Tieu Festival has been listed by the Hoi An City People's Committee as one of the important events of the ancient town. The Quang Nam Province People's Committee entrusted the task of completing a scientific dossier for the intangible cultural heritage of Nguyen Tieu Festival of Hoi An City to the provincial Department of Culture, Sports and Tourism and the Hoi An City authorities.
The scientific dossier has been completed and submitted to the Ministry of Culture, Sports and Tourism for the latter to recognize the Nguyen Tieu Festival of Hoi An City as a national intangible cultural heritage, laodong.vn reported.