HCMC – Vietnam has been one of the top performing economies in the Asia-Pacific region in recent years, growing at around 8% in 2022. The country's prudent economic policies have resulted in a prolonged period of high growth, price stability, and low public debt ratios.
Having undertaken significant economic reforms, Vietnam entered the pandemic with sound fundamentals, and strong FDI and trade flows which boosted external buffers. Vietnam's post-pandemic recovery has been commendable with strong manufacturing output, buoyant exports, a solid recovery in retail sales, and a pickup in tourism. The IMF expects some of this growth momentum to continue in 2023.
But Vietnam also confronts the same headwinds as the rest of the world. Weak external demand from trading partners is depressing exports. Inflation, which started to pick up in 2022 is expected to remain elevated. And although fuel prices may be coming down from the peaks observed after Russia's invasion of Ukraine, they also remain elevated.
The backdrop of past and ongoing reforms should help Vietnam effectively navigate this challenging environment. One additional area that offers a promising path to boost its long-term economic growth is digitalization.
Expanding digital landscape
Nearly two-thirds of Vietnam's population today has internet access. Prices are relatively low, and mobile connectivity has swelled. The country also hosts several of the world's leading information, communications and technology companies, such as Samsung, Apple, and Intel. As in other countries in the region, pandemic restrictions accelerated the rise of Vietnam's digital economy.
E-commerce sales grew by more than 40% in 2020, outpacing most of the world. An estimated 53% of the population has shopped online using social networking platforms such as Facebook and Zalo, or e-commerce sites like Lazada, Shopee, and Tiki. This rapid increase was spurred by the shift away from cash payments and a resulting boom in digital alternatives, particularly e-wallets.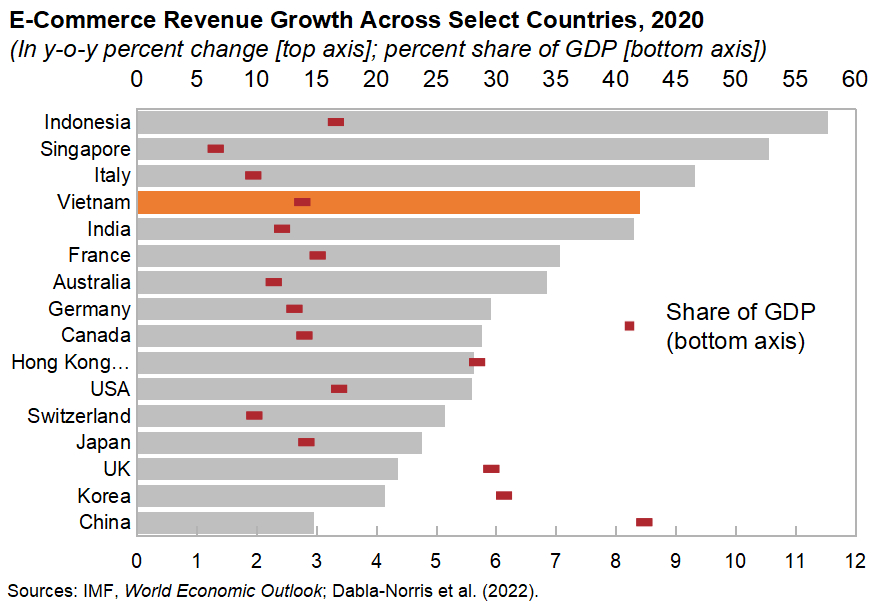 Greater digital inclusion can boost productivity and growth
At the same time, the country faces a digital divide. Access to cutting-edge digital technologies is highly uneven. For instance, only 40% of local businesses report adequate skills to use and maintain their digital systems. Small and medium-sized enterprises (SMEs) also face significant barriers to the access and use of digital technologies—notably on the financial side. Vietnam also lags behind regional peers for enrollment in tertiary education and digital skills among the working population.
Bridging these gaps will increase efficiency for both the public and private sector, allow more consumers to participate in the new economy, and help Vietnam reach its full economic potential. Deepening financial inclusion will also open new markets by allowing firms to connect with distant customers. Overall, a faster diffusion of technology and greater digital literacy will help close productivity gaps and boost growth.
Roadmap for policy
Policy priorities to steer this effort could include enhancing digital infrastructure to facilitate greater access and upgrading digital literacy. Importantly, providing workers with the training they need to meet employers' demand will be key to building a digital-savvy workforce. Alleviating financing constraints faced by SMEs will also help them adopt new technologies.
Finally, adapting regulation to be in line with the evolving digital industry and enhancing the legal environment—including on data protection—will inspire greater confidence in technological adoption. Facilitating equal access to technologies across firms, industries, and workers will also help the country fully benefit from the economic boost that digitization offers.
The good news is that the government already sees the digital sector as one of the country's engines of growth over the next decades—it is committed to investing in this sector and enabling Vietnam to achieve higher income status. That, along with carefully calibrated policies to maintain macroeconomic and financial stability, and full execution of the government's Program for Recovery and Development to upgrade physical and digital infrastructure will allow Vietnam to get through these uncertain and potentially bumpy times and begin to build forward a stronger economy for the long-term.
(*) Antoinette M. Sayeh is Deputy Managing Director of the International Monetary Fund.