Jérôme Peschard sees himself as a self-taught artist. All his experiences are a result of 35 years of hard work. Peschard came to Vietnam nine years ago and decided to stay on to paint the country.
His imagination and creativity are highlighted in his paintings, a combination of Western pop art and the traditions of Asian countries.
Peschard took up an art job when he was only 16 years old. Since then, he has worked on all aspects of art such as graphic art, visual art, and different structures such as multimedia, video games, etc. His imagination and creativity, combined with years of experience, gave him a deep understanding of the composition and concept of pictures.
One thing that makes Peschard unique is that he chooses to paint in a way completely different from other artists. "I want to paint with my character, my identity," he said. He chooses rusty steel sheets from construction sites in Vietnam as material to paint.
He takes inspiration from vintage Vietnam, traditional Vietnam, and Vietnamese publications in the 1930s, 1960s and 1980s mixed with the pop art style of the West. Therefore, his paintings have been influenced by modern Western and Asian art.
Previously, he designed everything in Photoshop for three to five days. Then, he would work on the composition of the picture, and once the picture was completed in Photoshop, he would execute the painting.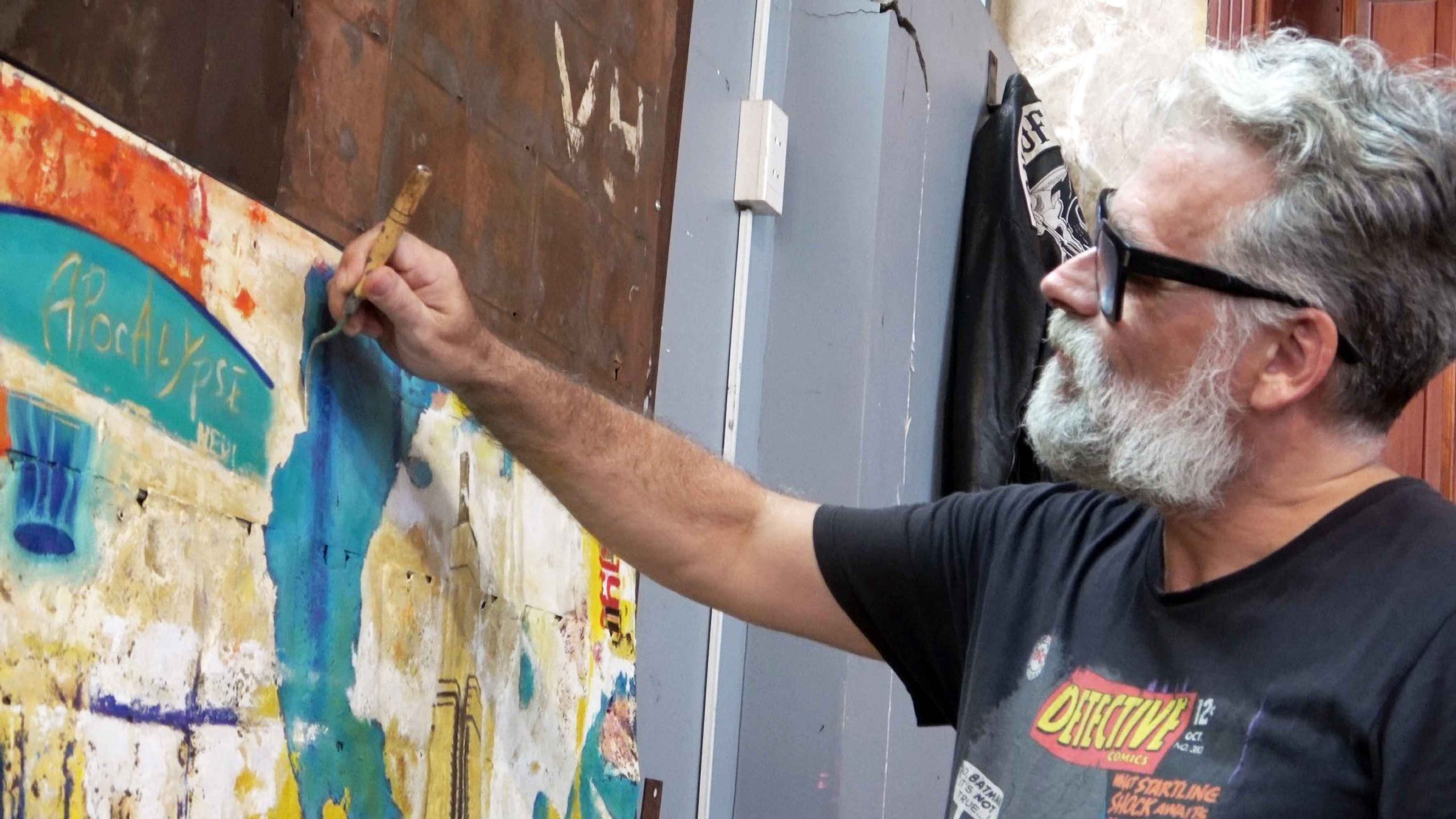 A life with passion
Peschard used to work as art director and general manager for a big video game company in France. He finally decided to reset his life and work and chose Vietnam to make the big change as he fell in love with the beauty, people and life here. The cultural life in Vietnam inspired his paintings.
He said, "I'm satisfied. I have passion. I can be with my family. I can take care of my kids and be near them."
Like most other artists, Peschard was also affected by the Covid pandemic. He had a hard time during the lockdown. Due to social distancing, he could not deliver paintings to customers and hence, had no income. But some of his customers include wealthy expats in Vietnam, who could easily afford to buy his paintings.
"In Europe we say, when there is a pandemic or war, there are two resources where people put their money: gold and art," Peschard said when referring to the value of art. Art will always retain its inherent value through centuries.
Although Peschard was not into cryptocurrency and NFTs before, he now has some paintings as a version of NFT. When customers buy the paintings, Peschard will offer them an NFT.
Blending art and fashion
Peschard's customers are pretty affluent. They love his work and buy many of his paintings. Until now, he has sold 60 paintings to customers over the world. When he tried to find an idea for his future collection, he took inspiration from the tiger used in traditional Hang Trong paintings to design a luxury collection along with his wife, comprising luxury bags, clothes, jewelry, sculptures, etc.
The idea came about last year in anticipation of the year of the tiger this year and for Tet. He said, "There is just one big tiger in Vietnam; it has a perfect style and is very rare."
Peschard loves Phu Quoc; he plans to paint there and display his paintings at his gallery in Thao Dien ward. He will keep his gallery open from Thursday to Saturday. He plans to visit the beach with his kids and take time out the rest of the time. "Doing what I love, selling my passion and taking care of the kids in a good place. It's very simple, and I don't need more," he said.