Be Group asserts its trajectory to becoming Vietnam's leading consumer platform with financial assistance from DEUTSCHE BANK.
Be Group Joint Stock Company (Be Group), the owner and developer of the on-demand multi-service consumer platform "be", held a signing ceremony with Deutsche Bank to receive a loan facility of up to US$100 million. Be Group would use the money to continue scaling up its three primary consumer services: on-demand ride-hailing (car and bike), food delivery and a digital bank arm (Cake by VPBank) as well as new expansions. This financing will facilitate Be Group's ambition to become the No.1  on-demand multi-service consumer platform for Vietnamese users, and strongly establish itself as a local champion of Vietnam's tech scene.
In under 4 years, Be has grown its ecosystem to include transportation, food and goods delivery, flights, insurance, telecom services and a digital bank, operating in 28 provinces and cities nationwide, with over 20 million downloads. Be is the biggest Vietnamese tech player in this on-demand transportation category.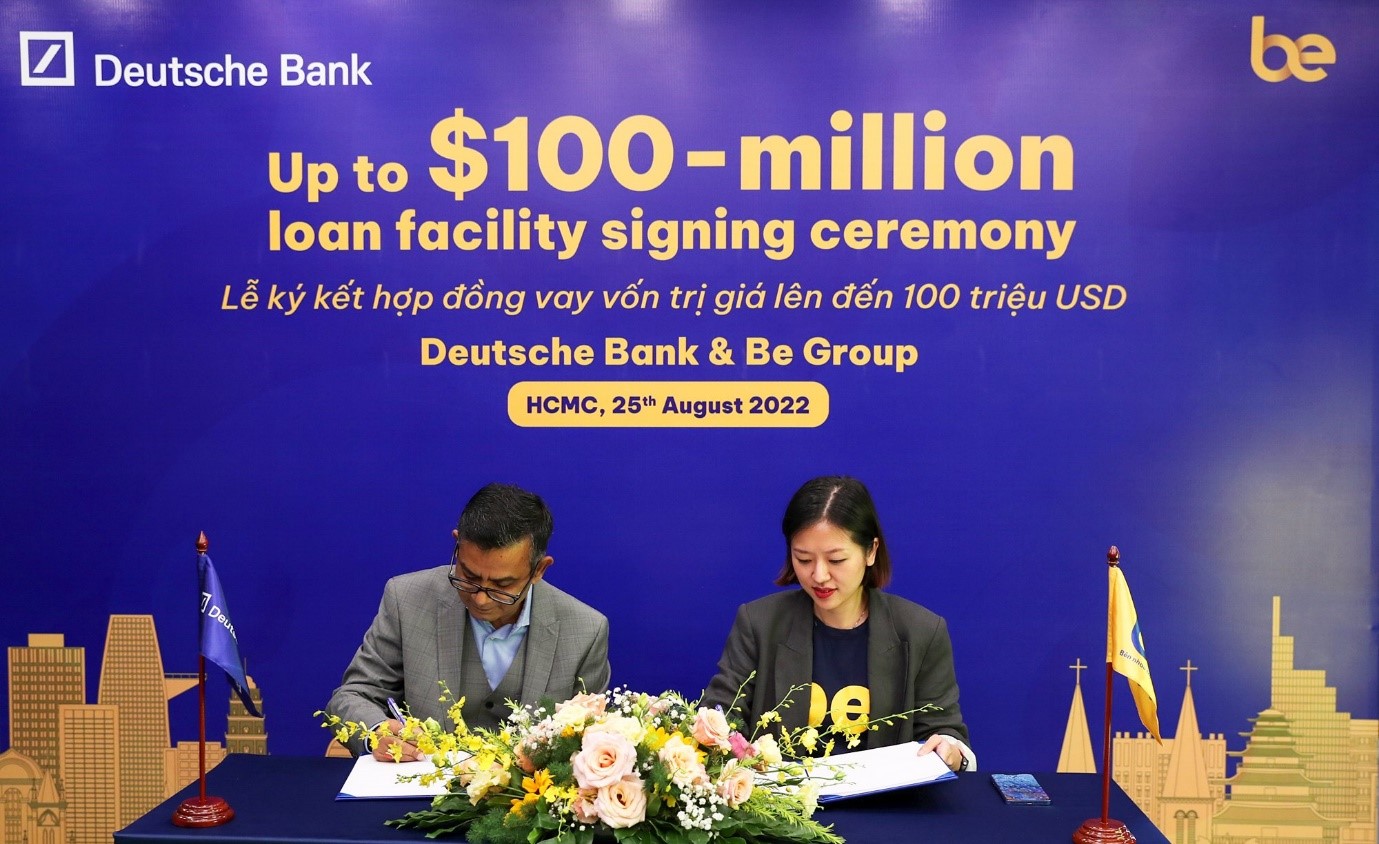 Within the first half of 2022, Be has doubled its revenue growth in the key market of Ho Chi Minh City, recording over 1.5 million monthly active users with transactions on the platform in the first quarter and has already turned profitable contribution margin in Q3 this year. Be also worked with Cake by VPBank to launch the first digital driver lending product on driver's apps and soon to launch a co-brand instant-approve consumer lending product with Cake by VPBank.
Cake by VPBank is the first digital bank in Vietnam that provides a full range of essential financial services including payments, savings, loans, micro-investments and credit cards, and has already attracted more than 2 million customers in less than 2 years.
Ms. Vu Hoang Yen, CEO of Be Group, said, "This partnership with Deutsche Bank confirms the acknowledgment of the results and prospects of the business model Be Group is pursuing while also meeting top-notch global financial standards. With the mobilized loan capital, along with the sustainable growth orientation and the vision of our current investors, despite the highly challenging competition landscape, I believe that we at Be Group are well inspired and supported to strive to materialize our medium and long term ambition as a local champion tech company. Our deep appreciation goes to Deutsche Bank's team who put in extensive effort to make this happen."
Deutsche Bank has a broad footprint in Asia Pacific across 14 markets and this year celebrates its 150th anniversary in the region. This year Deutsche Bank was named the overall market leader in APAC FX (Euromoney) and is the top ranked bank for APAC FIC Financing and Credit Trading, according to Coalition.
Mr. Sreenivasan Iyer, Managing Director and Head of Investment Banking Coverage Southeast Asia and Financing Origination China, India at Deutsche Bank, said: "We are delighted to be working with Be Group. Deutsche Bank has been present in Vietnam for over 30 years, and such transactions further demonstrate the bank's unwavering commitment to our clients in this country. As Vietnam's economy continues to thrive, we see many opportunities to partner with our clients to support their growth. We are proud to play a role in Vietnam's growth story."
About Be Group:
Be Group JSC, a Vietnamese technology company, is the owner and developer of the on-demand multi-service consumer platform "be". With the ambition of becoming the top consumer platform for daily consumable needs serving 20 million users in Vietnam, be currently provides a wide range of on-demand services including transportation, goods delivery, food delivery,  groceries shopping, insurance, telecom services and a leading digital bank (Cake by VPBank) as well as continues to develop and launch new products.
Since launching in 2019, Be apps has been downloaded over 20 million times, currently servicing over 10 million transactions monthly on the platform and growing. Be currently operates in 28 cities and provinces and is the biggest Vietnamese tech company within on-demand transportation category.
Be Group has rapidly established its own digital ecosystem comprising of millions of users, drivers and merchants, while expanding diverse partnerships with local conglomerates, tech players and financial products providers to serve users across daily consumable needs including transportation, delivery, food and groceries, as well as financial products including insurance and lending.
About Deutsche Bank
Deutsche Bank provides retail and private banking, corporate and transaction banking, lending, asset and wealth management products and services as well as focused investment banking to private individuals, small and medium-sized companies, corporations, governments and institutional investors. Deutsche Bank is the leading bank in Germany with strong European roots and a global network.